The organic food industry in India is a growing industry with a lot of potential.
The reasons for this growth are that more and more people are becoming aware of the health and environmental benefits of organic foods.
The Indian government is also supportive of organic farming by providing subsidies to organic farmers and establishing organic certification standards.
The Indian organic food market is expected to grow by around 30% in the coming 3 to 4 years.
If you are interested in starting an organic food business in India, this article provides you with complete information, including the investment required, profit margin, sourcing products, and licenses required.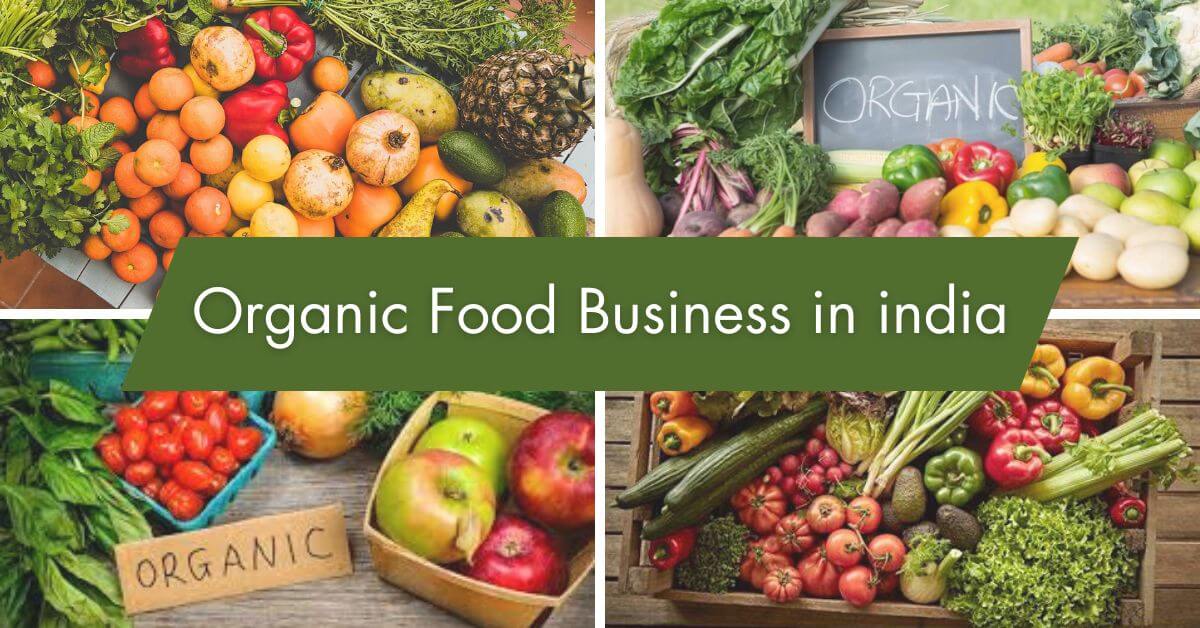 How to source products for your Shop?
You can source organic food products for your shop from organic food distributors or wholesalers in your region.
You can also find suppliers from online B2B websites like Indiamart. Always ensure that your suppliers are certified organic by government-approved organizations.
For organic vegetables, you can also partner with local organic farmers to get fresh produce.
Be sure to visit their farms before partnering to ensure they follow organic farming practices and have organic farm certificates.
Investment required to start an Organic Food Business

You need to invest around Rs. 9 lakhs to Rs. 14 lakhs to start a small to medium-scale organic food shop in India.
The investment required for this business depends on factors such as the size of your shop, its location, and the range of products you offer.
Here is a breakdown of some of the major costs involved in starting an organic food business:
Purchasing inventory: Rs. 4 lakhs to Rs. 6 lakhs (depending on the range of products you offer)
Shop interior works and signage: Rs. 2 lakhs to Rs. 3 lakhs
Equipment for storage: Rs. 1 lakh to Rs. 2 lakhs (such as refrigerators and freezers)
Computer and billing software: Approximately Rs. 80,000
Licenses and permits: Approximately Rs. 40,000
Marketing and promotion: Approximately Rs. 50,000
Miscellaneous expenses: Approximately Rs. 50,000
Shop security deposit: Varies depending on your location
The monthly ongoing costs of running your shop are shop rent, inventory purchase, utilities, and staff salaries.
Profit Margin in Organic Food Business
You can expect a profit margin of around 15 to 25% from the organic food business in India.
The exact margin may vary depending upon the volume of your inventory purchase and competition in your area.
You can earn more profits by offering value-added services, such as home delivery, organic meal planning etc.
During the first few months, you may need to invest some money in marketing to educate customers in your area about the benefits of organic food and convince them to buy your products.
Also Read:
.
DryFruits Business in India | Complete Guide
.
Vegan Business Ideas in India | Complete Details
.
Masala or Spices Business in India | Complete Guide
.
Licenses and Permits required
You require the following licenses and registrations to start an organic food shop business in India:
Shop and establishment certificate
Business Registration (Sole proprietorship/LLP/Pvt lmt.)
Trade Licence
FSSAI State license
Organic Business Certificate from State Government
You can get these documents done through a local chartered accountant.
Types of Organic Food Businesses
In addition to opening an organic food store, there are many other types of organic food businesses that you can start in India. Here are a few ideas:
Organic farm business: If you have land, you could start an organic farm and grow your own organic produce.
Specific niche organic food: You could specialize in specific types of organic food, such as organic fruits and vegetables, organic dairy products, organic baby food, or organic pet food.
Online organic food store: You could open your own organic e-commerce website or sell through online marketplaces like Amazon, Flipkart, and Bigbasket.
Organic food catering service: If you have a passion for cooking, you could cater events such as weddings, corporate gatherings, and private parties with organic food.
Organic food manufacturing: You could start an organic food manufacturing company and produce organic processed foods, such as bread, pasta, and snacks.
Organic food import/export business: You could start an organic food import/export business and import organic products from other countries to India, or export Indian organic products to other countries.
Products to Sell in an Organic Food Store
Here is a list of products you can consider selling in your organic food store:
Fruits and vegetables, Grains and cereals, Dairy products, Pulses and legumes, Nuts and, Seeds, Spices and herbs, Condiments and Sauces, Organic Beverages, Organic baby food, Processed foods, Organic Pet Food, Personal care products, Organic Supplements and, Superfoods, Cleaning products, etc.
We hope this guide to starting an organic food business in India has helped you get started. If you like this article, please share it with your friends.