Because of the growth of the housing sector and the rise in urbanisation, there is a heavy demand for cement in India.
If you are looking to enter this industry, one way to do so is to become a cement dealer. Maha Cement is a reputed brand that offers dealership opportunities.
This article will provide complete information related to the Maha Cement dealership, including the dealership cost, profit margin, contact details, and more.
Why choose Maha Cement
Maha Cement is a Telangana-based cement brand manufactured by My Home Industries Private Limited (MHIPL). The company has a corporate office in Hyderabad.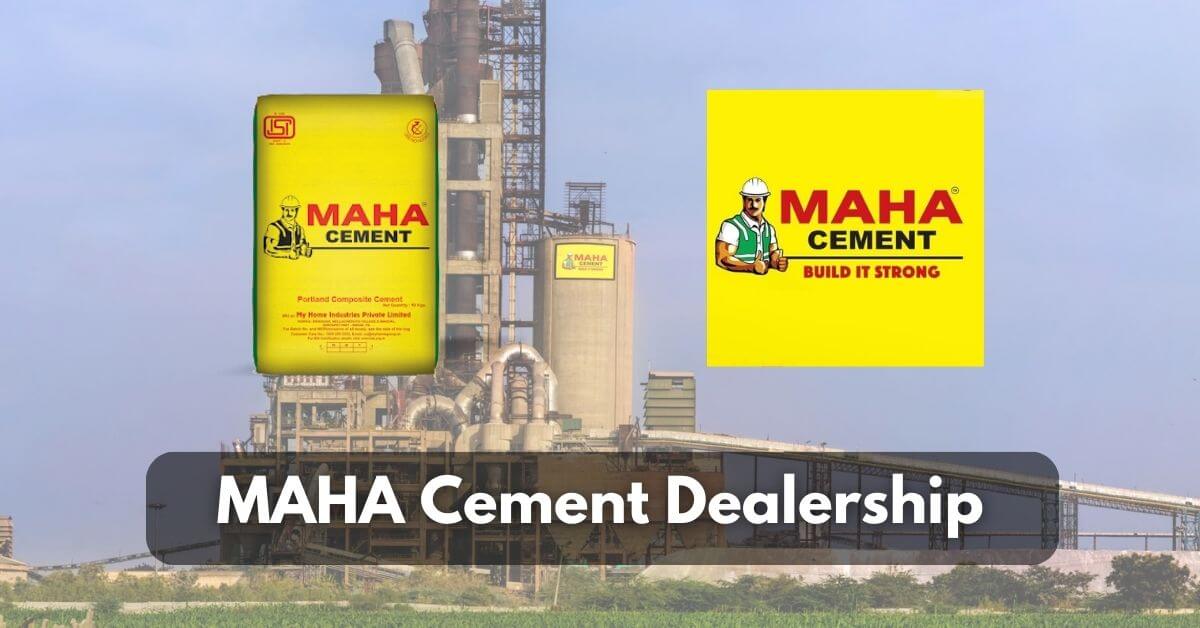 It is produced at four integrated cement factories located in Telangana, Andhra Pradesh, and Tamil Nadu. The company has a production capacity of 10 million tonnes per annum.
Maha Cement is marketed through a wide network of 5000+ dealers and distributors across 12 states in India. The company also exports its products to Sri Lanka and Bangladesh.
Maha Cement offers a wide range of products to suit different construction needs. These include OPC 43 grade cement, OPC 53 grade cement, PSC cement, CC cement, and Maha Solid.
Licenses and Registrations Required
These are the licenses and registrations required to start a Maha cement dealership.
➤ Company Registration
➤ Trade Licence
➤ Shop & Establishment Registration
➤ GST Registration
➤ Previous bank statements/IT Returns
➤ Business Insurance (if required)
Space required for Dealership
The minimum space required to open an Maha cement dealership is 500 square feet of carpet area.
However, if you plan to sell other building materials along with cement, you may need more space. Some building materials that you can sell alongside cement are tiles, steel, bricks, and paints.
Maha cement dealership cost

To get a maha cement dealership, you may need to invest around ₹5 lakhs to ₹6 lakhs.
This amount may vary from one location to another. Factors like whether you have your own shop or not and your initial stock purchase quantity also affect the total cost.
This investment is mainly required to:
Pay the dealership security deposit
Make initial inventory purchases
To complete shop interior works
Pay shop advance (if leased/rented)
Purchase a used vehicle for delivery (if required).
The ongoing monthly expenses are inventory purchases, utility bills, labour salary, shop rent etc.
Also Read:
Ultra Tech Cement Dealership | Complete Guide
Deccan Cement Dealership | Complete Guide
Profit Margin in Maha Cement Dealership
The profit margin from Maha cement dealership is typically between 4% and 10%.
The company offers various offers and bonuses to dealers who meet their sales targets. These bonuses can help to significantly increase your profit margin.
Also Read:
Sagar Cement Dealership | Complete Guide
Penna Cement Dealership | Complete Guide
How to get Maha cement dealership?
To get a Maha Cement dealership, you need to contact your area sales officer. You can contact Maha Cement by calling them at, +91-40-66929696.
You can also contact them on their official website to get contact details or send an email to [email protected].
Once you get in touch with the area sales manager, they will guide you about the next steps. Please note that there should not be another Maha Cement dealer within a 2-3 kilometer radius of your shop.
You can also visit them at:
MHIPL, 9th Floor,
Block 3, My Home Hub, Madhapur,
Hyderabad – 500081, Telangana
FAQ about Dealership
How much investment is required for the Maha cement dealership?
You require 5 lakh to 6 lakhs rupees investment to start a dealership
Shop space required for Maha dealership?
Minimum space required in 500 square feet
Profit margin in Maha dealership?
You can expect a profit margin of 4% to 10% on sales.
We hope this guide to 'Maha Cement Dealership' will help you get started. If you have any additional suggestions, feel free to mention them in the comments section below. If you like this article then kindly share it with your friends.