As all, we know some types of plastic take 20 to 500 years to decompose in landfills. So limiting the use of plastic is essential not only for India but for the entire world.
Governments are also imposing a lot of rules for limiting the use of plastic and recycling plastic.
So, by starting a plastic recycling business, in addition to earning income, you can also contribute immensely to the environment.
This article provides complete details related to the plastic recycling business, business plan, required investment, required permits etc.
Plastic Recycling Business Plan
Get enough knowledge about the business and the recycling process before you start this business. Visit the company where you are going to sell your end products (plastic granules)

Understand the plastic recycling demand in your area and decide what size plant you can start (small or medium scale).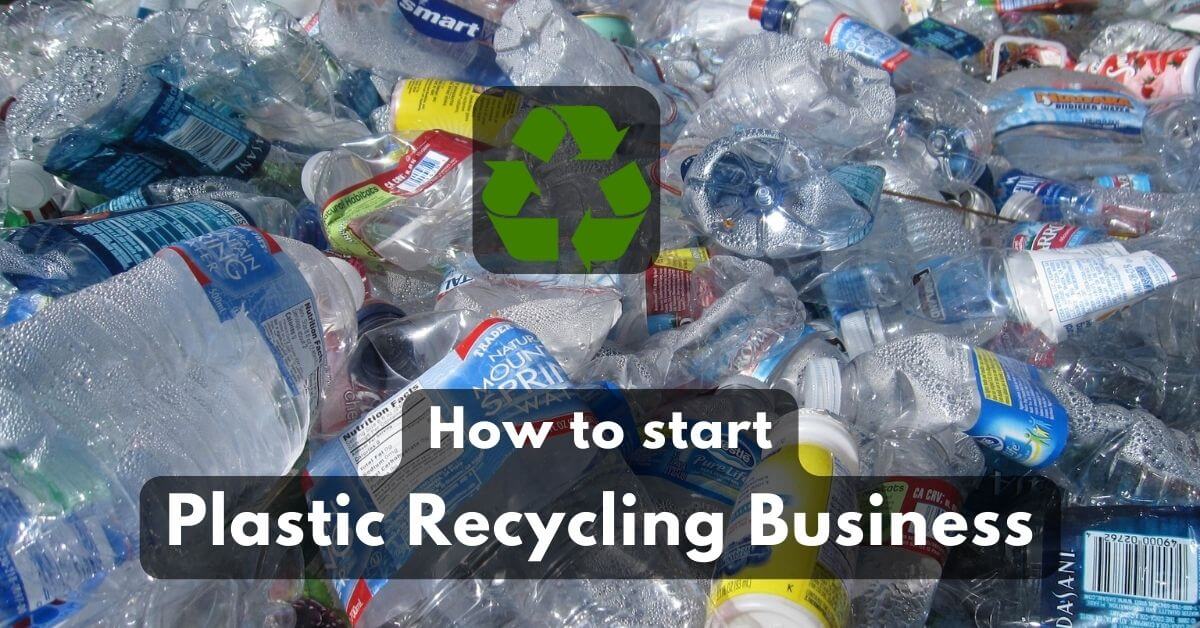 Find a good location for your plastic recycling plant

Contact recycling machine suppliers and get quotations.
Approach any bank for an MSME business loan/subsidy with a proper business plan

Get the required licences and registrations for your business.
Visit scrap dealers & build a network of local scrap collectors in your area and get plastic waste from them.

Hire people to work in your plant. The exact manpower depends upon your business scale.
How to collect plastic waste for the recycling plant?
You can collect plastic waste from scrap dealers and local independent scrap collectors.
You can also get a contract with the local municipality or gram panchayat.
How much space is needed to start this business?
The minimum plant space required is 2000 square feet. You need space to keep machines, sorted and unsorted plastic waste, finished products etc.
Rural or city outskirts with proper water resources, road connection & electrical supply are the ideal location to start this business.
How many workers does this business need?
For a medium-scale plastic recycling plant, the manpower required is around 10 to 12 people. You need manpower for sorting plastic waste, machine operating, loading and unloading etc.
Licences and Registrations Required
These are the licences and the permits required to start a plastic recycling business.
MSME Registration
GST certificate
Udyog Aadhar registration
NOC from the state pollution control board
Business Layout plan
Valid lease/land documents
Plastic Recycling Plant Cost

You require an investment of around 50 lakh rupees to start a plastic recycling plant in India. The exact investment depends on the size of the plant you are going to start.
With the above amount, you can start a medium-scale plastic recycling business. The major required for machine purchase and plant construction
The plastic recycling business comes under MSME's, PMEGP scheme. ( Prime Minister Employment Generation Programme).
So you can approach banks for Business Loans and Subsidies.
The monthly ongoing expenses in this business are purchasing plastic scrap, labour salary, utility bills, plant rent, transportation etc.
What is the profit margin in the plastic recycling business?
You can expect 30%-40% profit from this business. So you can earn 40,000 to 60,000 monthly income from a small to medium scale plastic recycling plant.
Related :
Machinery Required
These are the machinery and equipment required to start a plastic recycling plant.
Dust Cleaner -> 2 to 2.5 lakhs
Plastic Scrap Shredder/Grinder -> 2.5 lakhs (depends upon the capacity)
Washing Machine -> 1.5 lakhs
Conveyor Machine -> 1.5 lakhs
Film Dryer – 3 lakhs
Agglomerator machine -> 3.5 lakhs
Plastic Recycling Machine – 10 to 13 lakhs (includes a water tank, cutter machine, machine panel, etc)
You can contact these machine suppliers through online B2B marketplaces like IndiaMART.
Steps in Plastic Recycling Process
These are the steps involved in the plastic recycling process.
Collecting plastic waste from scrap dealers

Sorting/separating plastic waste according to their type (PET, LDPE, PP etc)

Cleaning sorted plastic waste through a dust cleaner machine

Then this cleaned plastic is made into small pieces by a plastic shredder/grinder machine.

This shredded plastic is then put into a conveyor machine, which delivers it to the plastic washing machine.

The washing machine cleans the shredded paste thoroughly.

Then this cleaned wet plastic is dried through a film drier machine.

Next, an agglomerator machine makes this shredded plastic into smaller pieces.

Finally, these finely shredded plastic pieces are processed in a plastic recycling machine. In this machine, plastic pieces pass through a heating barrel, water tank and cutter machine and become plastic Granules.
Sorting Different Types of Plastic
There are many types of plastics available in the market. So, before starting the plastic recycling process you need to sort/separate them. The recycling process is carried out separately for each type of plastic.
These are the most common plastic types used in India,
Polyethylene terephthalate (PET) -> Soft drinks bottles, food trays, Water bottles
High-Density Polyethylene (HDPE) -> Shampoo bottles, milk jugs, butter tubes tubes
Polyvinyl Chloride (PVC) -> Pipes, mouthwash bottles, cable insulation
Low-Density polyethylene (LDPE) -> bread bags, clothing, frozen food bags
Polypropylene (PP) -> Syrup bottles, Straws, packing tape, bottle caps
Polystyrene (PS) -> Disposable plates, Egg cartons, meat trays
Other plastics -> citrus juice bottles, nylon, safety glasses.
Among these plastic types PET, LDPE and PP are recycled the most in India.
I hope this article has resolved many of your doubts related to starting a plastic recycling business in India. If you have any suggestions feel free to mention them in the comment box below. If you like this article kindly share it with your friends.