The tyre recycling business is the fastest growing business right now. In our country recycling plants are not as many as they should be.
Indian Government is also supporting this type of business a lot and is coming up with many schemes.
By recycling waste tyres you can produce products like Carbon black powder, Steel wire, Pyrolysis fuel oil etc.
In this article, we will talk about how to start a tyre recycling business in India, which includes a business plan, the investment required, profit margin, space required, licenses, documents required, etc.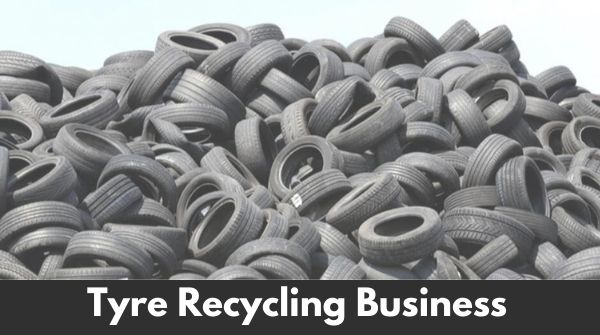 Tyre business plan
Before starting a plant you need to do proper research on this business like how many rubber recycling plants are already present in your location, how much raw material you can collect and how much you can sell. Based on this you need to plan the size of your rubber recycling plant.
The plant setting steps include,
Deciding factory size and Location
Getting required licenses and registrations
Arranging Finance / Bank Loan
Purchasing machinery
Marketing your products
In this your raw material will be the old tyres, be it 4 wheeler vehicle, 2 wheeler, trucks, tractor, which belongs to any vehicle, they will be used in this process.
You can collect tyres from tyre dealers, workshops, scrap shops, puncture shops etc.
Carbon black powder –> used for Highway construction, tyre manufacturers, footwear companies
Steel wire –> used in steel plant, steel manufacturer
Pyrolysis fuel oil –> used in cement plants, glass plants, bricks factories, steel plant
The number of labourers required to start this business depends on your plant size. You can start with 2 to 7 labourers.
Also Read:
Licenses and Registrations Required
The tyre recycling business is a very profitable business if you start it properly. You should start this business with proper permissions/licenses and machinery.
If you do this business in a completely legal way and invest some money in this business, then you will be able to earn good profits in it and will be able to run this business properly.
You require the following licenses and registrations to start a tyre recycling business in India.
MSME Registration: Register your business under the Ministry of micro, small, and medium scale enterprises. This will help you in getting business loans and government benefits.
Factory License – from the state government
Pollution Certificate: You can get it from the local pollution Board office
Business Registration – Sole Proprietorship
GST Registration
Labor License
N.O.C (No objection Certificate) from the municipality
N.O.C from Fire and Electricity Board
N.O.C from Town and country planning department
Any local CA or agency can help you in getting these documents.
Arranging Finance for the Business
If you are planning a small plant that costs around 20 to 25 lakhs, then you can apply for a loan using the Pradhan Mantri Employment Generation scheme.
Since this is a recycling project, you can get up to 90% of your investment loan and up to 15% subsidy.
To get this loan you need to provide the necessary documents to the bank and you should have a proper business plan report to submit to the bank.
Space required and Location
Even if you start with a small plant, you should have at least 3000 square feet to 4000 square feet of space.
The location will play an important role in this. If you start this business close to the city, you can save on transportation costs.
Machinery Required
To start a semi-automatic rubber recycling plant, you need to have the below machinery in your factory.
Ring cutter machine –> to cut the sidewall of the tyre.
Strip cutter –> converts tyre into a strip
Steel separator –> removes steel wire from the tyre
Tyre slice cutter –> to cut the strip into small pieces
Rubber powder machine –> coverts rubber pieces into rubber powder
To start a fully automatic tyre recycling plant you can install a Pyrolysis plant. You will get pyrolysis oil as the end product from this plant.
You can find dealers for these machines from websites like indiamart.com.
Tyre Recycling business Cost

It depends on how big you are going to build your plant. The main investment required is to purchase machinery and construct a factory. If you do not own the place then you need to consider a security deposit for the factory.
To start a small-scale tyre recycling business, you need an investment of 18 lakh to 20 lakh rupees. In this only Machinery like ring cutter machine, strip cutter machine, steel separator, etc going to cost you around 10 to 12 lakh rupees.
To start a fully automatic tyre recycling plant you need an investment of 30 lakh to 35 lakhs. The automatic machine going to cost you 15 to 20 lakh rupees.
The working capital for this business include, purchasing raw materials, labour salary, utility bills, factory rent etc
Profit Margin in tyre business
If you sell your products directly to the company instead of dealers, then you can expect a high-profit margin.
To directly deal with companies you need a big plant and large production, to reach their demand.
You will be earning income by selling carbon black powder, steel, and pyrolysis oil.
From a tyre recycling business, you can expect a profit margin of up to 20%.
If you tie up with more raw material suppliers and more dealers/companies, you can earn more income.
I hope this article has resolved many of your doubts related to starting a tyre recycling business in India. If you have any suggestions feel free to mention them in the comment box below. If you like this article kindly share it with your friends.
Also Read: