India has a growing demand for steel due to urbanization, infrastructure development, and the expansion of various industries.
India is the world's second-largest producer and consumer of steel, and the steel business in India is one of the most important sectors of the economy.
If you are interested in starting a steel business in India, this article will provide you with all the information you need.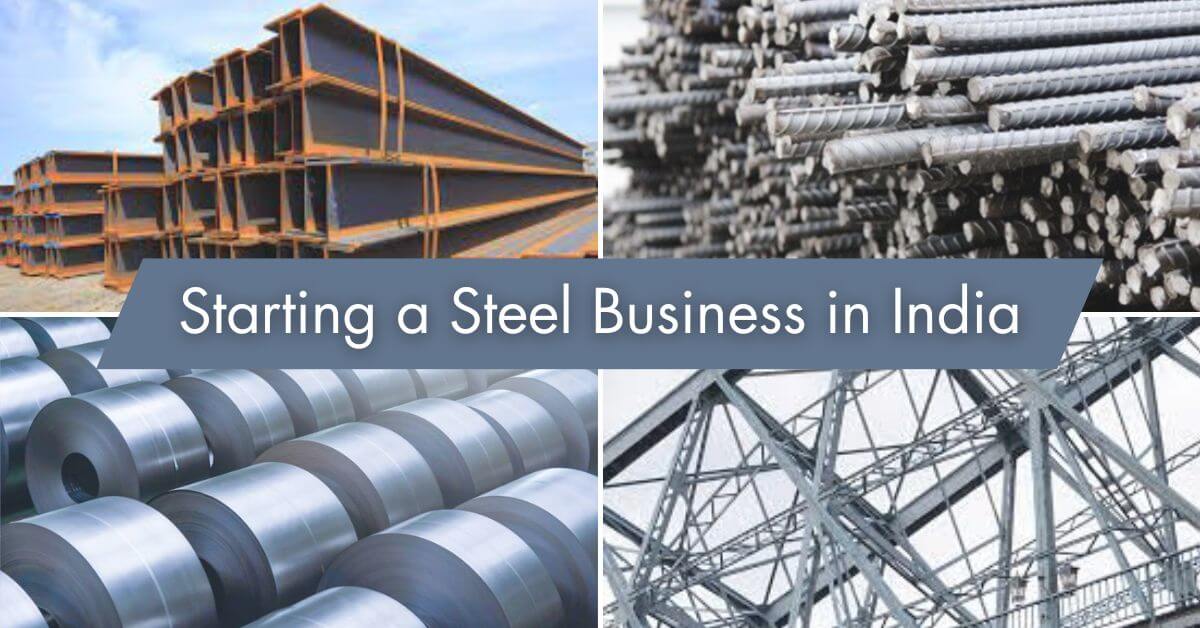 Types of Steel Businesses to Choose
There are a number of different business opportunities in the Indian steel sector. Some of the most popular businesses include:
Steel Manufacturing: This business requires a large investment. The Indian steel manufacturing industry is dominated by a few large companies, such as Tata Steel, JSW Steel, and SAIL. Steel manufacturers produce a variety of steel products, such as TMT bars, rails, beams, plates, coils, stainless steel, and alloy steel.
Steel Fabrication: This business involves converting raw steel into finished products, such as structural steel, machine parts, and automotive components. Steel fabricators typically have their own workshops and equipment.
Steel Trading & Distribution: This business involves buying and selling steel products. Steel traders typically do not have their own manufacturing or fabrication facilities. Instead, they source steel from manufacturers and suppliers and sell it to end users.
Steel Construction: A steel construction business is a company that specializes in the design, fabrication, and erection of steel structures, which are used in buildings, bridges, industrial facilities, and more.
Steel Recycling: This business involves collecting and recycling scrap steel. Scrap steel is then melted and used to produce new steel products. Steel recycling is a growing business in India, as it helps to reduce the country's dependence on imported iron ore.
Investment Required to Start a Steel Business

The investment required to start a steel business in India varies depending on the type of business you intend to do. It can range from a few lakhs to crores of rupees.
For example, a small steel fabrication business can be started with an investment of ₹10 lakh to ₹25 lakh. But a large steel manufacturing plant would require an investment of crores of rupees.
The major costs associated with starting a steel business in India are:
Purchase of land
Infrastructure costs
Equipment and machinery
Raw materials
Labor charges
Vehicle purchase
You can arrange funds for a steel business through bank loans, finding investors, or utilizing government schemes.
The Indian government offers a number of schemes to provide financial assistance to new and growing businesses. You should have a well-written business plan before approaching anyone for funds.
Also Read: Cement Business in India | Complete Guide
Licenses and Registrations required
The following licenses and registrations are required for a steel business in India.
Company Registration (Sole Proprietorship/LLP/Pvt Lmt.)
Trade Licence from the local municipality
GST Registration
Pollution Control License from the State Pollution Control Board (SPCB).
Environmental Clearance from MoEFCC.
Business Insurance (if required)
These document requirements vary from state to state. You can consult a local chartered accountant to get these documents.
Choosing a Location for a Steel Business
Location plays an important role in starting any business. Your intended steel business location should be close to either the raw materials/suppliers or the clients.
For example, if your business is making steel automobile parts, it is better to choose a location near an automotive cluster in your region. This will reduce transportation costs and improve efficiency. It should also have access to good infrastructure, such as roads.
Starting a steel business in India can be challenging but rewarding. We hope this guide helps you start one. If you find this information helpful, please share it with your friends who are interested in the steel industry.