Pipes are essential for agricultural irrigation systems and play an important role in infrastructure development.
In a developing country like India, there is always scope for infrastructure development works, and India is primarily an agrarian economy.
Therefore, there is always a demand for pipes in India. You can easily start a pipe business in India by taking advantage of this opportunity.
This article provides you with complete details required to start a pipe business in India, including the investment required, profit margin, best dealership opportunities, and licenses required.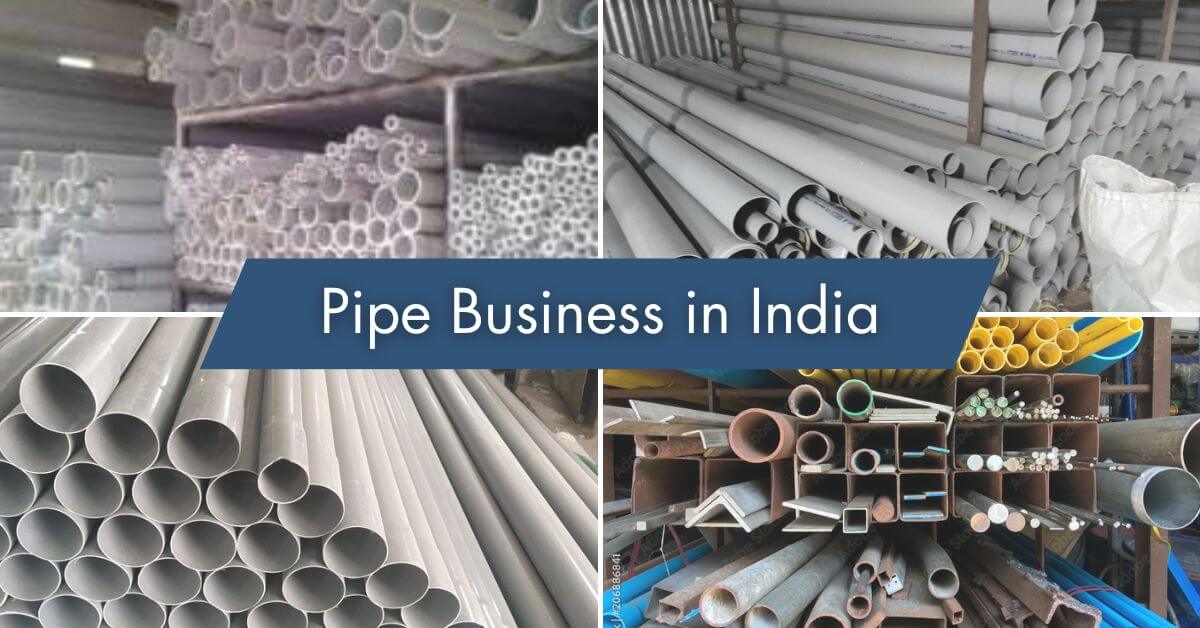 Why Choose Pipe Business
Pipes are used in a wide variety of applications, including construction, infrastructure, oil and gas, and agriculture.
Pipe dealers typically buy pipes from manufacturers or suppliers and then sell them to individuals, contractors, farmers, and industries. The major types of pipes used in India are:
Plastic pipes: Plastic pipes are the most popular type of pipes in India, accounting for over 50% of the market. PVC pipes are the most common type of plastic pipes, followed by HDPE pipes and PPR pipes.
Plastic pipes are used in a wide range of applications, including water supply, drainage, irrigation, and industrial applications.
Metal pipes: Metal pipes, such as steel pipes and cast iron pipes, are used in applications where high strength and durability are required. Metal pipes are typically used in water supply and drainage systems, as well as in industrial applications such as oil and gas pipelines.
The Indian pipe industry is dominated by some of the big pipe brands, such as Astral Pipes, Finolex Industries, Aashirvad Pipes, and Supreme Industries.
Investment required for Pipe Business
You need an investment of around ₹3 lakhs to ₹6 lakhs to start a pipe business in India.
This amount is for starting a small pipe dealership business. If you are planning for a medium to large-sized shop, then you may need to invest more.
The investment required to start a pipes business varies depending on the size of your shop, its location, and the type and brand of pipes you sell.
Here is a breakdown of some of the key costs associated with starting a pipe dealership business:
Initial inventory/stock purchase: ₹2 lakhs to ₹4 lakhs
Shop interior and warehouse setup: ₹1 lakh
Licenses and permits: ₹15,000
Marketing and promotions: ₹8,000 (business cards, brochures, signage, etc.)
Shop deposit (if you do not own a shop)
The monthly ongoing expenses include shop rent, labour salary, inventory purchase, and utility bills.
Profit Margin in Pipe Dealership Business
You can expect a profit margin of 10% to 15% from a pipe dealership business in India.
These profit margins may vary depending on factors such as the volume of your inventory purchase, the type of pipes sold, the brand of the pipe, and your shop's operating expenses.
If you make more monthly sales, you can get good discounts from the company and earn good profits.
Also Read:

Cement Business in India | Complete Guide
Best Brand for Pipe Dealership Business
To succeed in the pipe trading business, you need to choose the right pipe brand. Analyze which pipe brands have a good market in your location. You can choose the best pipe brand depending on the region in which you plan to operate and your target market (such as plumbing, agriculture, etc.).
Some of the popular pipe brands are:
Astral Pipes: Astral Pipes is a renowned manufacturer of CPVC and PVC pipes and fittings. They have a strong presence in the plumbing and agriculture sectors.
Read more about Astral Pipes Dealership
Finolex Pipes: Finolex is a well-known brand for its PVC pipes and fittings. They offer a range of products, including water pipes, electrical conduits, and underground drainage systems.
Read more about Finolex Pipes Dealership
Licenses and Registrations required
The following licenses and registrations are required for a pipe dealership business in India:
Company Registration (Sole Proprietorship/LLP/Pvt Lmt.)
Trade Licence from the local municipality
Shop & Establishment Registration
GST Registration
Business Insurance (if required)
These document requirements vary from state to state. You can consult a local chartered accountant to get these documents.
Location and Space requirement
Your pipe shop should be located in a convenient and accessible location. Make sure that there is enough scope for construction and agricultural work in the region.
Also, analyze the cost of running a business in your intended location and the level of competition for the pipe business.
You will need at least 300 square feet of space to start a small-scale pipe trading business. If you plan to sell other construction materials together with pipes, you may need more space.
How to contact Pipe Companies
Every pipe brand has an official website, where you can find their contact information. You can also call the company's customer service line or email the company directly to express your interest in becoming a dealer.
Once your application has been reviewed, a sales representative will contact you to discuss your dealership opportunity. They will be able to answer any questions you have about the program and help you get started.
We hope this information will help you start a pipe business in India. If you like this article, please share it with your friends who are interested in the construction materials industry.