Due to the growing urbanization and real estate sector in India, there is always demand for construction materials.
This demand is expected to continue to grow in the coming years. By using this as an opportunity, you can start trading construction materials like TMT bars and run a successful business.
This article will provide you with complete information related to starting a TMT bar dealership business in India, including the required investment, profit margin, licenses, available brands, shop space, and much more.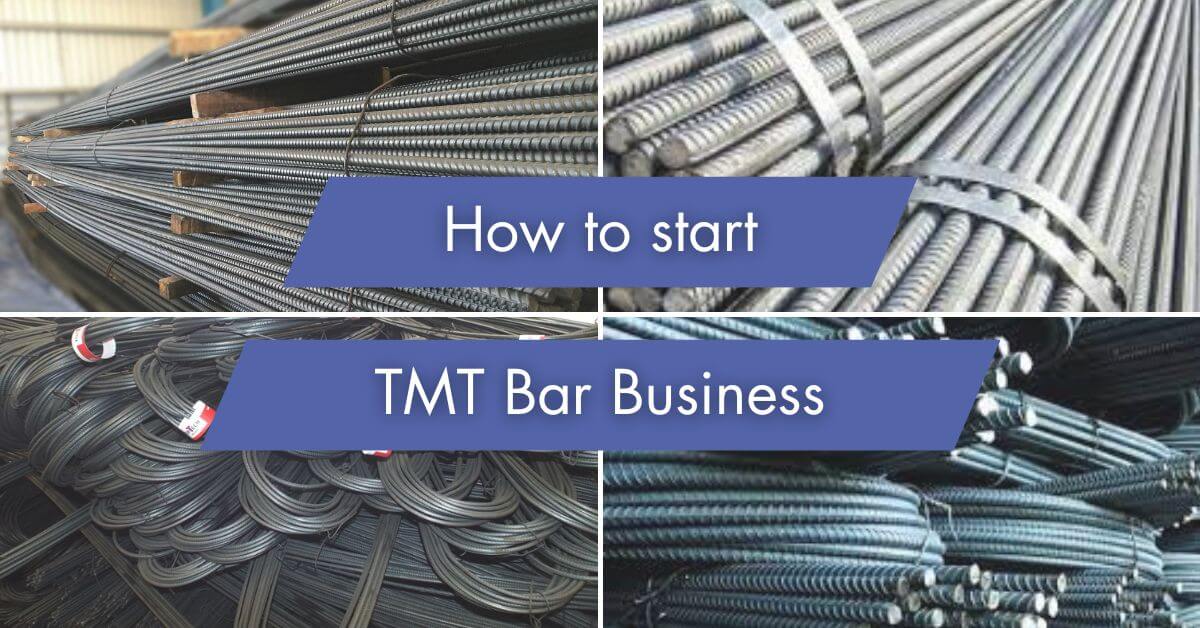 Why Choose TMT Bar Business?
TMT bars are thermo-mechanically treated steel bars that are used in construction due to their superior strength, durability, and resistance to corrosion.
By becoming a TMT bars dealer, you can purchase TMT bars from manufacturers and sell them to customers such as construction companies, contractors, and individuals.
This business requires a lower investment, but it is a competitive business. If you are able to build a network of customers in your area, then you can run a successful business.
Types of TMT Bars in India
Different types of TMT bars have distinct characteristics and are suitable for specific applications. The following are the most popular types of TMT bars used in India:
Fe 415: Fe 415 is the basic grade of the TMT bar. It is used in general construction applications, such as residential buildings and small commercial structures.
Fe 500: Fe 500 is the most popular grade of TMT bar in India. It is used in a wide range of construction applications, including residential and commercial buildings, bridges, and flyovers.
Fe 550: Fe 550 is a high-grade TMT bar that is used in demanding construction applications, such as high-rise buildings, dams, and power plants.
Fe 600: Fe 600 is the highest grade of the TMT bar. It is used in very demanding construction applications, such as nuclear power plants and offshore structures.
In addition to the above grades, you can also sell TMT bars in different sizes and finishes. The most common sizes are 8mm, 10mm, 12mm, 16mm, 20mm, 25mm, 32mm, and 36mm. TMT bars are also available in different finishes, such as plain, ribbed, and threaded.
Investment required for TMT Dealership Business

You need an investment of around ₹15 lakhs to ₹30 lakhs to start a TMT dealership business in India.
The investment required to start a TMT bar dealership business mainly varies depending on the volume of your initial inventory purchase, your location, and the brands of TMT bars that will be sold
Here is a breakdown of some of the key costs associated with starting a TMT bar dealership business:
Initial Inventory/Stock Purchase: ₹15 lakhs to ₹30 lakhs
Shop Interior and Warehouse: ₹1 lakh
Basic Equipment: ₹50,000 (like a weighing scale)
Shop Advance: (if you do not own a shop)
Vehicle for Delivery, Forklift: (extra if required)
The monthly ongoing expenses include shop rent, labour salary, inventory purchase, and utility bills.
Profit Margin in TMT Bar Dealership Business
You can expect a profit margin of 1% to 2% from a TMT bar dealership business in India.
These profit margins may vary depending on factors such as the volume of your inventory purchase and your shop's operating expenses.
If you make more monthly sales, your chances of getting good discounts from the company will be higher.
Also Read: Cement Business in India | Complete Guide
Best TMT brand for Dealership Business:
There are many TMT bar manufacturers in India, so it is important to choose a reputable brand that produces high-quality products.
Some of the leading companies that provide TMT bar dealerships include:
Tata Tiscon: Tata Tiscon is a popular brand of TMT bars in India, known for its quality and reliability.
Read more about Tata Tiscon Dealership.
2. JSW Neosteel: JSW Steel is a leading steel manufacturer in India that produces high-quality TMT bars.
Read more about JSW Neosteel Dealership.
3. SAIL TMT: Steel Authority of India Limited (SAIL) is a government-owned steel company in India that manufactures TMT bars under the brand name "SAIL TMT."
Read more about SAIL TMT Dealership.
4. Jindal Panther: Jindal Panther is a well-known brand for TMT bars, and Jindal Steel and Power Limited (JSPL) is the manufacturer.
Read more about Jindal Panther Dealership.
5. Kamdhenu TMT: Kamdhenu Group offers a range of steel products, including TMT bars under the brand "Kamdhenu TMT."
Read more about Kamdhenu Dealership.
Once you have chosen a manufacturer, you will need to obtain a dealership from them. The process of obtaining a dealership may vary depending on the manufacturer.
Licenses and Registrations required
The following licenses and registrations are required for a TMT bar dealership business in India:
Company Registration (Sole Proprietorship/LLP/Pvt Lmt.)
Trade Licence from the local municipality
Shop & Establishment Registration
GST Registration
Business Insurance (if required)
These document requirements vary from state to state. You can consult a local chartered accountant to get these documents.
Location and Space requirement
Your TMT bar dealership should be located in a convenient and accessible location with good transportation links and easy access for heavy vehicles such as trucks.
You will need at least 500 square feet of space to start a TMT bar business, plus additional space to store your inventory.
If you plan to sell other construction materials together with TMT bars or offer additional services, you may need more space.
How to contact TMT Brands for Dealership
Every TMT bar brand has an official website, where you can find their contact information. You can also call the company's customer service line or email the company directly to express your interest in becoming a dealer.
Once you have contacted a TMT bar brand, they will likely ask you for some basic information about your business, such as your location, target market, and sales goals. They may also ask you to complete an application form.
Once your application has been reviewed, a sales representative will contact you to discuss your dealership opportunity. They will be able to answer any questions you have about the program and help you get started.
We hope this information will help you start a TMT bar dealership business in India. If you like this article, please share it with your friends who are interested in the construction materials industry.