The demand for electric scooters in India is strong and growing rapidly, creating new opportunities for businesses.
If you are considering starting an electric scooter dealership in India, Tunwal is an established company that offers dealership opportunities.
This article provides complete details related to the Tunwal dealership, including dealership cost, profit margin, contact details, and more.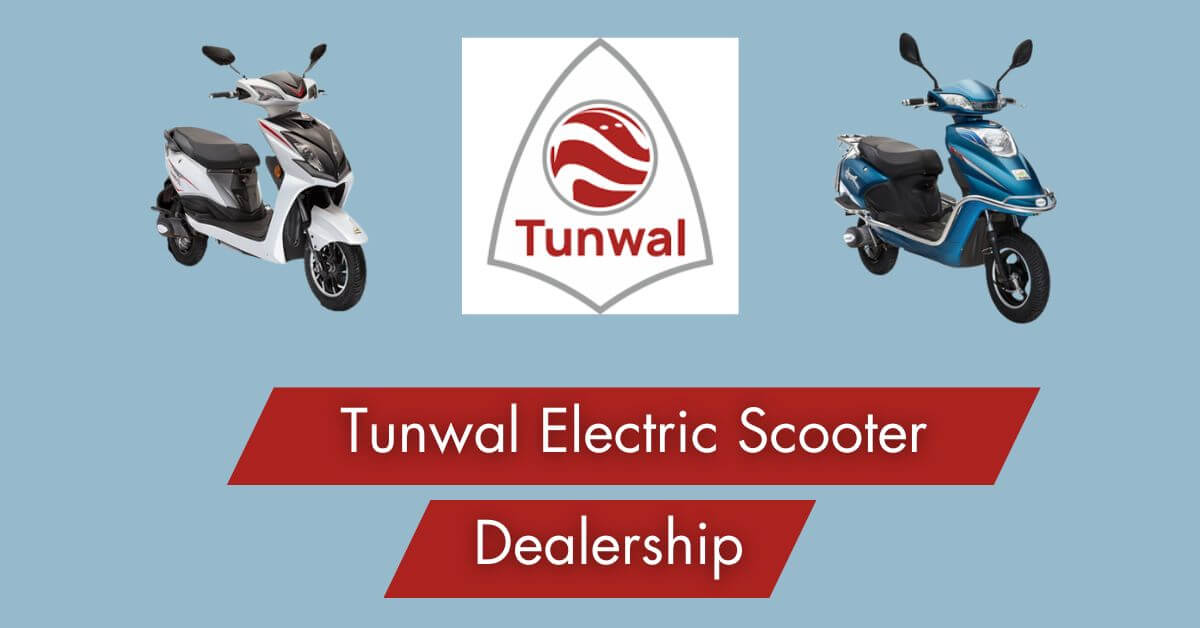 Why choose Tunwal?
Established in 2013, Tunwal is an Indian electric vehicle company that manufactures electric scooters.
The company is headquartered in Pune, Maharashtra, and offers a range of electric scooters, including low-speed and high-speed models.Tunwal scooters are known for their long battery life, affordable price, and stylish design.
Tunwal Scooters has over 350 dealers in over 25 states in India, and also exports to Nepal.
Some of the most popular Tunwal electric scooter models include the Mini Lithino, Sport 63 Mini, Roma S, Storm ZX Advance 2, Storm ZX, and Lithino 2.0.
Licenses and Registrations required
These are the licenses and documents required to start a Tunwal electric scooter dealership.
✅ Business Registration – Sole proprietorship/LLP/Pvt Limited
✅ Shop & Establishment Registration (from the state government)
✅ GST certificate
✅ Good CIBIL score ( Credit History )
✅ Valid land documents / Lease agreements
✅ Business Insurance (if required)
If you lack capital, then you can approach banks for business loans with a proper business plan.
Space required for the dealership

You require a minimum of a 1500 square feet showroom and a 800 square feet workshop to start a Tunwal electric scooter dealership. So the overall commercial space required is 2300 square feet.
Tunwal Dealership Cost
To start a Tunwal dealership, you need approximately 45 lakh investment, considering a 1500 square feet showroom and 800 square feet workshop.
Here is the break-down of the investment,
➤ Minimum working capital required ->  15 lakhs ( to run the business)
➤ Security deposite -> 2 lakhs (Refundable)
➤ Initial stock purchase -> 20 lakhs
➤ Showroom interior  - > 4 to 5 lakhs
➤ Machines and equipment for the service centre  ->  2 lakhs
➤ Miscellaneous expenses  ->  1 lakh
➤ Showroom/Warehouse lease amount - (extra)
The monthly expenses are Showroom/warehouse rent, staff and labour salary, inventory purchase, utility bills, etc.
Related:
Hero Electric Scooter Dealership? | Complete Guide
Profit margin in Tunwal electric scooter dealership
Apart from vehicle sales, dealers also make profits from other sources.
The approximate total profit of the Tunwal electric scooter dealership is as follows,
➤ Tunwal EV Sales Margin -> up to 9% to 13% ( of Ex-Showroom Price )
➤ Commission from insurance – 15% to 20% ( of OD amount )
➤ Commission from loan – about 2% to 4% ( of the loan amount )
➤ Commission from Accessories sale – 15% to 20%
➤ Commission from spare parts sale – 15% to 20%
➤ The margin on service – 25 to 30% (labour charges, engine oil, etc.)
The after-sales service of electrical vehicles is very low compared to traditional internal combustion engine (ICE) vehicles. So a good margin is essential in vehicle sales.
After 3 to 4 years you can expect some revenue from spare parts sales, especially if the battery needs replacement.
How to get Tunwal Electric Scooter dealership?
To become a Tunwal dealer, you must first contact them at +91 8448448763 or visit their website. You can also mail them to [email protected].
Tunwal will then provide you with more information about the dealership process and requirements, as well as any other necessary information.
After you have been approved as a dealer, you will need to set up a showroom and purchase a stock of Tunwal electric scooters.
You will also need to hire and train staff to sell and service the scooters, including training them on Tunwal's products, policies, and procedures.
Finally, you need to market your dealership and reach out to potential customers through a variety of channels, such as online advertising, social media, and print advertising.
FAQ about Dealership
How much investment is required for the Tunwal EV scooter dealership?
You require a minimum of 45 lakh investment to start a dealership.
Shop space required for Tunwal dealership?
The minimum space required is 2300 square feet ( for the showroom and workshop).
Profit margin in Tunwal dealership?
You can expect a profit margin of up to 9% to 13% on ex-showroom prices.
I hope this article has resolved many of your doubts related to the Tunwal electric scooter dealership. If you have any suggestions feel free to mention them in the comment box below.