Due to the increasing adoption of 3D printing technologies by businesses and industries, we are seeing significant growth in 3D printing services.
The government is also focusing on promoting the ease of adoption of 3D printing in India by introducing policy interventions on a regular basis.
This article provides you with complete information related to the 3D printing business in India, including the machines required, the investment required, the profit margin, the business plan, and much more.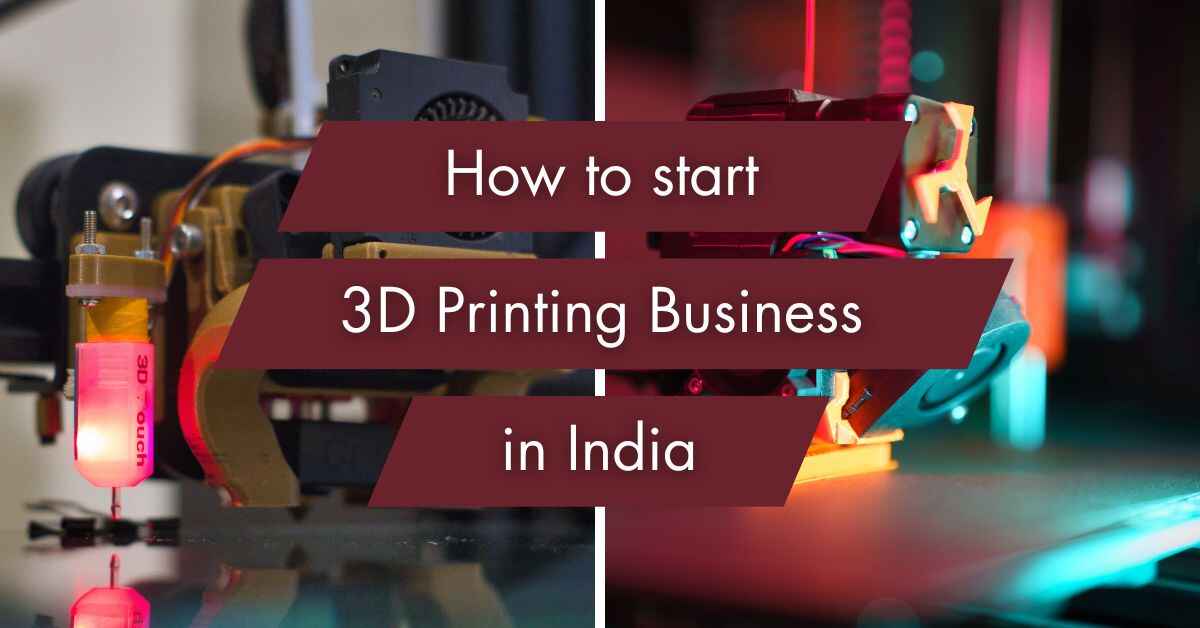 3D Printing Business Plan
The 3D printing market in India is still in its early stages of development, but it is growing rapidly.
To start a successful 3D printing business, you need to carefully plan and execute your business strategy.
Identify a niche market. The 3D printing market is still relatively new in India, so it is important to identify a niche market to focus on. This could be a particular industry, such as healthcare or manufacturing, or a particular type of product, such as custom toys or jewelry.
Conduct market research. Once you have identified a niche market, you need to conduct thorough market research to understand the needs and requirements of your target customers. This will help you to develop products and services that meet their needs and to price your products and services competitively.
Invest in the right equipment. The quality of your 3D prints will depend on the quality of your equipment. It is important to invest in a good quality 3D printer and other related equipment, such as scanners and software.
Hire skilled staff. 3D printing is a complex technology, so it is important to hire skilled labor who can operate and maintain your equipment effectively. This will help you to ensure the quality of your 3D prints and to meet the needs of your customers on time and on budget.
Market your business. You need to market your business to potential customers. You can do this online and offline through a variety of channels, such as trade shows, industry publications, and social media. You can also partner with other businesses in your niche market to reach a wider audience.
Investment required for 3D Printing Business

The investment required to start a small-scale 3D printing services business in India is around 5 to 6 lakhs.
Here is a breakdown of the major startup costs:
Purchasing 3D printers: The cost of 3D printers can range from a few thousand rupees for entry-level desktop models to several lakhs for industrial-grade machines. Consider 1 to 4 lakhs or more, depending on the type of printer and the features you need.
Computer system: You will need a high-performance computer to design and slice your 3D models.
Software: You will need 3D modeling and slicing software, which can be free or paid. Consider 20,000 to 40,000 per annum.
Materials: Budget for purchasing 3D printing materials, such as filament, resin, and powders. This can cost an additional ₹1 to 2 lakhs.
Workspace: You will need a dedicated workspace for your 3D printers and other equipment.
Licenses and registrations: Around ₹30,000. You do not require any special licenses. You can consult your local chartered accountant for a list of documents.
Miscellaneous expenses: Around ₹50,000
Marketing expenses: Around ₹30,000 (depends on your budget and sales targets)
Shop security deposit: Varies depending on your location and shop size.
The monthly ongoing costs of running your business are shop rent, staff salary, utilities, material purchase, maintenance, and repairs.
If you lack capital, the Indian government offers a number of loan schemes for small businesses, such as the Mudra Loan Scheme, Stand Up India Scheme, and PMEGP.
To apply for a government loan, you can contact the nearest branch of a public sector bank.
You will need to submit a completed loan application form, along with a business plan and other supporting documents.
Also Read:
.
Printing Business in India | Complete Guide
.
Stationery Shop Business in India | Complete Details
Profit Margin in 3D Printing Business
On average, 3D printing service businesses in India can expect to achieve profit margins of around 40–50%.
The profit margin in this business can vary depending on a number of factors, including the type of services offered, the volume of work, and your shop operational costs.
Also Read:
.
Xerox Shop Business in India | Complete Guide
Location and Space Required
Major cities and metropolitan areas in India often have a higher demand for 3D printing services due to their diverse industries, educational institutions, and larger customer base.
Locations such as technology parks, innovation centers, industrial hubs, educational institutions, research institutions, and Special Economic Zones are some of the ideal locations for this business.
If you are targeting businesses in a particular industry, you may want to set up your business near a cluster of businesses in that industry.
You need a minimum space of around 500 square feet to start a 3D printing business in India.
If you plan to offer prototyping and manufacturing services, you will need more space to accommodate your larger 3D printers and additional equipment, such as post-processing equipment and a storage area for raw materials and finished products.
Machines and Equipments Required
3D printers: You will need to choose a 3D printer that is suitable for the type of services you plan to offer and the materials you plan to use. 3D printers come in various types and technologies. Common technologies include Fused Deposition Modeling (FDM), Stereolithography (SLA), Selective Laser Sintering (SLS), and others.
Computers: High-performance computers are essential for running CAD software and slicing software efficiently. You may also require networked computers for managing the printing process.
Slicing software: Slicing software is used to convert 3D models into printable G-code files. Common slicing software includes Ultimaker Cura, PrusaSlicer, and Simplify3D.
3D printer filaments and resins: You need 3D printing materials such as filaments (for FDM printers) and resins (for SLA and DLP printers) in various colors and materials like PLA, ABS, PETG, and more.
Finishing tools: Post-processing equipment such as sanding tools, solvent baths, UV curing chambers, and support removal tools may be necessary to finish printed objects.
You may also require additional tools such as 3D scanners, Calibration tools, Digital microscopes, Safety equipment, Power backup. Depending on the type of services you provide, you may need some or all of these additional tools.
We hope this guide to starting a 3D business in India helps you start one. If you like this article, please share it with your friends.