The printing business is always an evergreen business. From inviting people to marketing businesses, you require printed products for everything.
Although online products have been increasing in recent times, printed products have not lost their demand.
In this article we will give you complete information related to the printing shop business, which includes the printing business plan, machine and software required, licenses required, printing business cost, profit margin, etc.
Printing business plan
A proper business plan is very important to start any business. You should consider the following points before starting a printing business.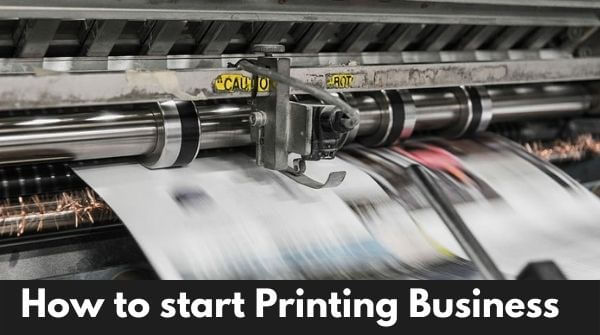 Choosing a good location:
The first step in printing a business plan is to choose a good location for your business. The best places are like high footfall areas, near office parks, near colleges etc.
Make sure your shop has good visibility. Also, look for demand and competition for this business in that location.
Space required for the shop:
You need at least 150 square feet of commercial space to start a printing shop business. Your store should be able to accommodate 2-3 customers at a time and keep printing machines and computer systems.
For this business, a shop rental of 10,000 to 18,000 rupees can be considered safe. It depends on the location and the total space.

Manpower required:
This business requires at least 2 to 3 employees. You can set salaries between 15,000 and 20,000 rupees per month.
In your workforce, you need someone who specializes in design and can use design software like Photoshop. One more person to operate a printing machine.
Service quality is very important:
In the printing business, your success depends mainly on the quality of your design and customer service. You need to stay up to date with the trending and new designs available in your field.
If you provide a good service, you can easily do business by word of mouth over time. You can also do offline marketing, for example, distributing flyers and social media marketing.
Deciding on printing products available in your shop?
With an offset printer, you can print a wide range of products in bulk.
You can add invitation cards, brochures, restaurant menu cards, magazines, flyers, bill books, brochures, visiting cards, small circulars, certificates, business cards, etc.
Licenses and registration required
To start a printing business, you require these licenses and certificates,
Shop and Establishment Certificate
GST Registration (required only if your annual turnover is more than 40 lakhs)
Business Registration – Sole proprietorship is enough
Business insurance if required
If you require a business loan then you can approach banks like SIDBI.
Machines and software required
Offset printing machine -> 4 lakhs to 6 lakh rupees (depending on the model)
paper cutting machine -> 15,000 rupees
Computer system -> 50,000 rupees
laserjet printer -> 15,000 rupees
Editing software – 50,000 rupees per year
( Adobe Photoshop, Adobe page maker, CorelDraw etc )
Printing business cost

To start a printing business in India, you require an investment of 6 lakhs to 7 lakhs rupees.
Here is the breakdown of the above-said amount,
Offset printing machine -> 4 lakhs to 6 lakhs
Computer system & printer -> 65,000 rupees
Paper cutting machine -> 15,000 rupees
Editing Software -> 50,000 rupees per year
Supply and materials -> 10,000 rupees ( ink, paper, folders etc )
Shop interior & Exterior -> 20,000 rupees ( table, chairs, racks, signage board)
Marketing & registrations -> 10,000 rupees
Shop security deposit -> 35,000 rupees ( Varies according to location )
Ongoing monthly expenses are shop rent, employee salary, material purchases, utility bills, etc.
Related: How to start Xerox Shop Business in India?
Printing business profit margin
In the printing business, you can expect a profit margin of up to 30% to 50% on your revenue.
So your total monthly profit is determined by the total business you did in that particular month. If you have enough business in a month, you can earn up to 50,000 a month after deducting all expenses.
Of course, if you run the business on a large scale, then you can earn more profit.
Related Posts:
FAQ about printing business
How much space is required to start a printing business?

you require a minimum of 150 square feet of space to start the business.

How much investment is required to start a printing business?

You can start with a 6 lakh to 7 lakh rupees investment.

What is the profit margin in the printing business?

You can expect a profit margin of up to 30% to 50% on revenue.
I hope this article has resolved many of your doubts related to the printing business. If you have any suggestions feel free to mention them in the comment box below.