If you are planning to start a business with a small investment, then starting a xerox shop business or a photocopy business would be a great option for you.
You do not require big capital to start this business and if you choose the right location, then you will definitely succeed in this business.
In this article, we will give you complete information related to the xerox shop business or the photocopy business, which includes a business plan, machines required, licenses and certificates required, xerox business cost, profit margin, etc.
Choosing a location for your business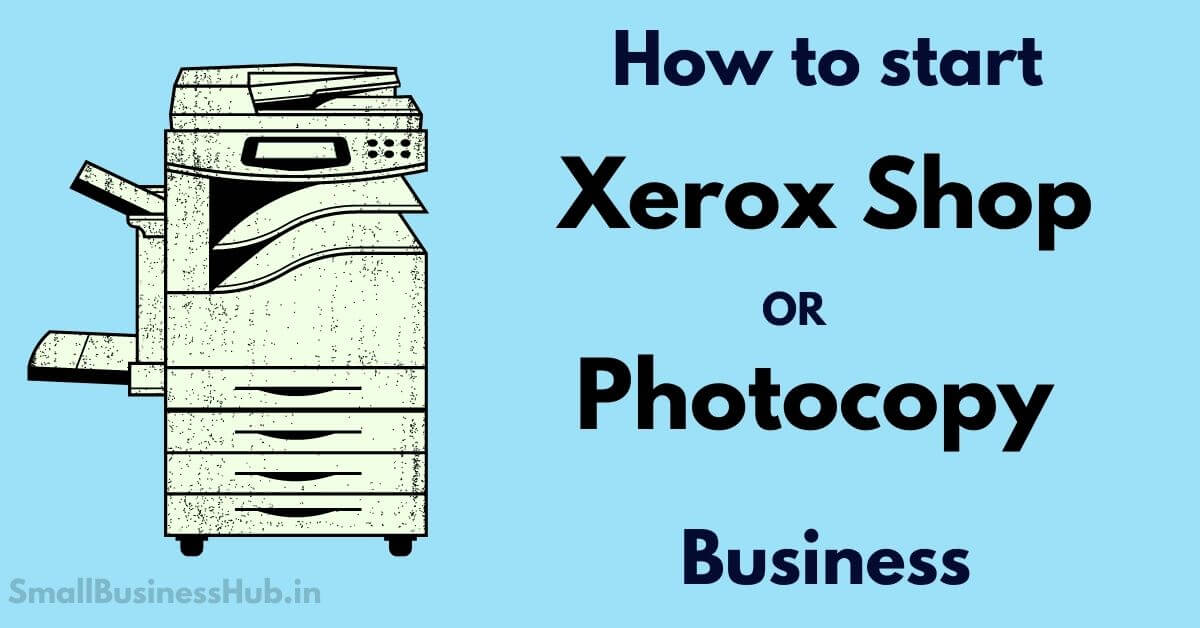 The first step in the xerox shop business is to choose a good location for your business. Small towns, metros, suburbs, villages anything works for this business.
The ideal locations for the photocopy business are near colleges (schools do not work), offices/corporate areas, hospitals, govt. institutions, banks, court compounds, near coaching/tuition classes etc.
You need a shop with a minimum of 150 square feet of space. If you want to start with a large scale then you may require more space.
For this business, a shop rental of 10,000 to 15,000 rupees can be considered safe. It depends on the location and the total space.
Set up your xerox shop
Keep an eye on your competitor's shops and note what types of services are in demand in your area.
If you have a limited budget, you can start with a xerox/photocopy machine with 50 pages per minute capacity. Add other basic machines like a binding machine, lamination machine etc.
Do not buy second-hand machines because the maintenance of the machine will cost you more.
You can expand your services by selling stationery items like pens, notebooks, markers, pen drives etc.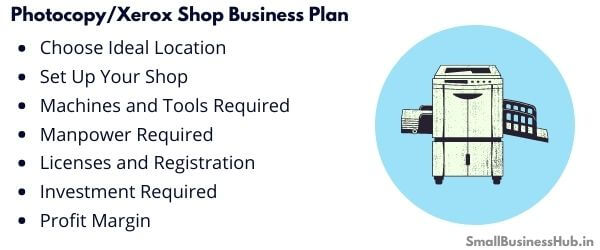 Deciding the price for your services is also an important factor. You should know the cost per page printing. Decide the price by looking at your competitors.
Other important things are, requiring a computer system with basic software like Microsoft Word, Excel, Powerpoint, Corel Draw, Photoshop, and an internet connection to access email.
Also, you should have good knowledge about the alignment of pages and operate different software mentioned above.
Machines and tools required
Photocopy/Xerox machine
Lamination machine
Spiral binding machine
Colour printer
Computer system
Toner/cartridge/ink
Different size papers like A4, A3, A2 etc.
Softwares like MS Word, MS Excel, MS PowerPoint, Corel Draw, Photoshop
Wifi Connection
Manpower Required
If you are starting a small shop then you do not require any employees. For a medium scale shop, you may require 1 to 2 employees.
For them, you can set salaries between 13,000 and 17,000 rupees per month.
The total manpower depends upon the scale on which you are planning to start your business.
Marketing your Xerox shop
If you provide a good service, you can easily do business by word of mouth over time. You can also do offline marketing, for example, distributing flyers and social media marketing.
The shops near the colleges may get a huge workload from students during the project/assignment submission times. So during this time, you need to work extra hours, to give good service.
Licenses and registration required
You do not require any special licenses to start a xerox shop business in India. Shop & Establishment Registration and Business Registration (sole proprietorship) are enough.
If you have basic documents like an Aadhar card, PAN Card, Bank Account & Shop rental agreement, then you could easily get these Registrations. You can take help from any CA or legal agencies to get these documents.
GST Certificate is not necessary if you are planning a small shop. As per government norms, for a service-oriented business, the yearly turnover limit has been set to 20 lakhs.
So, if your annual turnover exceeds 20 lakhs then only you need to register for the GST.
If you have limited capital, then you can approach banks like SIDBI for a business loan.
Xerox shop business cost

To start a xerox shop or a photocopy business in India, you require an investment of 4 lakh rupees.
The initial investments required are,
Photocopy/Xerox machine -> 2 lakhs (50 copies per minute)
Lamination machine -> 5,000 rupees
Spiral binding machine -> 7,000 rupees
Color printer -> 15,000 rupees
Computer system -> 40,000 rupees
Toner/cartridge/Ink – 15,000 (In the beginning)
Wifi Setup – 2,000 rupees
Supply and materials -> 10,000 rupees ( paper, stapler etc )
Shop interior & Exterior -> 25,000 rupees ( table, chairs, racks, signage board)
Marketing & registrations -> 6,000 rupees
Shop security deposit -> 35,000 rupees ( Varies according to location )
If you want to include a Jumbo xerox machine then you need to invest more. A jumbo xerox machine will cost 4 lakh to 20 lakh rupees depending upon the specification.
This machine is used to print A0, A1 paper sizes like building floor plans, blueprints etc.
The ongoing monthly expenses are shop rent, cartridge/toner purchase, paper purchase, employee salary, machine maintenance, electricity bills, wifi charges etc.
Related Posts:
Profit margin in xerox shop business
In the xerox shop business, you can expect a profit margin of 25% to 30% on your revenue.
So your total monthly profit is determined by the total amount of service you have done in a given month. If you have enough business in a month, you can earn up to 25,000 a month after deducting all expenses.
Of course, if you run the business on a large scale with a jumbo printer and more photocopy machines, then you can earn more profit.
Related Posts:
FAQ
How much space is required to start a xerox shop business?

You require a minimum of 150 square feet of space to start the business.

How much investment is required to start a xerox or photocopy business?

You can start this business with a 4 lakh investment.

What is the profit margin in the xerox business?

You can expect a profit margin of 25% to 30% on revenue.
I hope this article has resolved many of your doubts related to the Xerox shop business. If you have any suggestions feel free to mention them in the comment box below.