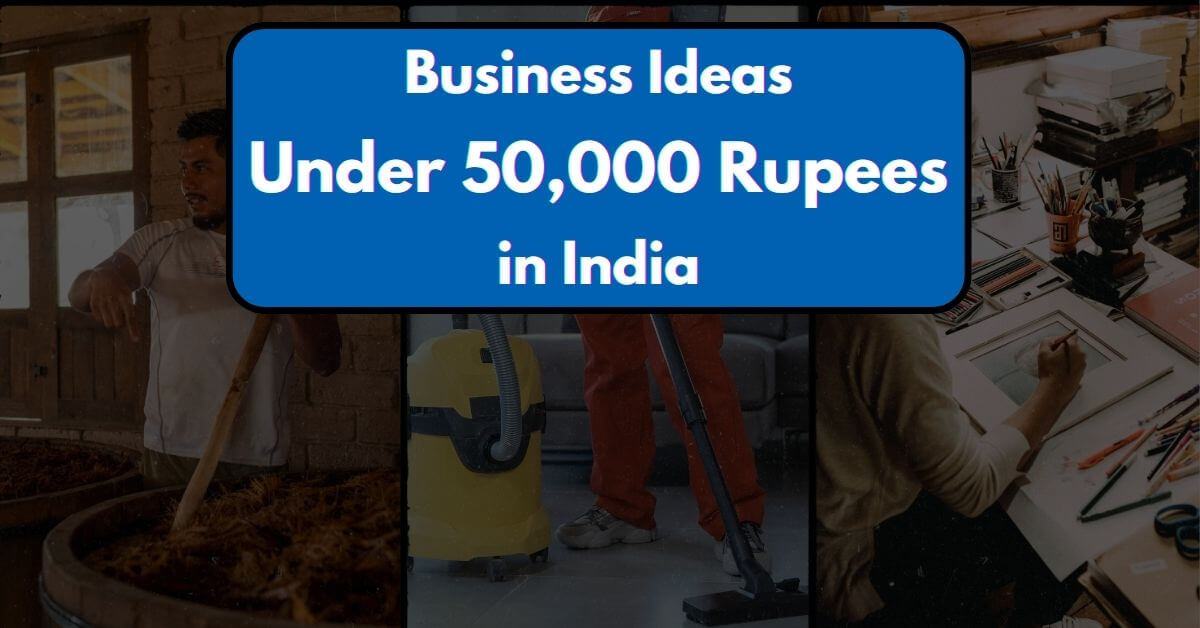 Starting a business with a limited budget of under 50,000 rupees can be challenging, but it is definitely possible.
Many successful businessmen today started small and eventually became tycoons.
When you start a business with limited capital, it reduces your financial risk, encourages creative thinking, and allows you to learn from your mistakes.
With that in mind, we have listed 20 business ideas that you can start with under 50,000 rupees in India.
Selling E-books
If you have extensive experience or knowledge in any field. You can write an e-book utilizing that knowledge and sell it online through marketplaces such as Amazon and social media.
You don't require any investment to initiate this business; it is sufficient if you know how to use Microsoft Word. For image editing, you can use user-friendly apps like Canva.
Also Read: Best Business Ideas Under 5 lakhs in India
2. Online English Teaching
If you are fluent in English or any Indian language, you can become an online language teacher and charge students on an hourly basis.
All you need to get started is a laptop and a good internet connection. You can join online platforms like Upwork, Preply, etc., to find students.
3. Freelancing Jobs
Freelancing jobs, such as graphic designing, content writing, web designing, translation, digital marketing, and virtual assistance, are always in demand. There are many other varieties of freelancing jobs available as well.
By becoming an expert in any of these fields, you can earn a good income online and charge clients on a per-project basis. Some of the famous freelancing websites include Upwork, Fiverr, and Freelancer.
4. Home-made Food Tiffin Service
Bachelors working in cities always look for home-cooked food. If you have a passion for cooking, you can start a tiffin service for these individuals.
You can begin this business with very little investment. Initially, you will need to spend some money to purchase utensils. You can deliver these tiffin boxes to nearby office workers.
5. Real Estate agent
There is always a demand for the real estate business in India. By obtaining an agent license from RERA, you can become a real estate agent without any investment.
Your job as a real estate agent is to connect buyers and sellers for property and assist them in negotiations. You can work on both renting and buying properties.
6. Electronic Item Repair Shop
Starting an electronic repair shop does not require a huge investment. You only need basic tools and equipment to start this business.
You can repair appliances such as refrigerators, washing machines, and ceiling fans. If your shop is located in a good footfall area, getting customers is not a difficult task.
7. Day Care Service at Home
This idea is suitable for women. You can start this business from your home. Parents leave their children at your place, and you have to take care of the child.
You can accept toddlers, preschoolers and school-age children. You only need to purchase some toys to start this business.
8.Home Pet Grooming Service
People living in cities have busy lifestyles. If you have experience or knowledge in pet grooming, you can provide pet grooming services at their home.
You can offer services such as bathing with shampoo and conditioner, full body hair trimming, nail trimming, ear cleaning, and more. To start this business, you may need a two-wheeler.
Related: Pet Grooming Business | Complete Guide
9. Blogging
If you have vast experience or knowledge in any field, you can turn that knowledge into a business by starting a blog on that topic. To succeed in this business you need to learn basic digital marketing skills.
To start a website or blog you need a domain and a hosting provider. You can get these services from sites like Godaddy, Hostinger etc.
10. Consulting or Coaching Services
If you have expertise in any field, you can provide consulting or coaching services to individuals. You can provide this service online or from an office location.
Some consulting or coaching ideas are financial consulting, fitness coaching, social media consulting, legal consulting, etc. You can find clients from freelancing sites like Upwork and social media.
11. Modern Paan Shop
Starting a modern paan shop does not require a huge investment. One can start this business in metro cities.
City people love mouth freshener pans with different flavours for their mesmerizing aroma and sweetness. Food streets are the ideal location for this store.
12. Home Beauty Parlour
If you are a beautician or have done a beautician course you can start a home-based beauty parlour. You need to spend some amount to buy some accessories.
Getting clients is not a big task if you have good contacts in your area. You can also use social media to get more customers
13. Mushroom Harvesting
Mushroom cultivation does not require a large area. You can buy mushroom spawns (eggs) from the local market.
This business does not require a huge investment. All you need are things like disposable plastic bags and plant waste like bags of sugarcane, rice husk etc. You can sell mushrooms to local markets.
14. Sell Crafts Online
If you are good at crafts or DIY like jewellery, clothing design, card making, painting, sculpture, etc., you can sell these finished items online.
Social media pages, and marketplaces like Amazon, and Flipkart are great places to find buyers for your handicraft products.
15. Youtube Channel
If you have vast knowledge in any field and you have good presentation skills, you can easily start a YouTube channel. You can start your channel in English language or any regional language.
You can earn money from multiple sources like YouTube ads, promotional products, webinars etc.
16. Handyman Services
If you are an expert in repairing and maintaining a wide range of building services, you can provide handyman services in your area. These works include plumbing, cleaning, equipment repair, water tank cleaning etc.
Handymen are always in demand in cities. You can also join online home service websites like Urban Company to get customers.
17. Tuition Classes
You can start a tutoring service either in your home or in a small office space. To attract students consistently, you must possess good teaching skills.
This business requires minimal investment. If you wish to teach multiple subjects, you can hire additional teachers.
18. Conduct Paid Webinars / Seminars
If you are an expert in any field or skill, you can conduct webinars and paid seminars. You can easily start this business under 50,000 rupees investment.
You need a good network or social media following to find people to attend your webinars. You can also run social media ads to get customers.
19. Upholstery Cleaning Service
You can easily start an upholstery (soft coverings of chairs, sofas, and other furniture) cleaning business under a budget of 50,000. You will need some tools like a vacuum cleaner, upholstery nozzle etc.
This service has good demand in tier 1 cities. You can join home servicing platforms like Urban Company to find customers
20. Online Custom Jewellery Business
People always look for custom-made jewellery to gift their loved ones. If you are interested in making custom-made jewellery, this idea is for you.
You only need a few tools to start this business. To run this business successfully, you must be up to date with the current trends. You can sell your products through social media and marketplaces like Amazon, Flipkart etc.
These are the 20 business ideas that you can start in India with an investment of 50 thousand rupees. We hope this information will assist you in launching your business. If you have any suggestions, please feel free to share them in the comment box.