Small businesses play a very important role in generating employment in India.
If you have a small capital i.e. less than 5 lakh, in which you are thinking of starting a business, this article can be helpful for you.
Some of the business ideas given below are suitable for starting in Metro or Tier 1 cities, while others may be suitable for starting in rural or suburban areas.
Therefore, it is essential to do proper market research before you take any decision to start any business.
Here are the best business ideas that you can start with under a 5 lakh investment.
Best Business Ideas Under 5 lakhs in India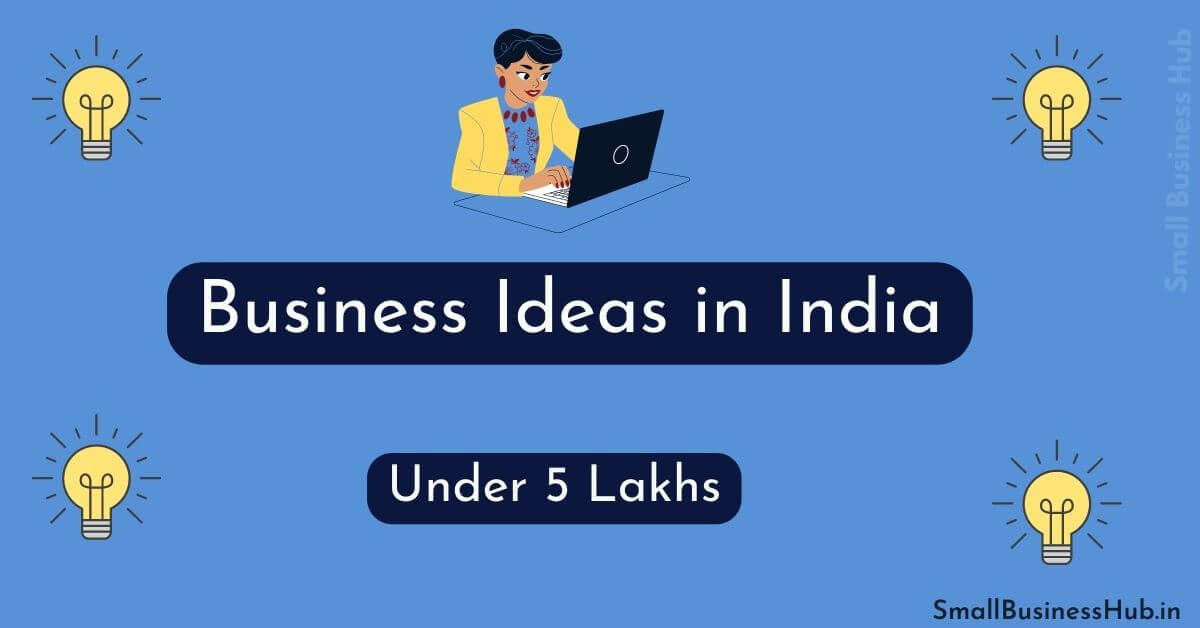 1. Xerox Shop Business
A xerox or photocopy shop business is one of the few businesses that you can start with an investment of less than 5 lakhs.
To start this business you need a small rental shop in a good location. Locations near schools, colleges, banks and offices are ideal for this business.
Also, you need some equipment like a xerox/photocopy machine, lamination machine, spiral binding machine, computer system etc.
Also Read: Business Ideas Under 50,000 Rupees in India
2. Car Washing Business
The number of four-wheeler buyers in India is increasing significantly year by year. If you choose a good location and start a car washing business, you can definitely be successful in this business.
Service quality is very important in this business, good service can earn you repeat customers.
Starting this business requires a rented shop with ample parking space and proper water resources. You will also need tools like a hydraulic car wash lifter, pressure washer and vacuum cleaner etc.
3. Home-made Food Tiffin Service
Who doesn't love homemade food? Far from their homes, many people who work in cities prefer home-cooked meals instead of eating out in restaurants.
So, if you are interested in cooking, you can easily start a tiffin service business at your own home.
You need small investments to buy cookware, ovens and tiffin boxes. For delivery, you can do it on your own or you can partner with a delivery agent.
To operate this business on large scale, you may require an FSSAI licence from the government.
4. Party Decoration Business
A Party decoration business can be started with low investment. By starting this business you can help people celebrate their special moment and you can also earn a good income.
You can decore events like birthday parties, anniversaries, wedding parties, bridal showers, baby showers, engagement parties etc.
To start this business you require a vehicle for transportation and a small rented shop/godown to store decorating items. Initially, you can begin as a home-based business to cut down on expenses.
5. Pest Control Business
The pest control business has seen considerable growth in recent years. In India, this industry is growing at 15% each year.
With pest control, harmful insects that can harm human health and damage properties can be brought under control.
Since this business involves the usage of dangerous and toxic substances, you require a valid training licence from the Indian pest control association.
To start this business you need a used vehicle for transportation and equipment like duster sprayers, granular spreaders, bait guns etc.
6. Grocery store and Delivery business
The grocery store business is an evergreen business. No matter how much online platforms try to dominate, the need for offline grocery stores has never decreased and it is not going to decrease.
Most of the grocery stores that exist now are conventional types, if you open a modern-style store, you can attract more customers.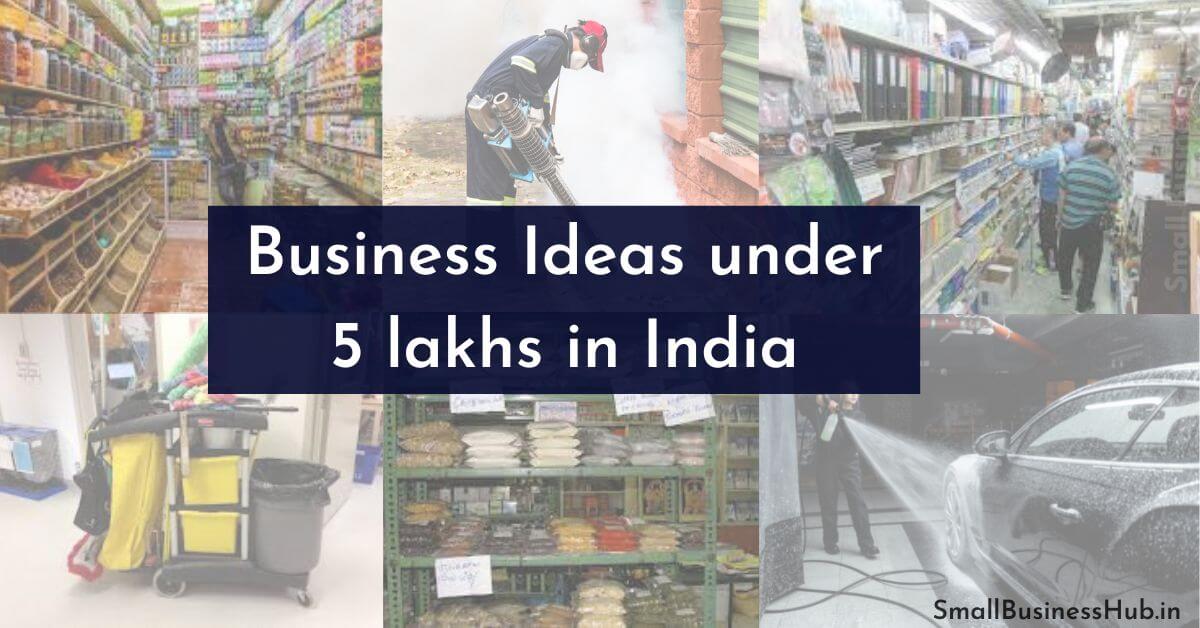 In today's modern grocery shops, billing software and the facility to accept online payments are essential. Billing software is beneficial in stock management and accounting of business profit and loss.
There is a massive demand for grocery home delivery services. As large grocery delivery companies operate only in metro cities, there is a vast demand for grocery delivery in tier 2 and tier 3 cities.
Related:
How to start 'One Person Business' in India | Complete Guide
7. Cleaning Service
There is a huge demand for residential and commercial cleaning services in India.
Initially, you can start with a home or residential cleaning service and once you gain experience in the field you can add commercial cleaning like offices, hospitals etc.
Some of the house cleaning services are deep cleaning, bathroom cleaning, kitchen cleaning etc.
To start this business you need some equipment like a pressure washer, vacuum cleaner and a used vehicle for transportation. You also need manpower of 3-4 people.
You can print flyers to market your business and list your business on online marketplaces like urban company.
8. Organic Food Shop
In recent years people are becoming more aware towards their health. So people want to eat healthy food grown without using synthetic or chemical fertilizers.
Although the price of organic products is a bit higher, there are many health-conscious people who want to buy them.
The organic food market in India getting strong growth. There is high demand for these stores in Tier 1 and Tier 2 cities.
After the Covid-19 pandemic, the demand for organic ingredients has increased even higher.
You can get organic products from the big companies available in the market.
9. Real Estate Agent
A real estate agent connects buyers/tenants and sellers for real estate dealings and acts as a mediator. In developing countries like India, there is a huge demand for the real estate industry.
Choose your real estate specializations like sale/rent residential properties or commercial properties. To get clients you can use real estate classified platforms like magicbricks, 99acres etc.,
To become a licenced real estate agent in India you should obtain a RERA ( Real estate regulatory authority) registration from the state government.
10. Stationery Shop Business
Schools, colleges and workplaces are ideal places to start a stationery shop business.
In a stationery store, you can sell paper products like notebooks, notepads, diaries, winding books and non-paper products like pens, pencils, markers, gifts, and art & craft supplies etc.
As most of the products in the stationery store are used by teenagers/youth, you should stock the latest trending products in your store.
You can source items from wholesalers in your area and stationery items have a good margin of 30% to 40% on product sales.
This is the list of best business ideas under 5 lakhs that you can start in India. If you like this article, please share it with your friends and family. Thank you.