Over the past decade, the Indian furniture market has expanded beyond chairs and tables to sofas, cupboards, wardrobes etc. The improved living standards are also contributing to this growth.
If you are interested in starting a business in this evergreen furniture market, you can easily start a furniture shop in your area.
In this article, we will give you complete information related to the furniture business, which includes a business plan, items to include, licenses and certificates required, furniture shop business cost, profit margin, etc.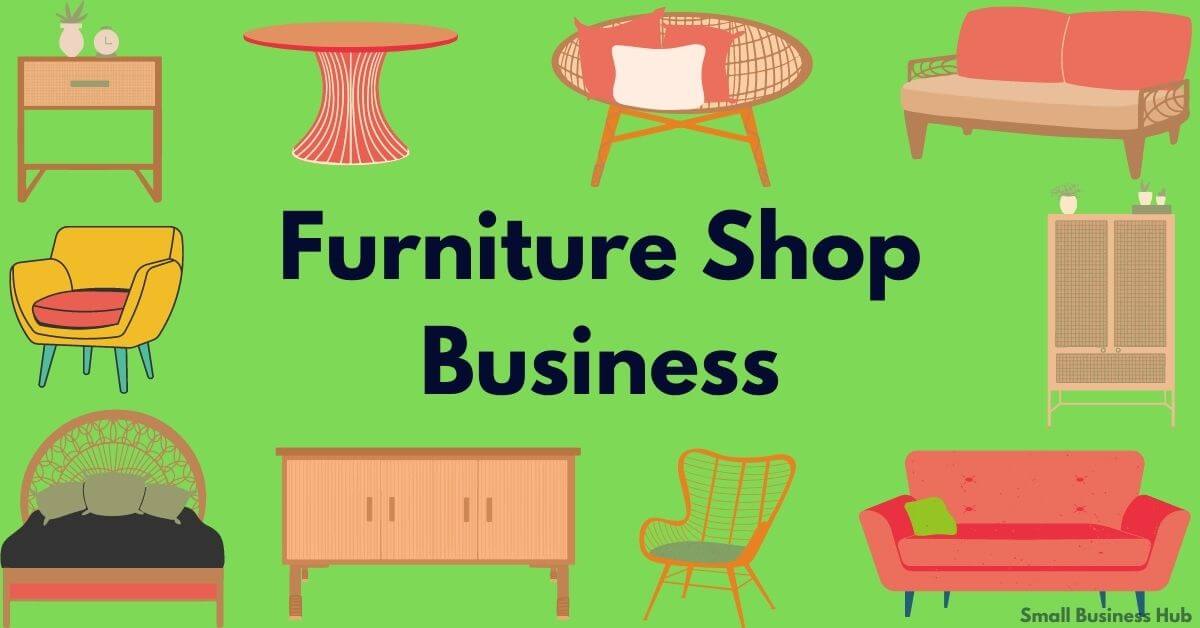 Furniture business plan
To start a furniture shop business, you need to have the proper plan. The furniture business plan includes the following steps,
Finding a good location for your business
Your target customer
Sourcing your furniture products
The type of furniture to sell or your product line
Licenses and registrations required
Total Investment and the expected profit
Marketing your Business
Choosing a location for your business
The first step in the furniture business is to choose a good location for your business. Areas where new houses, apartments and complexes are being built, and middle-class to upper-middle-class residential areas are ideal places for furniture shop business.
You need a shop with a minimum of 2000 to 2500 square feet of space. If you want to start with a large scale then you may require more space.
For this business, a shop rental of 25,000 to 30,000 rupees can be considered safe. It depends on the location and the total space. You may need a small warehouse to store additional stock.
Sourcing furniture items
You should partner with the best furniture suppliers in your area. Do not rely on a single supplier. The chances of a sales conversion are greater if you offer different variants to customers.
Keep track of your competitor's stores and note what kind of items they have included in their store. Determine the competitive price for your products.
Stocking trending items in your store give you the added benefit. You can also provide custom-sized products to your customers by tying up with local furniture manufacturers.
Type of furniture to sell in your shop
You can sell these items at a furniture store,
Chairs, sofas, armchairs, tables, beds, desks, drawers, cabinets, cupboards, wardrobes, dining set, shoe cabinet, TV stands, wall storage, mattresses, bedside tables, bookcases, wall shelves, study lamps, mirrors, children's furniture and much more.
Manpower Required
If you are starting a small shop then you may require 2 employees to support you and to lift and transport the furniture. For a medium scale shop, you may need more people.
For employees, you can set salaries between 13,000 and 17,000 rupees per month. The total manpower depends upon the scale on which you are planning to start your business.
Licenses and registration required
The licenses and registrations required to start a furniture shop business are,
Shop & Establishment Registration
Business Registration – Sole proprietorship/LLP/Pvt Lmt.
GST Registration
Business Insurance
If you have basic documents like an Aadhar card, PAN Card, Bank Account & Shop rental agreement, then you could easily get these Registrations. You can take help from any CA or legal agencies to get these documents.
If you have limited capital, then you can approach banks like SIDBI for a business loan.
Furniture business cost

To start a furniture business in India, you require a minimum investment of around 10 to 12 lakh rupees.
The initial investments required are,
Stock Purchase – 10 lakhs
Shop construction works – 1 lakh
Shop Interior works – 50,000 rupees ( chair, table, racks, signage boards)
Marketing & registrations -> 10,000 rupees
Shop security deposit -> Extra ( Varies according to location )
Vehicle for delivery ( optional )
The ongoing monthly expenses are shop rent, employee salary, stock updates, utility bills etc.
Related Posts:
Profit margin in the furniture business
In the furniture business, you can expect a profit margin of 25% to 30% on your revenue.
So your total monthly profit is determined by the total amount of sales you make in a given month. If you have enough business in a month, you can earn up to 40,000 a month after deducting all expenses.
Marketing your furniture shop
If you provide quality products at a reasonable price, you can easily trade by word of mouth over time. Run discount schemes during major festive seasons so you can increase your customer base.
You can also do offline marketing, for example, distributing flyers and online marketing like social media marketing.
Related Posts:
FAQ
How much space is required to start a furniture shop business?

You require a minimum of 2000 to 2500 square feet of space to start the business.

How much investment is required to start a furniture shop business?

The minimum investment required to start a furniture shop business is around 10 lakh to 12 lakh rupees.

What is the profit margin in the furniture business?

You can expect a profit margin of 25% to 30% on revenue.
I hope this article has resolved many of your doubts related to the furniture business. If you have any suggestions feel free to mention them in the comment box below.