In developing countries like India, there is a huge scope for the construction industry. We know that in the construction industry building materials play a vital role.
There are immense business opportunities in the building materials field. In this article we will discuss one such business opportunity, it is 'tiles trading business'.
Tiles Business Plan
Note that, when we say 'tiles business', it means you will be trading ceramic tiles in full range, together with a limited range of marbles, granite, and sanitaryware items.
Any building requires a mixture of these surface finishing materials, so together with ceramic tiles, it is necessary to include marbles, granite, and sanitaryware items in a little quantity in your shop.
Done. Now, before you plan your business, you should decide 'type of tiles trading' you are going to start.
Types of tiles business in India
In India, the tiles trading business is operated in three different models namely – sample-based, stock-based, and wholesale business.
So, first, we need to understand these 3 business models and how they work. In the later sections, we will discuss the cost and the profit margin in the tiles business.
1. Sample based tiles business
You can start this business with minimum investment. All you need is a showroom to display tiles samples to customers.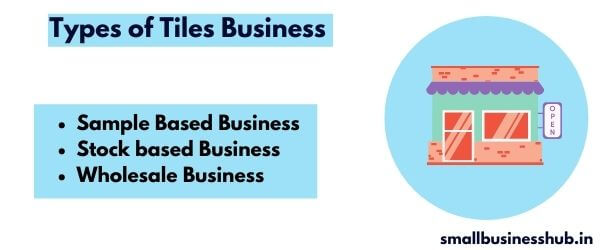 You can collect free tiles samples from tiles wholesale dealers in your region and display them in your shop. Whenever you get an order, forward it to the wholesaler from whom you have collected the samples.
The wholesaler will supply the material as per your request and you will get a commission on each order.
You can partner with multiple wholesale dealers to offer a wide range of products. If your shop is located in a prime location with good footfall then the wholesaler will provide you samples for free.
Another important thing, the way you display tiles samples in your shop will have a large impact on the customer. By looking at your display, customers will imagine how their wall going to look with that particular variety of tiles. So you need to check nearby successful tiles shops before finalizing the tiles display method.
You do not require a huge shop space to start this business. The minimum shop area required to start this business is 300 square feet
Since you do not own the stock, the risk factor in this model is really low.
If you partner with trusted wholesale dealers in your region, within a year you can easily scale up your business
Profit margin is comparatively low when compared to other tiles business model.
2. Stock based tiles business
This business model requires more investment compared to the sample-based tiles business. Here you will be purchasing the stock for the entire tiles varieties you have displayed in the showroom. When you get an order, you can supply the materials from your warehouse.
For this model, you need a warehouse to keep the stock and a shop/showroom to display the tiles samples.
You can purchase the material from the manufacturer or the big tiles dealer in your region.
The minimum showroom area required is 300 square feet and in the warehouse, you need at least 1500 square feet space.
Investment is really high, to set up warehouse & showroom and to purchase the inventory.
As you will be directly supplying the tiles, the profit margin in this business model is comparatively higher than the sample-based tiles business
Since you need to purchase & maintain your own stock, the risk factor in this model is high.
Related: How to start Paint Dealership in India ?
3. Tiles Wholesale Business
This model is somewhat similar to the stock-based model, but here you will be supplying materials to the retail shops instead of the end customer.
The retail shops display your tiles samples in their showroom and whenever they get an order they will forward it to you.
To succeed in this model, you should have a good network of retail shops in your region. In the beginning, you may be required to supply free samples of different tile designs available in your stock.
You require a warehouse to store your inventory, with a minimum area of 2000 square feet. The showroom is not necessary, you can manage with a small office set up.
Investment is really high- to purchase inventory, to set up a warehouse, to supply free samples, and for the office setup.
The profit margin is low compare to the retail business. Since you will be getting bulk orders from retail shops in your region, the turnover will be high, so you can make enough money.
The risk factor in this model is really high. Many established wholesale dealers in the market operate without GST. So it would be difficult to compete with their price.
So, these are the 3 types of business models you can start in tiles trading.
Licenses and Certificates Required
You do not require any special licenses to start a tiles business in India. All you require is a GST certificate and a Shop and Establishment registration from your state government. You can get these certificates from any nearby agencies in your place.
Investment required for Tiles business

1. To start a sample-based tiles business, you may require a 3 to 5 lakh investment considering you have your own shop. If you do not own the shop, you need to add a shop security deposit to the above amount.
Out of this amount the shop interior will cost you around 1 to 2 lakhs. Try to adopt the best sample display method in your region. You can invest even more if want to give a good customer experience.
Other costs are shop furniture, signage boards, and tile sample purchase. In the beginning, when you are new, most of the established tiles wholesale dealers may charge you for the samples.
2. For a stock-based tiles business you are required to invest minimum 20 lakhs to 30 lakhs rupees.
The major investments are purchasing the inventory and setting up the warehouse and the showroom. If you invest more in inventory purchases, then you will get more variety of tiles collection in your shop. At the same time, this has a high risk of dead stock.
3. A tiles wholesale business requires a huge investment, you need to invest a minimum of 40 lakhs to 75 lakhs rupees. This investment amount completely depends on 'how much stock you are going to purchase'.
One truckload of tiles will cost you around 8 to 10 lakhs. So you need to decide how many truckload tiles you are going to purchase in the beginning.
If you have more stock then you can partner with many retail shops in your region. Again this model has a high risk of dead stock.
Related:
Profit margin in Tiles business
You can expect a profit margin of 7% -10% in the sample-based tiles business. Since this is a low-risk business model, this profit margin is not bad.
In a stock-based business, you can expect a profit margin of 12% to 18%. Since you are directly selling your inventory to the end customer, the margin is high.
Finally, in the wholesale tiles business, you can expect a margin of 3% to 7%. But in the wholesale business, you only deal with bulk orders, so obviously your revenue will be high.
I hope this article has resolved many of your doubts related to starting a tiles business in India. If you have any suggestions feel free to mention them in the comment box below. If you like this article kindly share it with your friends.
You may also like: