India is the third-largest car market in the world. Small cars dominate the Indian car market, accounting for over 70% of all sales.
When there are so many four-wheelers in the country, their spare parts are also in high demand.If you are interested in the automobile industry, you can start a car spare parts shop and earn a good income.
This article provides you with complete details related to the car spare parts business, including the investment required, profit margin, spare parts business plan, and manpower needs.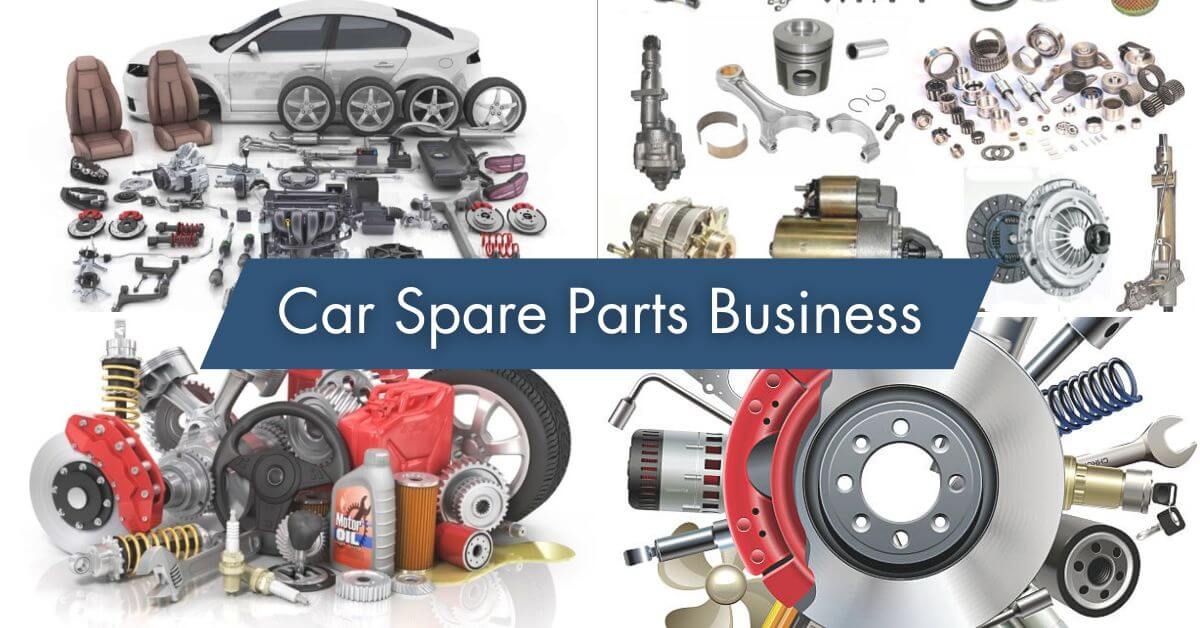 How to start a car spare parts shop
The most popular car brands in India are Maruti Suzuki, Hyundai, Tata Motors, and Mahindra & Mahindra.
These brands offer a wide range of cars, from small hatchbacks to SUVs and luxury sedans. To start a car spare parts shop, you need good knowledge of all car models, as well as their parts and accessories.
Without this knowledge, it is very difficult to succeed in this business, you cannot just rely only on workers. It may take at least one year to fully understand this business.
You can gain this experience by working in another shop. After gaining enough knowledge about the business, you can start this business with a proper business plan.
Having a Mechanic or Service station along with the shop
You can hire a mechanic for your shop or set up a service station and rent it out to a mechanic. This way, you can supply the required spare parts to the mechanic and get fixed orders from them.
Car spare parts business plan
Location plays a very important role in the success of any business. You can start a car spare parts business anywhere, but make sure there are enough garages and spare parts distributors (wholesalers) nearby.
If your shop is located near a wholesale shop, you don't need to keep slow-selling, expensive, or large space-consuming parts in your shop.You can get them directly from the wholesaler when you receive an order from your customer.
Like any other business, there are many counterfeit products in the market, so make purchases only from authorized dealers.
Initially, it is not possible to purchase inventory on credit. You may need to buy on a 'cash in hand' basis. Once the dealer or wholesaler has developed confidence in your business, you will get a credit period of 15-20 days for the purchase
Shop area required
You can start a car spare parts shop with 300 to 500 square feet of commercial space. Depending on the location and size of your shop, you may have to pay a rent of 15 to 20 thousand rupees.
If you plan to sell a wide range of spare parts from different brands, you may need more shop space. You may also need more space if you plan to run a service centre along with your shop.
Managing stock in car spare parts business
To avoid dead stock, inventory management is very important in this business. So, choose part types and quantities wisely.
Note which car models are more popular in your area and invest more in spare parts for those models. You can purchase heavy and slow-selling parts directly from the wholesaler after receiving an order confirmation from your customer.
Manpower required
Depending on the size of your shop, you may need one to two staff members to start.
If you run a servicing/workshop along with your shop, you will also need mechanics. Salaries can range from 12 to 18 thousand rupees per month, depending on experience.
Managing credit in the business
Garage owners charge their customers after the service is done, so they purchase parts from you on credit. Try to build a customer base of both mechanics and individual car owners to avoid being in a credit trap.
Investment required for Car Spare Parts Business

To start a car spare parts business, you need an investment of ₹6 lakhs to ₹10 lakhs.
The investment required to start this business mainly depends on factors such as the range of products you offer, the quantity of your purchase, and the brands you deal with.
Here is a breakdown of some of the key costs involved in starting a car spare parts retail shop business:
Initial car spare parts inventory purchase
Shop interior work (furniture, fixtures, racks, signage, etc.)
Licenses and registrations
Shop security deposit
The ongoing monthly expenses in this business are inventory purchases, shop rent, employee salary, utility bills etc.
Related:
Tyre Shop Business | Complete Guide
Battery Shop Business | Complete Details
Profit Margin in Car Spare Parts Business
You can expect a profit margin of 15% to 30% in the car spare parts business. The actual profit margin depends on the type of part sold and its brand.
Typically, branded items offer smaller profit margins, while domestic or local brands offer higher profit margins.
You can expect higher profit margins from individual customers, while mechanics or garage owners often ask for large discounts.
Related:
Car Washing Business | Complete Details
.
How to Start a Wheel Alignment and Balancing Business?
Licences and registrations required
These are licenses and certificates required to start a car spare parts business in India.
Shop and Establishment certificate
GST Registration
Sole Proprietorship registration
If you lack capital you can approach banks for business loans with a proper business plan.
We hope this article helps you start a car spare parts business in India. If you find this information helpful, please share it with your friends.