We all know that TMT bars are an important construction material and are always in demand in developing countries like ours.
If you are interested in the steel trading business then you can partner with any known steel brands in the Indian market.
One such brand is SRMB. You can start an SRMB dealership and start a business in the steel industry.
This article provides all the information related to SRMB dealership, dealership cost, profit and all the details required to start a dealership.
Why choose SRMB?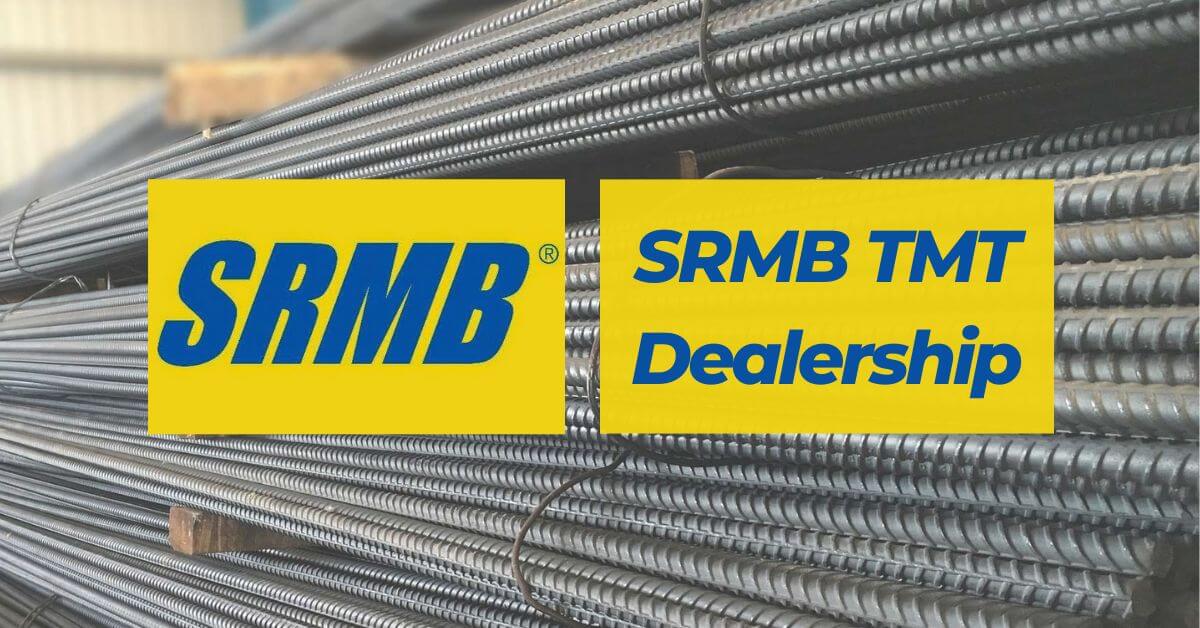 SRMB (Srujan Private Limited), one of India's leading steel manufacturers, started its steel business in West Bengal in 1951. It has its corporate office in Kolkata.
The company has a state-of-the-art manufacturing facility in Durgapur, West Bengal with a production capacity of 1.5 lakh tonnes per annum.
SRMB produces TMT bars in Fe 415D, Fe 500D, Fe 550D and Fe 500 S grades. Apart from India, SRMB TMT bars are also exported to Nepal, Bangladesh and Bhutan.
Licenses and Registrations required
These are the licenses and documents required to start an SRMB dealership.
Business Registration – Sole proprietorship/LLP
Shop & Establishment Registration
GST Registration
Valid land documents / Lease agreements.
If you lack capital, then you can approach banks like SIDBI for a business loan.
SRMB Dealership Cost

To start an SRMB dealership you need an investment of around 8 lakhs to 10 lakhs.
Here is the break-down of the investment,
Dealership Security Deposit -> 1 lakh
Initial inventory/stock purchase -> 7 lakhs to 9 lakhs rupees
TMT bar cutting machine -> 14,000 rupees
Weighing machine -> 15,000 rupees
Shop Interior and Warehouse -> 90,000 rupees
Labour (1st-month salary) -> 30,000 (2 nos)
Shop security deposit – Extra
The ongoing expenses are Shop rent, labour salary, stock purchase, utility bills, etc.
Related:
Profit margin in SRMB dealership
In any TMT bar dealership, you can expect a profit margin of around 1% to 1.5% of your gross sales.
These profit margins are decided by the bonuses and schemes offered by the company.
If you make more monthly sales, you are likely to get a better discount from the company. You will also be offered various schemes and bonuses.
You may also Like:
How to get SRMB Dealership?
To get an SRMB dealership, you need to contact your regional sales manager. You can get his number by calling SRMB toll-free number 1800 890 2868.
Once you get in touch with the sales manager, he will guide you about the next steps.
There should not be any other SRMB dealer in a 2-3 kilometre radius of your shop. If there is any SRMB dealer nearby, then the chances of you getting a dealership are very less.
How to apply for the Dealership?
You can apply to SRMB TMT dealership by calling their toll-free number 1800 890 2868. You can also apply at their official website.
Also, visit them at –
SRMB House, 7 Khetra Das Lane,
Kolkata – 700 012
FAQ about Dealership
How much investment is required for the SRMB dealership?
You require an 8 lakh to 10 lakhs investment to start a dealership
Shop space required for the SRMB dealership?
The minimum space required is 500 square feet
Profit margin in SRMB dealership?
You can expect a profit margin of 1% to 1.5% on gross sales.
How to contact SRMB?
You can call SRMB by calling their toll-free number 1800 890 2868.
I hope this article has resolved many of your doubts about the SRMB dealership, if you have any suggestions feel free to mention them in the comment box below.