In a developing country like India, the automobile industry and the backup power system sector are growing rapidly year after year. The backup power system consists of batteries, generators, etc.
Keeping this in mind you can easily start a business that is related to the automobile sector and backup power sector.
One such business opportunity is starting a Battery business. There are already well-established battery brands in the country like Exide, Amaron, Luminous, Base, Okaya, HBL, etc.
You can partner with any of these brands and can run a successful battery business. Before you tie up with any brand make sure that the company manufactures both lead-acid batteries and lithium-ion batteries.
In this article, we will talk about how to start a battery business or battery dealership in India, which includes a business plan, the investment required, profit margin, space required, whom to contact, licenses, and documents required, etc.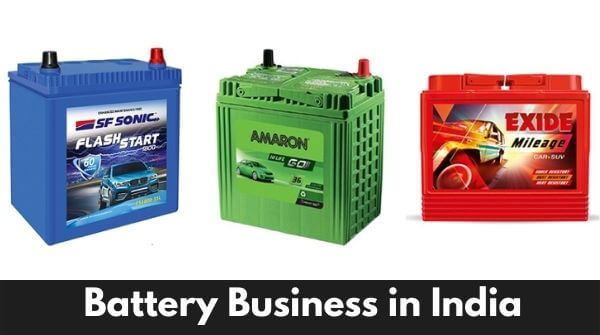 Business Model
You can sell Automotive batteries ( two-wheeler batteries & four-wheeler batteries ), residential inverter batteries, computer backup/UPS batteries, and distilled water in your shop.
There are two business models in the battery business.
i.) selling multi-branded batteries
ii). Partnering with a single battery brand (also called dealership)
The major difference with these two models is,
In multi branding shop, customer has the option of bargaining and also they can swift to different brands. You can also sell the local brand batteries in a multi-branded battery shop.
In a single-brand shop, you can expect more profit margin compared to multi-branding. But there will be limited sales.
Battery business plan
If you take a dealership from any brand, the company will directly supply the batteries to your shop.

Multi-brand battery shops can get batteries from distributors from their area. The marketing guy will take the orders and supply the goods. Every battery brand has a distributor in each district or area level.

Initially selling branded batteries would be a better option. Because the customer trusts the brand name, it will be easier to sell. As your business grows, include local brands too.

This is a service-based based business. so you should have enough knowledge about the products to clear customer doughts.

Inverter batteries are also available online. But people don't trust because of service issues.

Keep some used batteries of all kinds in your shop. You may temporarily give this used battery to customers until the warranty claim process is complete.

Appoint at least one labor to fix batteries in shop and customer location. Fixing batteries at customer locations will definitely boost your sales.
Network with local garages and workshops. Since they purchase regularly, you can give them some discount.
Selling used or Scrap batteries
You can also earn good money from buyback or srcap batteries. Two-wheeler batteries approximately weigh 1 to 1.5 kgs, four-wheeler batteries weigh 10 to 12 kgs and inverter batteries weigh 50 to 70kgs.

Buy these used or scrap batteries from the customer at a lump sum price and you can make a good profit. In the market, you will get 70 to 80 rupees per kg for a scrap or used batteries.
Types of equipment required
Clamp meter or Volt meter – To check the battery voltage

Hydro meter – To check the cell/acid gravity

Battery recharging machine
Licenses and Registrations Required
You require the following licenses and registrations to start a Battery dealership in India.
Shop & Establishment Registration – from the state government
Trade Licence – from your municipality
GST Registration
Business Registration – sole proprietorship is enough
Current bank account
Business Insurance (Optional)
Any local CA or agency can help you in getting these documents.
If you lack the capital to start a business, you can contact any bank for a business loan. Banks like SIDBI provides loans for this kind of business.
Space required and Location
You require at least 150+ square feet of shop area to start a battery business.
You need space to display and store new batteries, to store buyback (scrape) batteries, and to keep the battery recharging machine.
The best location to start a battery business is high traffic areas, near garages/workshops, and petrol pumps.
Battery Dealership Cost

You require a minimum investment of approximately 7 lakh to 8 lakh rupees to start a battery business in India.
Also Read:
The actual investment amount mainly depends on the quantity of inventory/stock that you are going to buy in the beginning.
Because a different segment of vehicles uses different types of batteries. So you should have stock for all segments.
Here is the breakdown of the amount,
Dealership security deposit to company – 1 to 2 lakhs
Battery Stock – min. 4 to 5 lakhs ( two wheeler, four wheeler and inverter batteries)
Shop interior and signage – 25,000 rupees
Battery re-charging machines – 15,000 to 25,000 rupees
Other Expenses – 20,000 rupees
Shop security deposit – 50,000 (depends on your location)
The ongoing expenses are labor/mechanic salary, utility bills, shop rent, and adding stock.
If you have a limited amount to invest, initially you can start with automotive batteries (two-wheeler and four-wheeler batteries ), later you can include inverter batteries.
Profit Margin in Battery business
From two-wheeler and four-wheeler battery sales, you can expect a profit margin of 20% to 30%. Inverter battery sales can give you a profit margin of up to 35%.
Profit margin in this business also depends on the stock volume. If you give a bulk order then you can expect more margin.
In the initial days, as your shop is new, it will be difficult to place large orders. As your business grows, so does your sales, later you can expect more profit.
Small battery brands or local brands pay you more profit compared to branded ones. But it would be difficult to sell local brands in the beginning.
So, this is about starting a battery shop business in India. I hope this article has resolved many of your doubts related to this business.
If you have any suggestions feel free to mention them in the comment box below. If you like this article kindly share it with your friends.
Also Read: