The craze of electrical vehicles in India is growing very fast. There are many reasons for this like, rising petrol prices, pollution and governments plan to stop production of petrol and diesel engine vehicles by 2030, etc.
So these things make EV a booming market in the auto industry. Using this opportunity you can easily start an EV showroom by taking a Pure Ev dealership.
This article includes topics like Pure Ev dealership cost, profit margin, licenses and documents required, space required, and how to apply for the dealership, etc.
Why choose Pure Ev?
Pure Ev is a Hyderabad-based electrical two-wheeler and high-performance lithium-ion battery manufacturing company. It has a research center on the Hyderabad IIT campus.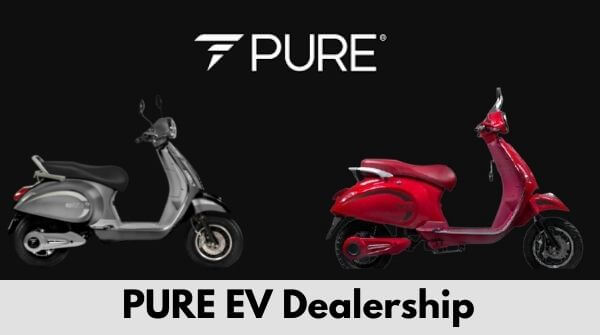 The company has a 40,000 sq ft manufacturing plant near IIT Hyderabad. The company currently has an annual production capacity of 65,000 electrical vehicles and plans to expand to 2 lakh vehicles per year.
Pure EV has two high-speed electrical scooter models EPluto 7G & Entrance Neo and two low-speed models EPluto & ETrance+. At present, the brand is mainly focused on urban commuting with its maximum speed limited to 60kmph.
Licenses and Registrations required
These are the licenses and documents required to start a Pure Ev dealership.
Dealership License
Business Registration – Sole proprietorship/LLP/Pvt Limited
Trade Licence – from the local municipality
Shop & Establishment Registration – from the state board
GST certificate
IT Returns – for financial background verification
Valid land documents / Lease agreements.
Business Insurance
If you lack capital, then you can approach banks like SIDBI for a business loan.
Space required to start a Pure Ev Dealership
You need a total of 2500 to 3500 square feet of space to start a pure Ev dealership. This space is for the showroom, service area, and warehouse to store the inventory.
For the showroom minimum space required is 1500 square feet.
Pure Ev dealership Cost
To start a Pure Ev dealership, you need approximately 1.5 crores of investment.
If you do not have a showroom and warehouse space, you will need to add the lease amount to the amount stated above.
Here is the break-down of the investment,
Minimum working capital required -> 1.30 crores ( to run the business)
Showroom interior - > 5 to 6 lakh rupees
Machines and equipments for the service center -> 3 to 4 lakh rupees
Miscellaneous expenses -> 2 lakh upees
Showroom/Warehouse lease amount - (extra)
The monthly expenses are Showroom/warehouse rent, employee and labor salary, inventory purchase, utility bills, etc.
Related:
Profit margin in Pure Ev dealership
Apart from vehicle sales, Ev dealers also make profits from other sources.
The total profit in the Pure Ev dealership is as follows,
Pure EV Sales Margin -> up to 10% to 15% ( of Ex-Showroom Price )
Commission from insurance – 15% to 25% ( of OD amount )
commission from loan – about 3% to 5% ( of the loan amount )
Commission from Accessories sale – 15% to 20%
Commission from spare parts sale – 15% to 20%
Margin on service – 25 to 30% (labor charges, engine oil, etc.)
The after-sales service of electrical vehicles is very low compared to traditional internal combustion engine (ICE) vehicles. So a good margin is essential in vehicle sales.
After 3 to 4 years you can expect some revenue from spare parts sales, especially the battery needs replacement.
How to get Pure Ev dealership?
You can contact Pure Ev on their number +91 88866 50560. You can also contact them at their official website, to get contact details or send an email to [email protected]
Also, visit them at –
#10-38/2, Beside Arya College of Pharmacy, Near IIT Hyderabad, KANDI Village, Sangareddy, Telangana 502285.
Make sure there is no other Pure Ev dealer in a 6-7 kilometer radius from your showroom. If there is any Pure Ev dealer nearby, then the chances of you getting a dealership are very less.
You may also Like:
FAQ about Dealership
How much investment is required for the Pure Ev dealership?
You require a minimum of 1.5 crore rupees investment to start a dealership
Shop space required for Pure Ev dealership?
Minimum space required in 2500 to 3500 square feet
Profit margin in Pure Ev dealership?
You can expect a profit margin of up to 10% to 15% on ex-showroom price.
Pure EV Contact Number?
You can call PURE Ev on +91 88866 50560.
I hope this article has resolved many of your doubts related to the Pure Ev dealership. If you have any suggestions feel free to mention them in the comment box below.