Space Required to open a Franchise:
Frozen yogurt costs more than an ice-cream and usually its customers mainly from high to higher middle classes of the society.
So to open an Cocoberry franchise an ideal location would be a Shopping malls, prime market areas, prime roads of the city, serving a high or higher middle class locality.
Cocoberry offers three types of retail formats.
a. Cafe Cocoberry : This requires a space between 400 to 1000 square feet carpet area, which is available for Tier 1 ot Tier 2 cities.
b. Cocoberry2Go: This requires a space between 150 to 300 square feet carpet area and can be opened in malls or high streets.
c. Cocoberry kiosk: The minimum required space is 100 square feet. This is suitable for high footfall areas or main atrium malls.
Cocoberry Menu:
Apart from Cocoberry's signature froyos that come in three serving sizes, they also serve freshly made sandwiches and hot and cold beverages like teas, coffees and smoothies.
Also Read: How to start Kekiz Franchise | Complete Details
Cocoberry's delicious frozen desserts are made from probiotic cultures, yogurt and nonfat milk.
They come with satisfying chocolate and cookie toppings as well as with nutritious fruit berry and nut options and are satisfying wholesome meals in themselves.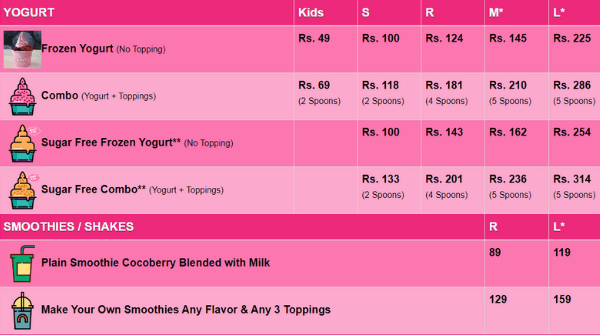 Contact Details for Cocoberry: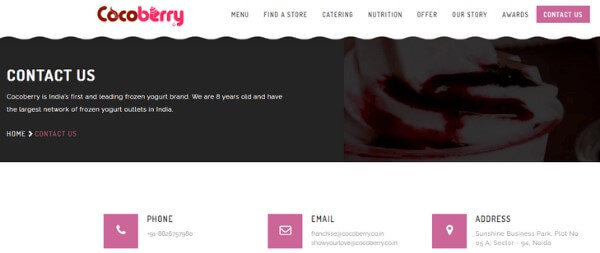 If you want more details about starting Cocoa Berry franchise, please contact them at their website or contact number given below.
Website: https://cocoberryindia.co.in
Phone : +91-8826757980
Email: [email protected]
Address: Sunshine Business Park, Plot No 05 A, Sector – 94, Noida.
I hope this guide to 'Cocoberry Franchise' will help you get started. If you have any additional suggestions, feel free to mention them in the comments section below.
Also Read: