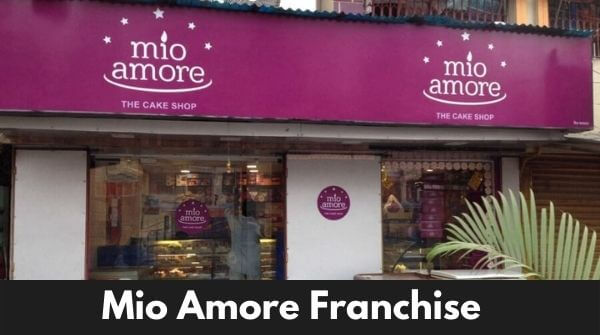 The demand for cakes in India is growing rapidly due to factors such as changing lifestyles, increasing disposable income, and growing urbanization.
A franchise of a well-known bakery brand like Mio Amore can be a great way to capitalize on this trend.
This article provides you with complete information about the Mio Amore franchise, including franchise cost, profit margin, how to apply, licenses and registrations, and much more.
About Mio Amore Brand
Founded in 1992 by Mr Anab Basu, Mio Amore is a famous bakery and confectionery brand in the West Bengal and Odisha states. The company originated in Kolkata, West Bengal.
It is the largest retail bakery in East India, with over 300 outlets in Kolkata, Siliguri, and Bhubaneswar, most of which are franchised.
Mio Amore offers a wide range of bakery products, including cakes, pastries, cookies, savories, and chocolates. The brand has won several awards, including the "Most Admired Retailer of the Year" award for Food Service.
Licenses and Registrations required
To open a Mio Amore franchise you need the following licenses and certificates:
Business Registration – Sole proprietorship/LLP/Private Limited
FSSAI Licence (Food safety license)
Trade Licence – from the local municipality
Shop and Establishment Registration
GST Registration
Business Insurance – if required
For business loans, you can approach banks like SIDBI.
Space required to start the Franchise
To start a Mio Amore franchise, the brand requires a shop at a prime location. The shop must have a minimum carpet area of 250 sqft with a frontage of 12 ft. minimum.
Mio Amore Franchise Cost

To start a Mio Amor franchise you need an investment of Rs 22 lakhs. Depending on the size of your store and your location, the amount of investment may vary slightly.
Here is the breakdown of the above-said amount,
Total Investment required 22 lakhs,
➤ Rs. 12 lakhs towards Deposit for Display Counters.
➤ Rs. 3 lakh towards Advance.
➤ Rs. 7 lakhs (approx.) towards Decoration Cost.
The monthly expenses are employee salary, raw material purchase, shop rent, utility bills & packaging materials, etc.
Also Read:
Monginis Franchise | Complete Guide
Profit Margin in Mi Amore Franchise
You can expect a profit margin of approximately 14% on the goods sold. The exact commission varies from item to item, but you can consider 14% as an average.
The success of your franchise will depend on a number of factors, including the location of your store, the quality of your products, and your marketing efforts.
How to get Mio Amore Franchise

For franchise inquiries, you can contact the Mio Amore team by calling their telephone number 1800 2124 030 or emailing them at [email protected]
You can also contact them using their official website by filling out the franchise inquiry form.
The process of applying for a Mio Amore franchise is as follows:
Visit the Mio Amore website and fill out the online application form.
Submit the required documents, such as your investment certificate, business plan, and experience certificate.
Pay the franchise fee.
Attend the training program conducted by Mio Amore.
Once you have completed all the requirements, Mio Amore will approve your application and you will be able to start your franchise.
What is the shop space required to start a Mio amore cakeshop?
You require a minimum space of 250 square feet.
What is the investment required to start a Mio amore franchise?
You need to invest 22 lakh rupees to start the franchise
What is the profit margin in Mio amore franchise?
You can expect a profit margin of up to 14%.
How to contact Mio amore?
You can call them at their contact number 1800 2124 030.
I hope this guide to 'Mio amore franchise' will help you get started. If you have any additional suggestions, feel free to mention them in the comments section below. If you like this article, kindly share it with your friends.