The infatuation on the cake in India is increasing year by year. Especially as we can see the current generation using cake for every occasion.
So take this as an opportunity, you can start a cake shop business by taking a franchise of any cake shop brand available in the market.
In this article, we will discuss the Mio Amore franchise which includes franchise cost, profit margin, how to apply, licenses and registrations, and much more.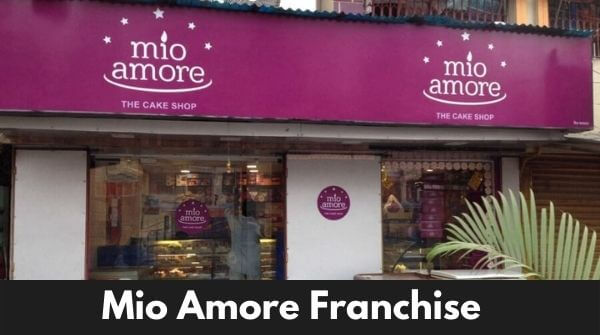 About Mio Amore Brand
Founded by Mr. Anab Basu in 1992, Mio Amore is a famous Bakery and Confectionary wares in West Bengal and Odisha states. The company originates from Kolkata, West Bengal.
Today Mio Amore has 300+ outlets in India, most of them are running on a franchise model.
Mio Amore band is famous for cakes, handmade cookies, vegetarian and non-vegetarian savories, sweets, and chocolates in West Bengal & Odisha states.
Licenses and Registrations required
To open a Mio Amore franchise you need the following licenses and certificates:
Business Registration – sole proprietorship/LLP/Private Limited
FSSAI Licence
Trade Licence – from the local municipality
Shop and Establishment Registration
GST Registration
NOC from the local fire department
Signage license from Municipality
Business Insurance – if required
For business loans, you can approach banks like SIDBI.
Space required to start the Franchise
You require a minimum shop space of 250 square feet to start a Mio Amore franchise. Choose a good location near a reputed market or shopping streets where footfall is high.
Mio Amore Franchise Cost

To start a Mio Amor franchise you need an investment of Rs 9 lakh. Depending on the size of your store and your location, the amount of investment may vary slightly.
Here is the breakdown of the above-said amount,
Franchise Fee -> 2 lakhs
Shop Interior Works -> 2 lakhs to 3 lakhs
Cooling counter and other equipment -> 3 lakhs
Miscellaneous expenses -> 45,000 rupees
Shop security deposit -> 40,000 rupees (varies as per the location)
The monthly expenses are employee salary, royalty fee15%, raw material purchase, shop rent, utility bills & packaging materials, etc.
Profit Margin in Mi Amore Franchise
You can expect a profit margin of up to 30% on the sales after deducting the royalty fee.
How to get Mio Amore Franchise

For franchise inquiries, you can contact the Mio Amore team by calling their telephone number +91 905160 8000 or emailing them at [email protected]
You can also contact them using their official website by filling out the franchise inquiry form.
Once you get in touch with the team they will connect you to the Mio Amore business development manager in your area. The business development manager will guide you in setting up your cake shop.
Related:
What is the shop space required to start a Mio amore cakeshop?
You require a minimum space of 250 square feet.
What is the investment required to start a Mio amore franchise?
You need to invest 9 lakh rupees to start the franchise
What is the profit margin in Mio amore franchise?
You can expect a profit margin of up to 30%.
How to contact Mio amore?
You can call them at their contact number 905160 8000.
I hope this guide to 'Mio amore franchise' will help you get started. If you have any additional suggestions, feel free to mention them in the comments section below. If you like this article, kindly share it with your friends.