The decorative paint industry in India is a highly competitive one. All the major companies in the building materials industry are introducing their own brands.
JK Maxx Paints is a new entrant to this list. If you are thinking of starting a paint dealership business, you can become a dealer of this new brand.
In this article, we will provide you with the essential information you need, to start a JK Maxx paints dealership. This includes information on dealership cost, profit margin, and how to apply.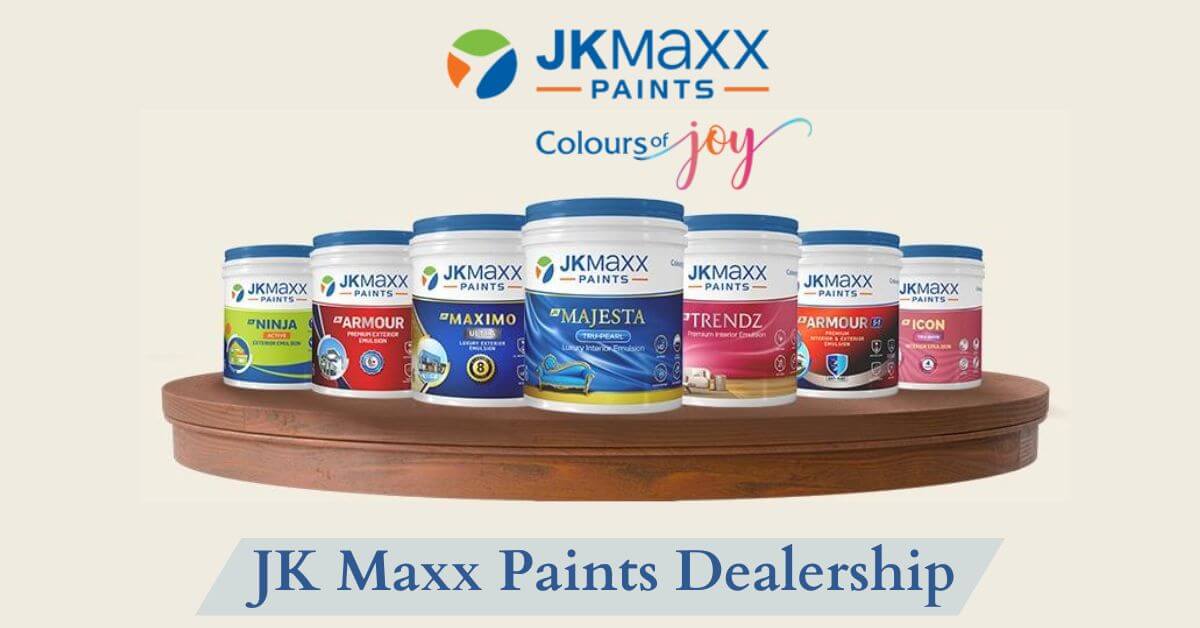 About JK Maxx Paints
The well-known cement company JK Cement recently acquired the Rajasthan-based paint brand Acro Paints. Now, with its new name JK Maxx Paints, the company is planning to expand its business across India.
It has its headquarters in Gurugram, Haryana. JK Maxx has two state-of-the-art manufacturing units in the Delhi-NCR region.
The brand offers a wide range of products, including emulsions, distempers, primers, wall putty, and wood finishes. JK Maxx Paints has over 3,500 dealers across the country.
How to apply for JK Maxx Paints Dealership?
To apply for a JK Maxx Paints dealership, you can contact JK Maxx Paints directly. You can call their toll-free number at 1800 203 4555 or mail them at [email protected].
A JK Maxx Paints representative in your region will visit you and provide you with information about the dealership. If you are eligible to become a dealer, he will guide you through the next steps.
Your chances of getting a dealership are higher if your planned shop is in a good location and there are no other JK Maxx Paints dealers nearby.
No Special Licences or Permits Required
To get a dealership with JK Maxx Paints, you will need a shop and establishment certificate and GST registration. Some documents may vary from one state to another, so make sure to confirm what documents are required in your state.
JK Maxx Paints Dealership Cost

Starting a JK Maxx Paints dealership requires an estimated 6 to 7 lakhs of capital.
The majority of this amount will be required to purchase paint inventory. You can start with a smaller inventory if you want to start the dealership with a smaller capital.
The remaining amount will be used for shop interior works, purchasing colour mixing machines, licenses or documents, shop deposits, and initial marketing.
Ongoing expenses include shop rent, employee salaries, utility bills, etc.
Profit Margin in JK Maxx Paints Dealership
You can expect a profit margin of 4 to 9% from a JK Maxx Paints dealership.
As you know, this margin is not fixed in any paint dealership. If your inventory purchase volume is high, you can get products at a good discount from the company. So, if your monthly sales are good, your purchase volume will increase and you can make a good profit.
In addition to this, if you reach the company's sales target, you will also get features such as special bonuses and cash discounts etc.
Also Read: Asian Paints Dealership | Cost, Profit, Apply
JK Maxx Paints Contact details
You can contact them at their toll-free number 1800 203 4555 or mail them at [email protected].
For more details, you can visit their official website.
JK Maxx has a registered office in Gurugram, Haryana.
Prism Tower,
6th Floor,Ninaniya Estate,
Gwal Pahari, Gurugram 122102.
We hope the above information will help you start a JK Maxx paints dealership. If you like this article, please share it with your friends.