India is a country with a large number of cars. The demand for cars is also increasing every year. So, if you are interested in starting your own business, the automotive sector is one of the safest industries.
You can start your first business in this industry by starting a wheel alignment and balancing business.
In this article, we will share with you all the information you need to start a wheel alignment and balancing business in India.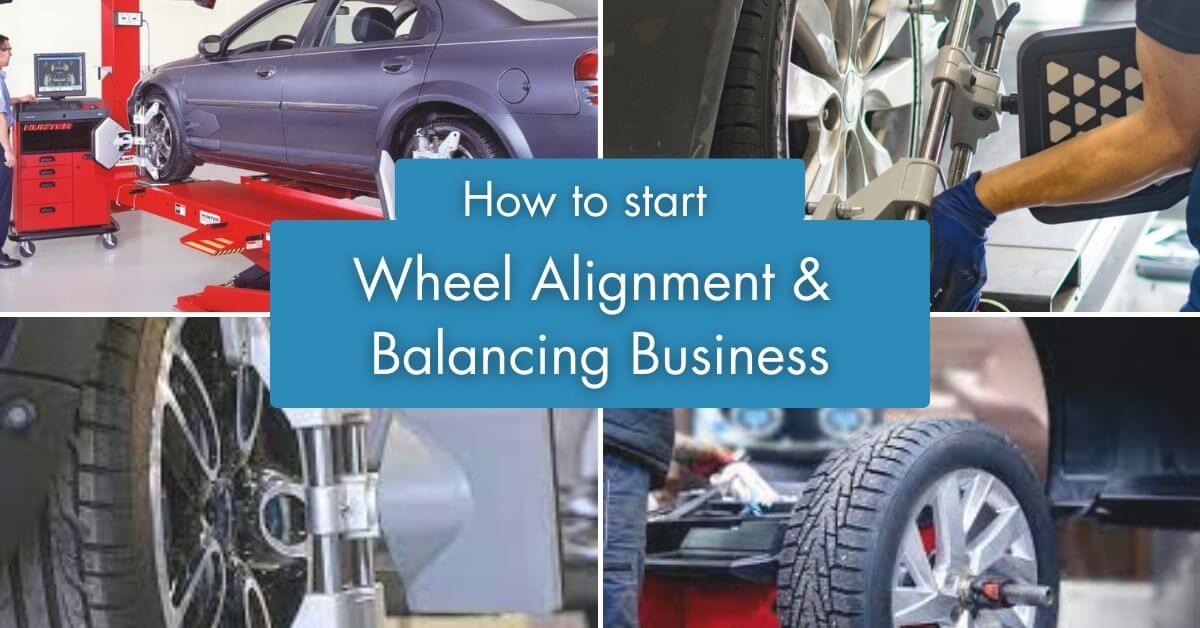 Demand for this business
There is a great demand for wheel alignment and balancing business in our country. One of the main reasons for this is that our roads are often filled with potholes.
If the tires of a vehicle run too much on roads with potholes or damaged roads, their alignment and wheel balance deteriorate quickly.
Aligning and balancing the wheels improves the handling and fuel efficiency of the vehicle and also increases the life of the tires.
Normally, vehicles need to be aligned every 5,000 kilometres and balanced every 10,000 kilometres. Since the number of vehicles in India is large, there is a good demand for this business.
How to start wheel alignment and balancing business
It is very important to have hands-on experience in this work to start a wheel alignment and balancing business.
It is only possible to learn about this work by working in another established workshop of this type. If you do not have the right knowledge about the work, and if you only depend on your worker or mechanic, it is difficult to succeed in this business.
Once you have learned about this work, you can easily start this business by choosing a good location and purchasing the required machinery. If you need help, you can also hire 1-2 helpers or mechanics.
License or Permission Required
No special license or permission is required to start this business. You only need a shop and establishment registration. If your annual turnover is more than Rs. 20 lakh, you will need a GST certificate. You can consult your nearest chartered accountant to get information about this.
Additional Services
If you also do other service work such as tire replacement, oil change, brake repair, car wash, etc. along with this work, it will be helpful for customers to get all the services under one roof and you will also generate extra income.
Location & Shopspace
Locations with more car garages, spare parts shops, and high-traffic areas are ideal locations to start this business. Before finalizing the location of your shop, also consider the competition for this business in that area and the shop rent cost.
Since you need space to inspect cars, place alignment, balancing, tire changing, etc. machines, and customer waiting, your shop must have at least 600 square feet of area.
Machines and Tools Required
To start a wheel alignment and balancing business, the following machines and tools are required.
Wheel alignment machine: (Rs. 5 lakh to Rs. 7 lakh) This is the main machine used to measure the angle and position of the tires and make the necessary adjustments. It consists of components such as sensors, cameras, targets, monitors, and wheel clamps.
Wheel balancing machine: (Rs. 1 lakh to Rs. 2 lakh) Used to detect and correct the imbalance of the tires.
Nitrogen tire inflator machine: (Rs. 50,000 to Rs. 80,000) More effective than regular air in maintaining tire pressure.
Air compressor: (Rs. 20,000 to Rs. 40,000) Produces compressed air to operate pneumatic tools.
Tire changer machine: (Rs. 80,000 to Rs. 1 lakh) To mount and dismount wheels.
Car lifting jack: (optional) In case there is no car inspection pit.
You can find dealers for these machines from online B2B marketplaces like indiaMart. Before you purchase any machinery ensure that after-sales service is available in your location.
Also Read:
.
1. How to Start a Car Wash Business in India
Investment required to start this Business
To start a wheel alignment and balancing business in India, you will need to invest at least ₹10 lakhs. The breakdown of this amount is as follows:
Machines and equipment: ₹9-10 lakhs
Hand tools: ₹10,000 (impact wrench, coil hose, etc)
Additional components: ₹10,000 (wheel weights, tire balancing beads, alignment shims, etc)
Shop interior works: ₹70,000-1 lakh (shop furniture, racks, signage, etc)
Licenses and permits: ₹10,000
Marketing expenses: ₹5,000-10,000
Shop deposit: (depends upon your location)
Tyre inventory: (optional) ₹30,000-1 lakh
The ongoing expenses are shop rent, labour salary, machine calibration costs, utility bills, maintenance, etc.
The wheel alignment machine requires calibration from time to time. You can budget ₹10,000-15,000 annually for machine calibration.
Making a Profit in this business
If you can get 5 to 10 vehicles per day for alignment and balancing at your shop, you can easily run this business.
You can also earn additional income by providing other services such as tire replacement, oil change, brake repair, and car wash.
Since you are not a wheel dealer, you may not get a good commission from the sales of items such as tires and oil, but you can still earn money through fitting or service charges.
Also Read:
.
1. Car Spare Parts Business in India | Complete Guide
Marketing Your Business
The ideal customer base for this business is individual car owners, taxi drivers, and nearby garages.
If you have a good connection with the garages in your location, you can get more work from garages or workshops. Even if you pay commission to the garage owners, you can earn good income due to the high volume.
If the location of your shop is good, you can also attract independent car owners.
In this business, service quality is very important. If the quality of your work is good, you will have repeat customers. This positive word of mouth will help your business to grow and generate good revenue in the long run.
We have shared with you the information you need to know to start a wheel alignment and balancing business in India. If you like this information, please share it with your friends.