In India, the call for more and more mineral water plants is on the rise because of the increasing consumption and demand for bottled mineral water in the market.
The mineral water business is an evergreen business. From metro cities to small towns, the demand is growing exponentially in India.
This results in a serious business opportunity in this industry for people who want to start their own businesses.
In this article, we will explain the steps that suggest how you can start your mineral water business and survive in the market.
1. Market Research
Like any other business, proper market research is vital in starting a mineral water plant.
When done correctly it can help to enlighten your knowledge in the field such as the demand for your products in the market and understanding your competitors and how they approach the market.
2. Mineral Water Business Plan
Once you are done with the market research the next step would be planning your business. You need to properly plan your business to face upcoming challenges.
So in order to help you with this, we have listed some mineral water business planning steps, which you can implement in your project.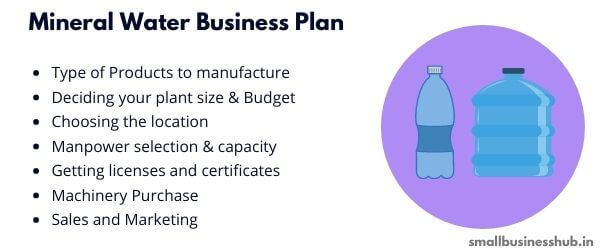 Type of Products to manufacture
Deciding your plant size & Budget
Choosing the location
Manpower selection & capacity
Getting required licenses and certificates
Machinery Purchase
Sales and Marketing
3. Types of Products to Launch
Bottled mineral water (in different sizes) and Mineral water Jars (20 litres) are the two most commonly used types of bottled water products available in the Indian Market.
You can produce both types if there is a demand for these products in your region. These factors affect your plant area and total investment.
As per a notification issued by the Ministry of Consumer Affairs on Feb 28, 2001, it is mandatory now for bottled water to be sold only in prescribed standards.
These are 100 ml, 150 ml, 200 ml, 250 ml, 300 ml, 330 ml [only in cans], 500 ml, 750 ml, 1 litre, 1.5 litre, 2, 3, 4, 5 litres and thereafter in multiples of 5 litres.
4. Plant Size for Mineral Water Plant
Your water plant size is decided by factors like the types of products you're going to launch, the Volume of production and the level of Automation used in the plant.
A plant that produces mineral water only in Jar (20 litres) may require 1,300–1,600 square feet of land. For only bottled mineral water it may require 2,300–2,600 Square feet.
Plants that produce both bottled and Jar mineral water usually require approximately 3,000–3,500 square feet.
A medium-capacity fully automatic plant which produces both types of products requires 5,000–6,000 square feet.
And a high capacity fully automatic plant which produces both types of products requires 8,000–6,000 square feet.
Keep in mind that you need separate warehouses/rooms within your plant to keep your raw materials and finished products. This comes under BIS norms.
5. Investment Required for Mineral Water Business
Talking about the investment, Calculating water plant cost will not be an easy task.
This completely depends on the factors like value of the land, construction costs, the type of products you are planning to launch, the production capacity of your plant, and the level of automation or types of machinery you are going to use.
On rough estimation we can say, you need approximately 20 lakhs (small scale) to 2.5 crores (large scale) to start a mineral water plant in India.
Once you are done with the market research and planning stage contact any mineral water plant contractor or machinery supplier, describe your requirement, and get a quotation. Collect at least 3-4 quotations from different suppliers or contractors.
Also Read:
Bisleri Water Dealership | Complete Details
TATA Copper Plus Water Dealership | Complete Guide
6. Choosing a Location
Choosing a proper location for your mineral water plant is very important. These are the few basic things you need to consider while selecting a location.
Make sure that your plant has easy access to reach your products in the local market.
There should be enough water resources in the surrounding areas of your plant. Otherwise, the locals might complain about water shortage because of the heavy usage of bore well water by your plant.
You require some skilled labourers in your plant. Should check the availability of skilled labour in that area.
There should not be any chemical or polluting industries near your plant.
Availability of three-phase electricity supply, especially if you are planning in rural or suburban areas.
7. Licenses and Certificates Required
These are the Licenses and registrations required to start a mineral water business in India.
MSME Registration: Register your business under the Ministry of micro, small, and medium scale enterprises. This will help you in getting business loans and government benefits.

ISI Certificate from Bureau of Indian Standards: Official inspection of the plant, raw and pure water tests in an independent lab are carried out. Only after getting the approval, you can start the mineral water production in your plant.

FSSAI Food Safety and Standard Authority of India – Any industry in which categories under food processing need to get an FSSAI license.

Legal metrology license – To provide accurate and reliable measurements for trade, health, and safety

Pollution Certificate: You can get it from the local pollution Board office

Raw and Pure water test Reports from local drinking water testing laboratory

Pest Control Certificate: You can easily get it from a local pest control agency.

Micro Biologist Degree and Medical certificate

Chemist Degree and Medical Certificate

Medical certificate for your workers

Registration of Trademarks: This is not required by law, it is a good idea to register the name of your business as a trademark. If another business tries to use the same or similar name, you will have legal recourse to stop it.

Company Registration: You can register it as a Private Limited or LLP Limited liability Partnership or OPC One Person Company

N.O.C (No objection Certificate) from the municipality or Gram Panchayat: This is important because you need to have an independent commercial bore well for your plant.
The major challenge here is to get ISI Certificate from BIS. It has norms for each component, be it the plant design or the type of machinery.
It is better to work with a machinery supplier or a consultant from the beginning of your mineral water plant planning process.
Practically, Your plant will start only when you get an ISI certificate from BIS. Once that is in hand, you are all set to run your plant.
Also Read: How to start a Cement Business in India | Complete Details
The actual machinery required for a mineral water business depends on the type of products you are going to launch and the level of automation you are going to adopt.
Choose the machinery supplier carefully. If you are planning a medium to big plant, go for a project contractor who will organize everything for you & gets your plant running.
8. Machinery and Raw Materials Required
If you are planning a small mineral water plant then you can individually work with a machinery supplier, construction contractor, and electrical contractor to get it done for your plant.

There are many training courses and workshops available in the market to upgrade your expertise in the field.
This list includes all the most commonly used machinery in a mineral water plant.
Reverse Osmosis (RO) plant
a. Raw water pump
b. Dual media Filter
c. Carbon Filter
d. Antiscalant dosing system
e. Micron cartridge filter
f. Pre-treatment
g. High-pressure pump
h. Reverse osmosis system RO
i. Water Storage tank
j. Transfer pump
k. Micron cartridge filter (post-treatment)
l. UV System
m. Ozone System
n. Ozone storage tank
Re-circulation line
Bottle Blowing Machine
Automatic bottle rinsing, filling& capping machine
Jar bottle rinsing, filling & capping machine
Batch printing machine
Automatic labelling machine
You can get contact details of these machine dealers from websites like indiamart.com
The Main Raw Material required is obviously the Bore water from your bore well. Other materials are like preforms, Jars, Caps, pouches, Cartoon boxes, etc.
9. Marketing your Products
If you are running a large-scale plant then you need to get in touch with good distributors. They usually have a good network all over the region.
This would help you to reach your products to the entire region you are targeting.
You can also run advertisements in the newspaper and local news channels to promote your brand.
Participate in tender bidding like the railway's department where you can get huge orders for a long period of time.
Small-scale mineral water plants can take full use of social media to market their products. Run paid advertisements on Facebook targeting your region.
Stickers on your goods vehicles also work as a great marketing source.
Other marketing tricks like building networks with wholesale sellers, and retailer shops in your area, running advertisements in local newspapers, distributing flyers, etc.
I hope this guide to the mineral water business will help you get started. If you have any additional suggestions, feel free to mention them in the comments section below.
Related posts: