A translation business provides translation services for a variety of different types of documents like academic papers, agreements, technical specifications, brochures, etc. while maintaining the confidentiality of their clients.
They ensure that the meaning and context of the document is not altered from the original document.
As more and more businesses grow globally the need to translate with international clients in their language is becoming increasingly important.
This demand has opened up business opportunities for people who are proficient in multiple languages.
Translation languages in Demand
In India, there's a high demand for translation in regional languages like Kannada, Malayalam, Punjabi, Telugu, etc.

If one of these languages is your mother tongue you do not even need certifications to prove your proficiency.

Whereas if we have to talk about foreign language data shows that Chinese, French, German and Spanish are the most sought-after languages in India.

An advanced degree in any of these high demand languages can be an added advantage.
How to work as a freelance translator?
To freelance as a translator, you can sign up with websites like 'upwork', 'freelancer', 'people per hour' where companies post translation projects.

However, the catch is that you don't get to decide what you want to charge for each project that you pick instead the company sets the fee per commission.

For signing up with these portals you need to have a bachelor's degree or prior experience in the language. In the absence of both, you can take an online course with certified institutions or colleges.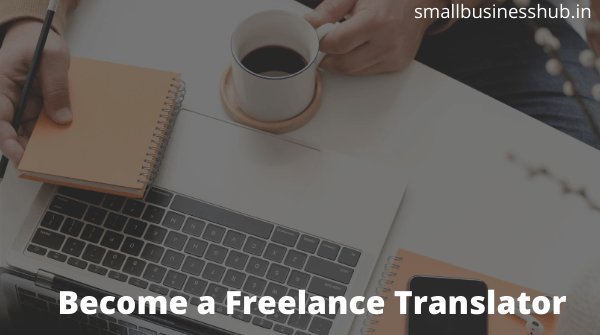 There is no charge for signing up on freelance portals but they charge a commission ranging from 5 to 20% on each project.

The cost of freelance translating are minimal, all that you need is a good quality laptop with a high-speed internet connection.

A medium-range laptop will cost you anywhere between thirty to thirty-five thousand whereas the internet will cost you above a thousand rupees per month.

If you want to create your own website you can get it done with a one-time investment of thirty to fifty thousand and there will be a recurring expense of rupees eight thousand per year to maintain it.
How to start a Translation Agency?
For starters freelancing is a better way to get self-employed but as you get more and more experienced we will advise you to build your own website and market your own work through social media channels and career sites.
In fact, you can go a step forward and start your own translation business by setting up a translating agency.
If you want a side business, be a freelance translator. If you want a business capable of growing into something sizeable, start a translating agency.
It would be beneficial if you add more languages to your portfolio.
As you offer more languages, the more attractive you will look to clients. That's because you will be able to do a lot of work in various languages, and they won't have to seek a different translator for each language they need to work on.
Once you become an agency, you will be able to hire staff. Firstly, you need to decide between taking on freelance translators or employing full-time staff. There are upside and downsides to both choices.
Choosing Full-time employees Vs Freelance Translators
Employees, whether full-time or part-time, are usually more expensive in the initial stage but in the long-term, it can actually prove the most convenient option.
In fact, while working with freelance translators seems cheaper at a first look, it can become a lot more expensive in the long-term if they don't work properly and you have to hire another freelancer to cover up his work.
Setting up an office means, a much higher cost in terms of overhead and wages, but it also means more control over your employees.
Working online, on the other hand, is cheaper, and it can give you access to freelancers all over the world, rather than just in your area.
But it also means you don't have regular employees you can count on (freelancers may have other commitments).
Documents Required to start a Translation Agency
Company Registration – Sole proprietorship/LLP/Private Limited
Trade license
GST / Professional Tax
Current Bank Amount
Investment required to start a Translation Business
The total investment required to set up a translation business mainly depends on the way of operating your business.
If you are planning to work as an independent freelance translator then you require only a desktop/laptop with a high-speed internet connection.
To set up a translation agency, you need to rent an office space. So you have to consider security deposit and first-month rent.
You'll need to invest in computer systems ( no. depends on your total employees) with high-speed internet service, a good all-in-one printer and office furniture.
If you hire full-time employees then you have to pay them monthly or if you choose freelancers, they will charge you per project/per hour/per word basis.
For marketing purposes, a website is essential for your translation agency. It will cost you around INR 30,000 to 40,000.
How much do translators charge in India?
The fee of translation projects is usually by the assignment and not by the hour. Translated web ads and proofreading similar content can get you anywhere between nine hundred to thousand rupees.

Transcribing short interviews are a prize of around fifteen hundred per project and both these projects take up to one day. Translating content on a website, press releases and brochures can get you thousand to twelve hundred rupees.

Even bigger projects like academic papers and translating lectures of 2,000 to 2,500 words are prized anywhere between 5,000 to 7,000 rupees (Rs. 2.5 to 3.5 per word). These projects can take two to three days.

If you specialized in a technical field you can set your own hourly rate which can be as high as 2000 to 2500 rupees per hour.

For instance, say you have a degree in electrical engineering then you will be a preferred choice for coaching centers and colleges who want to get their lectures translated.

However, this takes senior-level expertise and you should have a portfolio of work to promote your services.

Besides setting your own rates you will have to acquire clients independently and maybe even start your own website.

So if we have to give you average earnings a translator with intermediate experience who takes six plus seven small and four big projects can earn anywhere between thirty to forty thousand per month.
So this is about independent freelance translator and translation agency business opportunity in India.
I hope this guide to 'Translation Business' will help you get started. If you have any additional suggestions, feel free to mention in the comments section below.