We all know that there is a huge demand for building materials in India. One of such materials is ceramics/tiles. You can start a ceramic or tile business by selling multi-brand products, or you can partner with any brand and open an exclusive showroom for that brand.
There are many well-established tile / ceramic brands in the country such as Kajaria, Orient Bell, Somany, AGL, Nitco, etc. You can partner with these brands and start a tile dealership business.
Out of these brands, in this article, we will give you complete information about the AGL tiles dealership.
This article contains all the topics related to the AGL dealership, which includes AGL tiles dealership cost, profit margin, shop space required, licenses, and registrations, whom to contact, etc.
Why choose AGL dealership?
Established in 2000, Asian Granito India Limited is a leading tile/ceramic manufacturing company in India. The company has headquarters in Ahmedabad, Gujarat.
Now AGL has a presence in more than 100 countries.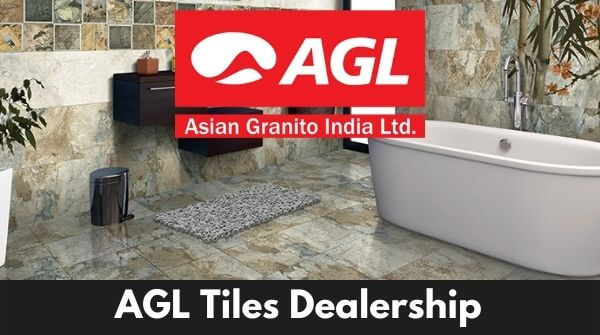 AGL has a distribution network of 1400 direct dealers and 6800 touchpoints. It has 320 exclusive dealer showrooms across the country, including all states.
The company mainly deals with Ceramic walls & Floor tiles, Glazed Vitrified Tiles, Polished Vitrified Tiles, Composite Marble, and Quartz.
Licenses and Registrations Required
These are the licenses and registrations required to open an AGL tiles dealership in India.
Company Registration – Sole proprietorship/LLP/Pvt Ltd
Trade Licence – from your local municipality
Shop & Establishment Registration – from the state government
GST Registration
Previous bank statement / Income Tax Returns Returns
Business Insurance if required
If you lack capital you can contact banks like SIDBI for business loans.
AGL tiles dealership cost
You require approximately 30 to 45 lakh rupees to start a brand-exclusive AGL tiles dealership.
The actual investment amount mainly depends on the quantity of inventory/stock that you are going to purchase at the beginning.
If you do not own the showroom and the warehouse space then you need to add that cost extra.
Here is the break-down of the above-said amount,
Dealership Security Deposit -> 2.5 lakhs
Initial inventory purchase -> 25 to 30 lakh rupees
Showroom Interior -> 3 lakh to 4 lakhs
Miscellanious expenses -> 1.5 lakhs
Showroom & Warehouse Advance + First-month Rent -> extra (if you do not own a shop)
The working capital required is employee salary, utility bills, adding stocks, shop rent, etc.
Related:
Profit margin in AGL tiles dealership
From the Somany tiles dealership, you can expect a profit margin of 12% to 15%.
The profit margin in the AGL dealership depends on the monthly sales you are going to get. If you have more sales then you will be able to purchase stock in bulk quantity and get bigger discounts from the company.
AGL also offers bonuses and schemes, 6 months after opening your dealership. If you succeed in meeting the company's sales goals, you can expect up to 15% profit.
Space required for AGL tiles dealership
Overall you require a minimum of 2000 square feet of space to open an AGL tiles dealership.
For the showroom, you require a minimum space of 800 to 1000 square feet and for the warehouse, you need 1000 to 1200 square feet space,
How to get AGL dealership?
To get an AGL tiles dealership, first, you need to contact your area's AGL sales manager. You can get his number by calling AGL toll-free number 1800 123 3455.

You can also contact them at their official website.
Once you contact the brand, they will be in touch with you and if you are eligible, then help you in launching your dealership.
Your eligibility for the AGL dealership mainly depends on factors like the density of other AGL dealers in your area, your financial background, your experience in trading, and your shop location, etc.
You may also Like:
FAQ about the dealership
How much space is required to start an AGL dealership?
You require a minimum space of 2000 square feet space
Investment required to start an AGL tiles dealership?
You need to invest around 30 to 45 lakh rupees
What is the Profit Margin in an AGL dealership?
You can expect a profit margin of 12% to 15%
How to contact AGL Tiles for the dealership?
You can call their toll-free number 1800 123 3455.
I hope this guide to 'AGL tiles dealership' will help you get started. If you have any additional suggestions, feel free to mention them in the comments section below. If you like this article then kindly share it with your friends.