Do you have a plan to start a footwear and fashion accessories business in India? If yes, then you can start a shop with multiple brands, or you can tie up with one brand and start a franchise.
If you want to start a franchise then you can go with brands like Bata, Sreeleathers, Khadim, Liberty, etc.
In this article, we will give you complete information about the Bata Franchise. This article contains all the topics related to the Bata Franchise, which includes Bata Franchise cost, profit margin, shop space required, licenses, and registrations, whom to contact, etc.
Why choose Bata Franchise?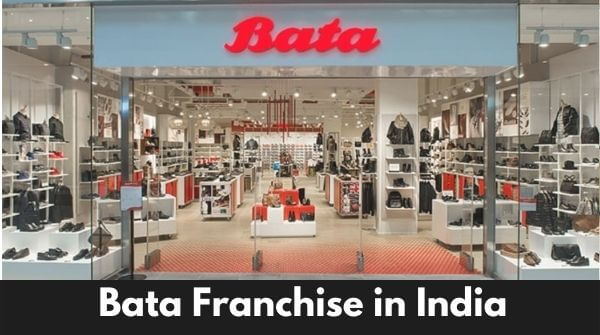 Bata India is owned by Czech Republic-based company Bata Corporation. Bata entered India in 1931 with a factory in Calcutta, West Bengal.
Today in India, Bata is the largest footwear retailer and manufacturer with 1375+ outlets all over the country. The company also operates a large nonretail distribution network with 30,000+ dealers.
Bata Owns brands like Bata, Hushpuppies, Comfit, Scholl, Footin, Red label, Marie Claire, CAT, etc.
Related:
1. Sreeleathers Franchise | Complete Details
2. Paragon Footwear Franchise | Complete Details
3. Liberty Shoes Franchise | Complete Guide
Licenses and Registrations Required
These are the licenses and registrations required to start a Bata Franchise in India.
Company Registration – Sole proprietorship/LLP/Pvt Ltd
Trade Licence – from your local municipality
Shop & Establishment Registration – from the state government
GST Registration
Previous bank statement / Income Tax Returns Returns
Business Insurance if required
If you lack capital, you can take a business loan from banks like SIDBI bank.
Space required for Bata Franchise
You require a minimum of 1200 to 1600 square feet of space to start a Bata showroom in India.
Bata Franchise Cost

To start a Bata showroom in India, you need 40 to 50 lakhs investment.
Consider this amount only if you own a store. If you are planning to start a franchise in a rental space, you will need to add a store security deposit in addition to the amount mentioned above.
The breakdown of the amount is as below,
Franchise Fee or deposit to company -> 2 lakhs
For Purchasing Initial Stock -> approx. 25 lakhs
Shop Interior -> 14 to 17 lakhs ( This includes furniture, racks, lighting, signage, computer systems, and all interior works)
Miscellaneous expenses -> 1.5 lakhs
Shop security deposit -> Extra. (If you do not own the shop. This varies from city to city.)
The ongoing expenses include Shop rent, Staff salary, adding inventory, utility bills, etc.
The software and training to manage it will be provided by Bata itself.
This is estimated to start with a 1200 square foot showroom in a decent area. If you are planning a big store, you need a little more investment.
Profit Margin in Bata Franchise
You can expect a 30% to 35% profit margin in the Bata franchise. This margin usually varies from one type of product to another, but on average, we can consider this amount.
How to get Bata Franchise?

You can contact Bata India on their toll-free number 1800 419 2282. You can also write to them at [email protected] or else visit their official website.
Bata India headquarters is located at,
Bata India Ltd., 418/02, Bata house Sector 17, Opposite MDI Gurugram 122001, Haryana.
FAQ about Dealership
How much space is required to start a Bata Franchise?
You require a minimum space of 1200 to 1600 square feet of shop space
Investment required to start a Bata Franchise?
You need to invest around 40 to 50 lakh Indian rupees
What is the profit margin in the Bata dealership?
You can expect a profit margin of 30 to 35%
How to contact Bata India?
You can call their toll free number 1800 419 2282
I hope this guide to 'Bata Franchise' will help you get started. If you have any additional suggestions, feel free to mention them in the comments section below. If you like this article then kindly share it with your friends.
You may also Like: