Nowadays the demand for electric vehicles is increasing day by day. That's why most of the automobile companies in India have started making electric vehicles.
Now that a large number of electric vehicles are being manufactured, it is obvious that the demand for electric charging stations will also increase. That is why many companies in India started making electric charging stations. One such company is Tata Power.
This article will guide you about the TATA Power charging station franchise, the investment required, profit margin, licenses and documents required, space required, how to apply for the franchise, etc.
Why choose TATA Power?
Established in 1919, TATA Power is India's leading electricity generation, transmission and distribution company. The company has a headquarters in Mumbai, Maharashtra.
Apart from electricity generation, TATA Power is also a leading player in developing the electric charging ecosystems in India.
As of now, TATA Power has installed more than 650 charging stations across 40+ major Indian cities.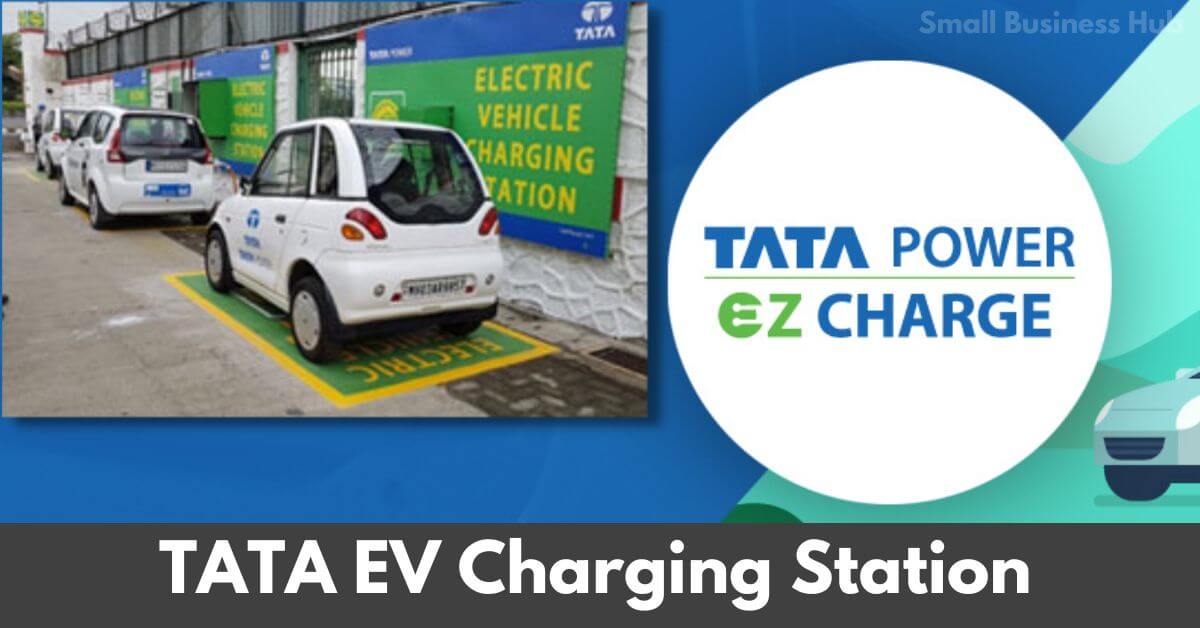 TATA Power provides EV charging solutions for fleet organizations, offices & workplaces, malls and hotels, homes and housing societies.
For the franchisee, TATA Power provides end-to-end services, from captive charger installations to maintenance.
The EV charging infrastructure uses the latest technology and also has a mobile app, through which one can locate the nearest charging station, can check the availability of the charging points, can pay online etc.
Licenses and Registrations required
As of now, to boost the electric vehicle charging station ecosystem, the Indian government has de-licenced the public charging station ventures. You require minimum documentation to start this business,
Permission from local DISCOM
Business Registration – Sole proprietorship/LLP/Pvt Limited
Valid land documents / Lease agreements.
Business Insurance (if required)
If you lack capital, then you can approach banks for Business Loan with a proper business plan.
Space required to start a TATA charging station
You need 1500 to 2000 square feet of space to start a Tata Power franchise. The actual space required depends on the number of chargers you plan to install.
You need enough space for charging, entry and exit of up to 10 cars. You also need a small office space to manage the business.
TATA Power franchise cost

To start a TATA Power EV charging station, you need to invest around 30 lakhs to 40 lakhs, provided you have your own land.
The actual investment depends on the type of charging setup you are going to install and the number of charging points.
To boost the EV charging station ecosystem, the government is giving up to 50% subsidies for fast-charging EV charging setups.
The main expenses in this business involve,
Charging setup ( EVSE and charging points)
TATA Power franchise fee ( Aprox. 2.5 lakhs )
Transformer with substation equipment
Civil works
Network service providers for online booking of slots
The monthly expenses are staff salary (minumum two), electricity charges, land rent, other utility bills, maintenance works etc.
Related:
Profit margin in TATA Charging station
You can expect a profit margin of Rs. 3 per unit from this business. The total profit depends upon the number of charging points in your station and the electricity charges in your area.
A typical SUV has a 30kWh battery. You need 1 unit of electricity to charge 1 kWh. So from one car, you can earn from 80 to 90 rupees. This takes 35 to 45 minutes in a fast-charging setup.
Suppose you have 3 charging points and get 10 cars every day at each charging point, then you can earn from Rs 80,000 to Rs 90,000 per month..
How to get TATA power charging station franchise?
You can contact TATA Power on their toll-free number 1800-209-5161. You can also contact them by filling out an enquiry form at their official website OR send an email to [email protected]

Also, visit them at –
TATA Power, Bombay House, 24, Homi Mody Street, Mumbai – 400 001.
Make sure there is no other electric power charging station in a 3-5 kilometre radius from your location.
You may also Like:
FAQ about Dealership
How much investment is required for the TATA power charging station?
You require a minimum of 30 lakhs to 40 lakhs rupees investment to start a TATA power franchise.
Shop space required for TATA charging station franchise?
The minimum space required is 1500 to 2000 square feet
Profit margin in TATA power EV charging station franchise?
You can expect a profit margin of up to Rs. 3 per unit.
TATA Power contact number?
You can call TATA Power on 1800 209 5161
I hope this article has resolved many of your doubts related to the TATA power charging station franchise. If you have any suggestions feel free to mention them in the comment box below.