Sreeleathers Ltd is a homegrown footwear & leather accessories company and is based in Kolkata.
Sreeleathers offer premium products at a competitive price and is a very familiar brand in the northern and eastern part of India.
If you have a plan to start the Sreeleathers franchise, then this article will give you all the details related to getting the franchise. This includes Sreeleathers franchise cost, profit margin, eligibility & requirements, licenses required, and much more.
Sreeleathers franchise cost
You need a minimum 1 crore rupees investment & own premise in a prime location to start a Sreeleather franchise. Sreeleathers rarely approve franchises on a rented/leased property. In addition to this investment, you must have a good financial background to run and maintain the franchise.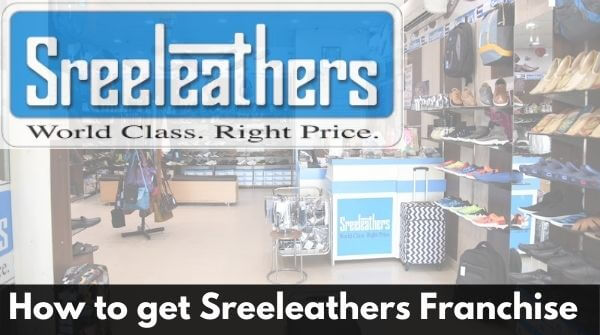 The major investments required are purchasing inventory and the showroom interior works. There will be a franchise brand fee of 5 lakh rupees, that you need to pay for Sreeleathers.
In this franchise, you can expect a profit margin of 35% to 50% of the sales.
Also Read:
Licenses and certificates required
Business Registration – Pvt ltd or LLP
Shop and Establishment certificate
Trade license from the municipality
GST Registration
Land Documents
Bank statements/IT returns to prove your financial background
Business Insurance
More About the Franchise
You require a minimum of 2500 square feet to 4000 square feet area to start a Sreeleathers franchise.

Sreeleathers Ltd works on a conservative approach. So getting a Sreeleather franchise is not an easy task. If you do not own the premise then the chances of getting the franchise are very less.

The company has 40 showrooms all over the country. Out of these 40 showrooms, 5 are company-owned and others work on the franchise model. The majority of these franchise model showroom premises are owned by franchisees.

Even if you own the premise in a prime location, Sreeleathers will do a thorough check on your financial background and your family background. As Sreeleather claims, only 1% of the franchise requests get approved after all levels of observations.
How to get Sreeleathers Franchise?
To get a Sreeleather franchise, first, you need to contact Sreeleathers ltd at their official website. On the contact-us page, u are required to fill a form by setting 'new franchise request' as the query.

After submitting the form, if you are eligible then the Sreeleathers team will contact you.
Before applying for the Sreeleather franchise you should know some of the requirements for the franchise.
I hope this article has resolved many of your doubts related to the Sreeleathers Franchise. If you have any suggestions feel free to mention them in the comment box below.
Also Read: