Who doesn't love to celebrate special moments in their life? and to celebrate any special moment, decoration is essential and it is not an easy task to do.
So you can use this opportunity to start a decoration business. The decoration business is one of the few business opportunities that you can start with a low investment.
So in this article, we will discuss the party decoration business, the investment required, the profit margin and marketing of the business etc.
Party Decoration Business Plan
To start this business you should have the knowledge and passion for decoration work. It is impossible to run this business depending on the workers alone.
It is better to start this business after having a proper understanding of decoration work. To learn about this business and the decoration work, you can work with any decoration company or decorating unit.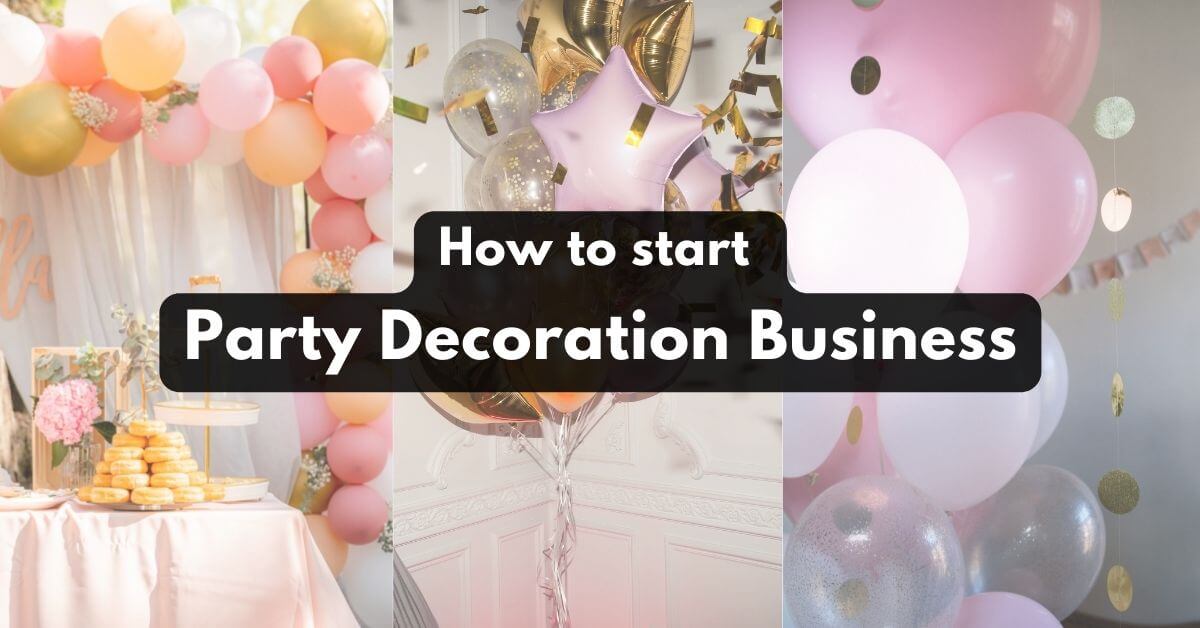 Once you know about this job, you can easily learn about the upcoming new trends in this field through the internet.
The best thing about starting a decorating business is that you can start this business anywhere i.e. metro cities or rural areas.
All you need is good contacts. As this is a small business it is very important to have good contacts in your area to get clients.
Do I need a shop to start a decorating business?
If you have enough space to store decorative items, then you can run this business from your home as well. This will save your monthly expenses.
But if you have a shop in a good location it can save transportation time and helps in marketing your business.
Also Read: Wedding Business Ideas in India
What occasions can you decorate?
You can decorate events like birthday parties, anniversaries, bridal showers, wedding parties, devotional events, office parties, engagement parties, baby showers etc.
What are the materials and tools required to start a decoration business?
Some of the basic materials required to start a party decoration business are Banners, Balloons, ribbons, glue, glitter, Centerpieces, Wall cut-outs, string lights, Confetti, Party Blowers, Neon lights, Party poppers, Streamers, Wall Decorations, pump machines, Yard Signs, ladder, structures like a canopy, arch etc.
You can purchase the materials needed for decoration from your nearest city market and also online marketplaces.
This is a trend-based business and it is very important to be aware of the current trends in the decoration field.
You can learn about new trends through the internet, and social media, and also by keeping an eye on your competitor's projects.
Related Posts:
The manpower required for this business
You need at least 2 to 3 people to help you in this business. The exact amount of manpower depends on the scale of your business.
If you are taking on bigger events and more events, you will need more people.
Along with manpower you also need a vehicle for transportation. You can also start this business by purchasing a used vehicle.
What are the licences required to start this business?
If you are running this business from home, then you don't need any special license to start this business. If you have a shop space then you will need shop and establishment registration for your business.
You need a GST certificate only if your annual turnover is more than 20 lakhs.
Decoration Business Set-up Cost

You need an investment of upto 4 lakhs to start a decoration business in India. The main investment is for the purchase of materials and purchase of a used vehicle.
Decoration materials and tools → 1.5 lakhs
Used vehicle → 2 to 3.5 lakhs ( for transportation)
The monthly expenses are employee salary, material purchases, vehicle maintenance, shop rent (if required), utility bills etc.
What is the profit margin in the decoration business?
Since most of the decoration materials can be re-used, you can expect a net profit of up to 40% in this business.
Marketing Decoration Business
Having good contacts or networks in your area is very important to run this business. This gives you word-of-mouth marketing and this should be your main promoting method.
Apart from this, you can also get clients from social media marketing. Keep uploading pictures of new decoration ideas and completed projects on your social media accounts.
You can also tie up with decoration or gift shops in your area to get new clients.
So this is about starting and running a party decoration business in India. If you find this article helpful, then kindly share this with your friends and family.