India has the third-largest road network in the world and road travel is the preferred option in the country for commuting. With this in mind, you can easily start any business related to the automobile sector and find success.
One such business opportunity is starting a tyre business. There are already well-established tyre brands in the country like MRF, Ceat, Apollo, Michelin, JK tyres, Bridgestone, Goodyear etc.
You can partner with any of these brands and can run a successful tyre business.
In this article, we will talk about how to start a tyre business in India, which includes a business plan, the investment required, profit margin, space required, whom to contact, licenses, and documents required, etc.
Tyre business plan
It is better to start with two-wheelers. Once you have gained some experience and knowledge you can add four-wheeler tyres too. Once you start with two-wheeler tyres, you will find few contacts, so adding four-wheelers will be easy.
There are two business models in tyre business.
i.) selling multi-branding products
ii). Partnering with single tyre brand.
The major difference with these two models is,
Customers will be more likely to buy tyres from your shop if you offer more brands.
Also Read:
1.Tyre Recycling Business | Complete Guide
2. MRF Dealership | Complete Details
In multi branding shop, customer has the option of bargaining and also they can swift to different brands. So you will get more sales with a comparatively low-profit margin.
In single brand shop you can expect more profit margin compared to multi branding. But there will be limited sales.
If you take dealership from any brand, company will directly supply the tyres to your shop.

Small wholesale tyre vendors and multi-brand tyre shops can get tyres from distributors from their area. The marketing guy will take the orders and supply the goods. Every tyre brand has a distributor in each district or area level.
If your shop is on the National Highway or industrial areas, then you can also include truck tyres. Fixing truck tyres require extra time, skill, and effort. Also, truck tyres are expensive, you need to do proper research before adding them.
You can also sell Batteries, Alloy Rims and other vehicle accessories in your shop.
You can earn more profit from providing puncture services and by selling tyre tubes.
One more way of income is selling used tyres. You can sell used tyres to customers and second-hand car dealers with a good profit margin.
Licenses and Registrations Required
You require following licenses and registrations to start a tyre business in India.
Shop & Establishment Registration – from the state government
Trade Licence – from your municipality
GST Registration
Business Registration – sole proprietorship is enough
Current bank account
Business Insurance (Optional)
Any local CA or agency can help you in getting these documents.
Space required and Location
You can start a two-wheeler tyre and puncture shop with a 300 square feet carpet area. You need space to keep machinery and tyre stock.
For a four-wheeler shop, you may require 800 to 1500 square feet of space and also enough parking space in front of your shop.
The best location to start a tyre shop are high traffic area and near petrol pumps.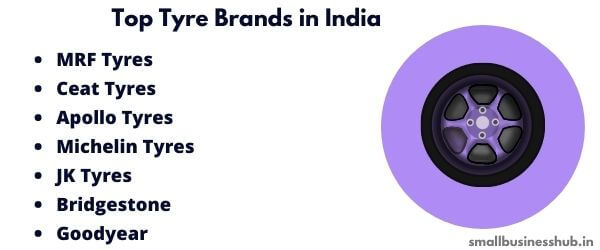 Machinery Required
The basic Machineries required to open a tyre shop are compressor, tyre changer and puncture machine. You can also add wheel alignment machine if required. You can find dealers for these machines from websites like indiamart.com.
Invest required for tyre business
You require an investment of around 5 lakh rupees to start a two wheeler and four wheeler vehicle tyre shop in India.
Machinery and Equipment's – 2.5 lakhs
Tyre stock – 2 to 2.5 lakhs
Shop interior and signage – 25,000 rupees
Shop security deposit – 50,000 (depends on your location)
The ongoing expenses are labor salary, utility bills, shop rent and adding stock.
Profit Margin in tyre business
One can expect a profit margin of around 10% in tyre business. It depends on your purchase quantity. If you give a bulk order then you can expect more margin.
Small tyre brands like chinese brands pays you more margin compared to big brands like MRF.
You can earn more profit from providing puncture services and by selling tyre tubes.
In this business you can expect more sales during summer & rainy seasons due to the weather conditions.
To succeed in this business you should provide a genuine service to customers with reasonable rates. Maintaining fixed shop timings is also an important factor.
I hope this article has resolved many of your doubts related to starting a tyre business in India. If you have any suggestions feel free to mention them in the comment box below. If you like this article kindly share it with your friends.
Also Read: