On 26th January 2022, the Karnataka government launched Grama One centres across the state on a franchise model. These are the technology-driven centres to provide government services to village people in their own village.
The main objective of starting these centres is to avoid the influence of middlemen and to avoid corruption in government offices.
In this article, we will give you complete information related to the Grama One franchise, which includes business cost, profit, eligibility criteria, plan etc.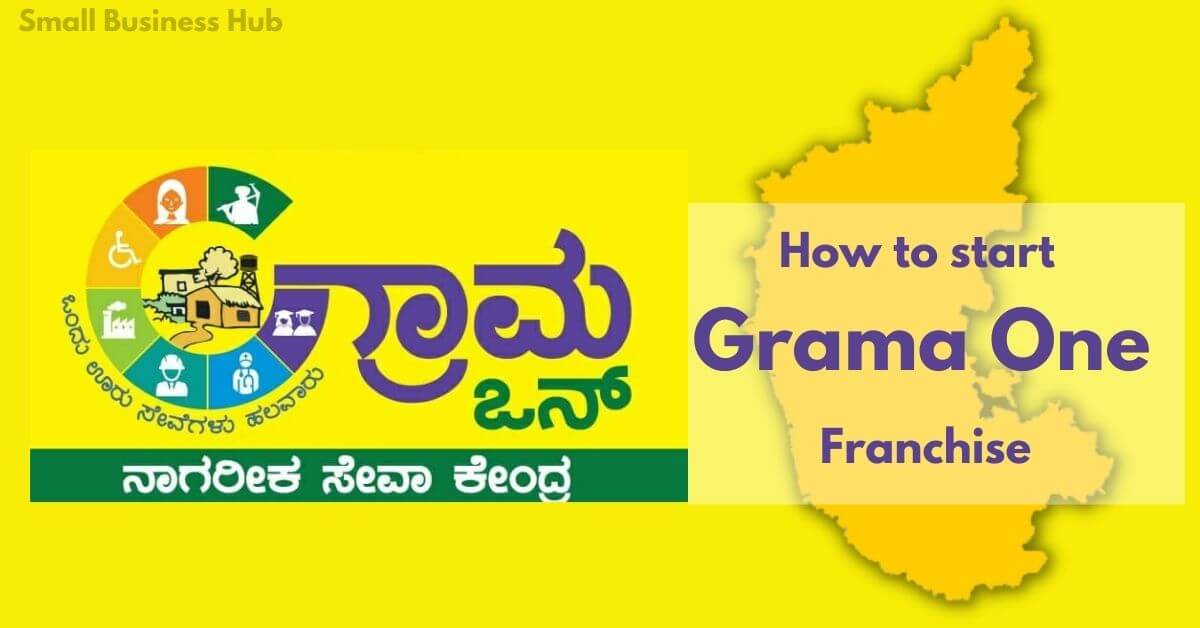 What is Grama One?
Grama one is a Kartakata state government program aiming to provide all citizen services of all the government departments to the state rural citizens in their own village.
These centres are linked to tahsildar, assistant commissioner offices and Atal Seva Kendra's to provide services.
Sevices provided at the Grama One centre
Some of the services provided at the Grama one centres include application for income certificates, caste certificates, residential certificates, crop certificates, attestation for a family tree, birth certificates, death certificates, no tenancy certificates, sports scholarship, age certificates, pension, migration certificate, physically handicapped pension, landless certificate, Sandhya Suraksha Yojana, Indira Gandhi old age pension, Ayushman Bharath ID cards, student bus passes etc.
You can find the full list of services provided at a Grama one centre at this link.
Licenses and registration required
You do not require any special registrations or licenses to start a Grama one franchise. If you have basic documents like aadhar card, pan card then you can start the franchise. The Grama one franchiser will assist you in this.
Grama One Franchise Cost
To start a Grama One franchise in Karnataka, you need a minimum investment of 2 lakh to 2.3 lakh rupees.
Here is the breakdown of the above-said amount,
Shop interior –> 15,000 ( chair, table, wall clock, electric items, etc)
Branding –> 10,000 ( Signage boards, price chart, monochrome board, t-shirt, etc)
Computer system/ laptop –> 50,000
Printer –> 17,000
Laminator –> 4,000
Bond paper printer –> 20,000
Secugen biometric –> 3,000
Inverter/Pwer backup –> 25,000
Internet connection –> 8,000
Shop advance/deposit –> 20,000
Miscellaneous works –> 5,000 ( shop painting etc)
Stationery items –> 2,000
Aadhar Access –> 25,000
Aadhar KIT –> 30,000
The ongoing monthly expenses include shop rent, electricity charges, internet charges, paper purchases, cartridges for printers, stationery items etc.
Related Posts:
Profit margin in Grama One franchise
There is a service fee set by the government for each service you provide at the Grama One Center. This service fee is fixed and you cannot change it.
From this service fee, you get a 40% profit margin for the service you provide. For example, if you charge 75 rupees for a service, then you will get approximately 28 rupees as profit and the remaining amount will go to the government.
The government pays no salary to those who own the Grama One franchise.
Related Posts:
I hope this article has resolved many of your doubts related to the Grama One franchise. If you have any suggestions feel free to mention them in the comment box below.