The hardware business is about trading tools, implements, and other items used in home life and activities such as construction, gardening etc.
This is an in-demand business, so you can easily start it without any second thought.
In this article, we will give you complete information related to the hardware shop business, which includes a business plan, Pros & cons, licenses and certificates required, hardware business cost, profit margin, etc.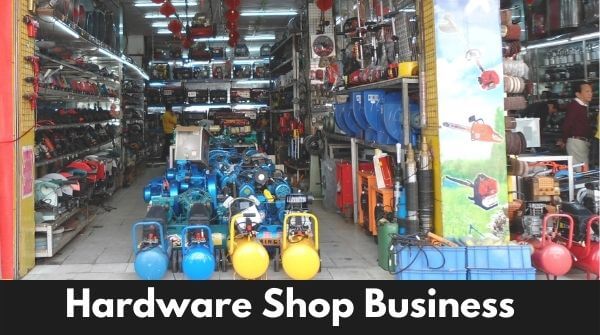 Hardware business plan
The first step in the hardware business is to choose a good location for your business. The area with high footfall is the ideal location for the hardware shop business.

You need a shop with a minimum of 800 to 1200 square feet of space. To store additional stocks and items like pipes you may require an additional warehouse. So overall you may require 1500 square feet of space.

For this business, a shop rental of 13,000 to 20,000 rupees can be considered safe. It depends on the location and the total space.
Sourcing materials to sell
The next step is sourcing materials. For this, you have to contact different companies, salespersons and dealers. Most of the dealers will give you 25 days credit period.
You can also visit wholesale markets in big cities ( like chawri bazar in Delhi ) and buy products from the wholesalers.
Also, there are websites like indiamart.com, through which you can contact dealers from all over India.


The types and the categories of products you can sell in a hardware shop are listed in the last section of this article.
If you have a limited budget, start with materials or categories that are high in demand, later you can add more categories. The products like paint require more investment.
Manpower Required
For a hardware shop business, you may require 2 to 3 employees. For them, you can set salaries between 15,000 and 17,000 rupees per month.
The total manpower depends upon the scale on which you are planning to start your business.
Marketing your hardware shop
Make a good network of plumbers, carpenters, electricians, and masons in your area. They are the primary customers of your business. But usually, they purchase on credit, so you have to be careful while choosing them.
If possible, keep more varieties for products you sell and keep trending items. Over time you will get customers by word of mouth.
You can use offline line marketing like distributing flyers to promote your business. For online you can use social media marketing.
Why Choose the Hardware Shop Business?
Items sold in hardware shops have a long expiration date. So if you don't get the expected sales in a month, you are less likely to lose.

This trade is not a seasonal business. There will be demand for hardware products in all seasons.

Most items sold in the hardware store do not include MRP. So you can set your own rate according to the demand in your area.

Online businesses are affecting most offline retailers, but hardware businesses are not affected by online trends.
Challenges in the hardware business?
From plumbing to electrical supplies, the hardware business has a large product portfolio. So you need a wide range of products in different varieties to meet customer demand.

Material overstocking is one of the major challenges in the hardware business. Even though hardware items have a long expiration date, Deadstock causes a shortage of working capital. This makes it difficult to run the business.

Another challenge is to control debt in the hardware business. Generally, local plumbers and electricians buy things on credit, so you can expect more than 50% sales on credit.
Licenses and registration required
To start a hardware business, you require these licenses and certificates,
Shop and Establishment Certificate
MSME Registration
GST Registration (required only if your annual turnover is more than 40 lakhs)
Business Registration – Sole proprietorship is enough
Business insurance if required
MSME registration helps you in getting a business loan from the bank. You can also approach banks like SIDBI.
Hardware business cost

To start a hardware business in India, you require an investment of 8 lakh to 10 lakh rupees.
As you know, the total investment depends upon the total categories of products you are going to sell and the product varieties you offer. So the investment relies on the scale on which you are going to do the business.
In this type of business, you require large working capital. If you have a limited category in your shop, then it would become difficult to serve the customer demand.
The initial investments required are,
Shop interior works -> 1.5 to 2 lakhs ( racks, table, chair, signage boards etc.)
Stock purchase -> minimum 5 to 7 lakh rupees
Shop security deposit -> 50,000 rupees ( depends upon you location)
Marketing and Registrations -> 10,000 rupees
Miscellaneous works -> 15,000 rupees
To start a hardware business on a large scale you may require up to 15 lakh to 20 lakh rupees investment.
The ongoing monthly expenses are shop rent, employee salary, material purchases, utility bills, etc.
Related Posts:
Hardware business profit margin
In the Hardware business, you can expect a profit margin of 25% to 30% on your revenue.
A hardware shop has a wide range of product categories, so each product type has a different profit margin.
For example, you can expect a margin of 25% from plumbing and fabrication supplies and 10% to 15% from electrical supplies.
Also, most of the products in a hardware shop don't have the MRP printed on them, you can set the profit margin by looking at the competitors in your area.
If you are dealing with a single brand or company for a specific product category, you may receive cash discounts and bonuses from the company.
But to achieve this you must reach the target monthly sales set by the company.
In a hardware business, you can earn up to 35 to 50 thousand rupees per month.
Of course, if you have a big shop with large product types and volume, you can earn more.
Related Posts:
Products to sell in a hardware Shop
These are some of the products or items you can sell in a hardware shop. You should decide on the products as per your initial budget and the demand in your area.
Joinery fittings: Screws, nuts, nails, L angles, L button, hooks, etc.
Hand tools: Screwdrivers. hammers. pliers, measurement tape. wrenches, hand saw, etc.
Adhesives: White glue, silicone, masking tape, Epoxy, bonds, etc.
Meshes: Wire meshes and fence meshes in metal, GI, aluminium and stainless steel finish etc.
Plumbing supplies: Pipes, bathroom fittings, kitchen fittings, PVC, Cpvc, Gum, commode, Basin, etc.
Electrical supplies: electrical wire, cords, lighting supplies, motor pump, switches, fan, etc.
Door and window fittings: Hinges, locks, handles, door buffer, door closer, angles, channels, etc.
Curtain fittings: Curtain pipes, heads, rings, curtain wire, etc.
Furniture fittings: Magnet catcher, L angles, bi-folders, brackets, oval pipes, tower bolt, locks, rollers, spacers, etc.
Sheets: Plywood, MFD, GI, mild steel, aluminium etc.
You can also add shutter and gate locks, kitchen Baskets, water tanks, cleaning products, welding sticks, agricultural tools, gardening tools etc.
Adding a full range of paint products, in the beginning, may become expensive. So initially you can sell basic paints, putty, white cement, red oxide, thinner, turpentine, brushes, sanding paper, waterproofing products, etc.
FAQ
How much space is required to start a building material business?

You require a minimum of 1500 square feet of space to start the business.

How much investment is required to start a hardware business?

You can start with an 8 lakh to 10 lakh rupees investment.

What is the profit margin in the hardware business?

You can expect a profit margin of 25% to 30% on revenue.
I hope this article has resolved many of your doubts related to the Hardware business. If you have any suggestions feel free to mention them in the comment box below.