There will be demand for the car wash business as long as there are vehicles on the road. It's like an Evergreen Business.
The demand for this business from year to year will increase but not decrease. Another good thing about this industry is that you can start this business with less capital.
In this article we will give you complete information related to the car wash business, which includes a car wash business plan, machinery required, car wash set-up cost, profit margin, etc.
Car wash business plan
Proper planning and research are very important before starting any business. So before starting a car washing business you need to know these things.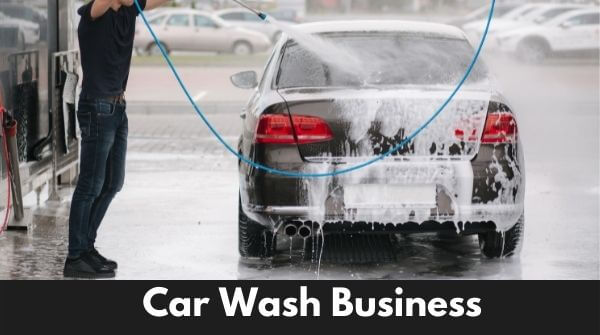 Choosing a Location :
It is important to choose a good location to start a car washing business.
The best places to start a car wash business are in high-traffic areas, near petrol bunkers, near upper-middle-class residential areas etc.
Make sure your shop has good visibility. Also, look for demand and competition for this business in that location.
How much shop space is required?
You need at least 4,000 to 5,000 square feet of space to start a car wash business. For a shop, you require at least 800 square feet and the rest of the area to park vehicles.
For this business, a shop rental of 15,000 to 25,000 rupees can be considered safe. It depends on the location and the total space.
Requires a Water Source :
You need the right water source for this business, such as a borewell connection. Water can be brought using a water tanker, but it is a little expensive.
It takes about 30 to 35 litres of water to wash a car. Suppose you wash 15 cars a day, you require 550 litres of water. You also need a tank to store water.

Manpower and Service quality:
Your shop needs at least 2 to 3 workers. You can set salaries of between 10,000 and 15,000 rupees a month for workers.
The car wash business is a service-based business, so your success in this business depends mainly on the quality of your service.
If you provide good service, you don't need any marketing to promote your business. Over time you can easily conduct business by word of mouth and with regular customers.
How much you charge for your service also matters in this business. You can charge hatchback cars at Rs 300, sedans at 350, and SUVs at Rs 400.
These prices vary in rural, suburban, and metro cities. You need to determine the price by looking at your competitors.
Also Read:
.
Wheel Alignment and Balancing Business | Complete Guide
.
Tyre Recycling Business | Complete Guide
Licenses and registration required
To start a car washing business, you require these licenses and certificates,
Shop and Establishment Certificate
GST Registration (required only if your annual turnover is more than 40 lakhs)
Business Registration – Sole proprietorship is enough
Pollution certificate (required only if you apply for a loan)
If you require a business loan then you can approach banks like SIDBI.
Machinery and Equipment Required
Hydraulic car wash lifter - 1 lakh to 1.3 lakhs (another option is manual underbody lance, costs 7 thousand )
Commercial pressure washing machine – 50,000 rupees
Vacuum cleaner – 12,000 rupees (dry and wet)
Polisher – 8,000 rupees
Blower  –  6,000 rupees
Optional equipment,
Steam cleaner - 15,000 rupees
Glass Vac - 7,000 rupees
Chemicals required
For car exterior cleaning,
Foam shampoo
Body shiners like Wax, liquid polish, and creme polish.
Compounds like  liquid sandpaper, scratch remover
Degreaser  to remove oil markers.
Tyre polisher
For car interior cleaning,
Multi cleaner, polish liquid, upholstery cleaner, leather cleaner & conditioner, and glass cleaner.
Car wash setup cost in India
To start a car washing business in India, you require an investment of 3.5 lakh rupees.
Here is the breakdown of the above-said amount,
Hydraulic car wash lifter -> 1 lakh to 1.3 lakhs
Other machine/Equipments -> 1.2 lakhs
Chemicals -> 15,000 rupees
Other expenses -> 50,000 rupees ( like a tank for water storage, signage, racks, etc)
Shop security deposit -> 35,000 rupees ( Varies according to location )
Ongoing monthly expenses are shop rent, labour salary, electricity bill, water charges, chemical purchase, maintenance, etc.
Car wash business profit margin
In the car wash business, you can expect a profit margin of up to 40% of your service charge.
So your monthly profit will be decided by the total cars you wash, after deducting all the expenses.
The monthly expenses are labor salary, shop rent, any maintenance charges, utility bills, water bills,s, etc.
The profit margin mainly depends upon whether you have your own shop or take on rent, whether you work in the station, whether water resources are available, etc.
Related Posts:
Steps involved in car washing
Interior cleaning - This includes mat cleaning, carpet cleaning, seat cleaning using a blower/air compressor, glass cleaning etc.

Exterior cleaning - This includes high-pressure spray at the body, under the body, wheels and engine. Washing involves foaming, rubbing and rinsing.

Drying - Drying using an air compressor.

Polishing - Polishing dashboard, plastic parts, bumpers & external mouldings.

Advanced cleaning (Optional) – This involves seat & door interior using upholstery cleaning nozzle, headliner cleaning, floor liner cleaning, spot removing, steering wheel cleaning, etc.

Detailing (Optional) – This includes chemical treatment, compound rubbing, clay bar. wax treatment, Teflon coating, ceramic coating, etc.
FAQ about car washing business
How much space is required to start a car washing business?

you require a minimum of 4000 to 5000 square feet of space to start the business.

How much investment is required to start a car wash business?

You can start a with 3.5 lakhs initial investment.

What is the profit margin in the car wash business?

You can expect a profit margin of up to 40% in this business
I hope this article has resolved many of your doubts related to the car wash business. If you have any suggestions feel free to mention them in the comment box below.