If you are planning to start a paint dealership business in India, then choosing Asian paints Dealership would be a great idea.
For many decades Asian paints is the largest paint company in India. As of 2020 it is operating in 15 countries all over the world and is the third-largest paint company in Asia.
In India, it has 15 manufacturing plants with headquarters in Mumbai, Maharashtra. Asian Paints group is the holding company of Berger International.
Asian paints have a market share of almost 40% in the Indian paint industry.
The company mainly deals with the manufacturing, selling, and distribution of paints & coatings, home decor products, bathroom fittings, and related services.
Unlike other paint brands, Asian paints don't offer distributorship and sub-dealership. It operates in only a direct dealership model.
This article will give you information regarding getting an Asian paint dealership, its cost & profit and eligibility to get the dealership, etc.
How to get Asian Paints Dealership?
To get an Asian paint dealership, first, you need to contact your territory sales officer. You can get his number by calling Asian paints customer care no. 18002095678.
He will arrange a meeting with you to know about your financial and industry background.

Your eligibility for the dealership mainly depends on factors like the density of other Asian paint dealers in your area, your experience in the field, shop location, your financial background, etc.
Asian Paints Dealership Cost
Asian paints dealership costs you around 6 lahks to 8 lakhs in India. Here is the breakdown of the total investment,
Initial Stock Purchase & Fee 3.5 lakh to 4 lakhs (including GST)
Colour mixing machine 1.5 lakhs to 2 lakhs
Shop Interior – 1 lakh to 1.5 lakhs ( racks, interior, signage boards, furniture, etc. )
Computer system & printer 50,000 rupees
Other Expenses – 20,000 rupees
Shop deposit and first-month rent (if you do not own the shop)
Asian paints will supply the colour-mixing machine and it comes with different options like automatic and semi-automatic.
Opting for an automatic one would be a good choice. You can negotiate this with your territory sales officer.
The major investments required to start a paint dealership business are a paint inventory purchase, a retail shop in a prime location, a mixing machine, a shop interior, and a computer with a printer.
You may also Like:
Asian Paints Dealership Profit Margin
From the Asian paints dealership, you can expect a profit margin of around 3% to 8% on your sales.
If you compare it with other paint brands, Asian paints offer less profit margin.
But it doesn't mean that you will make less money. As you know Asian paints has almost 40% market share in the Indian paint industry, and you will definitely get more sales than any other paint brand.
In any paint dealership, the profit margin is decided by the schemes and bonuses offered by the company. Asian paints offer cash discounts and RPBT discounts for their dealers.
For payments made within 3 days, the company offers cash discounts of up to 5%, and the payments made within 9 days will get RPBT discounts of up to 3.5%.
You may also Like:
Licenses and Registrations Required
These are the registrations and certificates required to start an Asian paint dealership in India.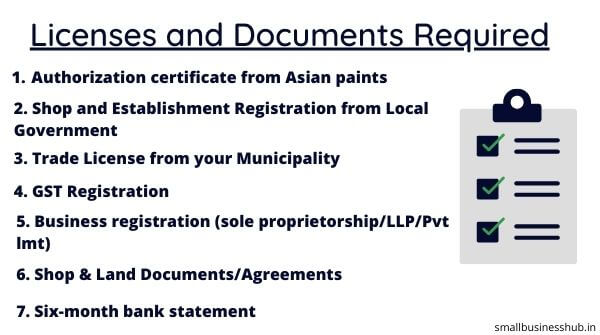 Authorization certificate from Asian paints
Shop and Establishment Registration from Local Government
Trade License from your Municipality
GST Registration
Business registration (sole proprietorship/LLP/Pvt lmt)
Shop & Land Documents/Agreements
Six-month bank statement
You can approach banks like SIDBI if require a business loan.
Contact Details for Asian Paints
As we said earlier, to discuss dealership opportunities, you can contact your territory sales officer by calling their customer care number.
Or else you can share your contact details with them at their email id [email protected]. Your email subject should say "Asian paints Dealership Request".
In the subject area provide your details like your name, contact number, shop address, email Id, etc
More about the Company
In 1942, Asian paints were set up as a partnership company by four friends Champaklal Choksey, Chimanlal Choksi, Suryakant Dani, and Arvind Vakil in Mumbai, Maharashtra.
Over the course of 25 years, this firm has become India's leading paint company.
Today the company has 12 institutional owners and shareholders investing through the Securities Exchange Commission.
Major stakeholders include Touchstone Sands Capital Emerging Markets Growth Fund and Bridge Builder International Equity Fund.
Besides Asian Paints, the group operates around the world through its subsidiaries Berger International, SCIB Paints, Apco Coatings and Taubmans.
Also Read :
FAQ about Dealership
How much does an Asian paints dealership Cost?
Asian paints dealership will cost you around 6 lakhs to 8 lakh rupees.
Asian paints dealership profit margin?
You can expect a profit margin of 3% to 8% depending on the market.
How to contact Asian paints for the dealership?
You can contact them on toll-free number 18002095678 or email them your details at [email protected]
How much space is required to start an Asian paints dealership?
You require 500 to 1000 square feet of shop space
I hope this guide to 'Asian paints dealership' will help you get started. If you have any additional suggestions, feel free to mention them in the comments section below.