To start a paint dealership, you can partner with any of the paint brands available in the Indian market.
In this article, we will talk about British paints Dealership, which includes dealership cost, profit margin, space required, whom to contact, licenses, and documents required, etc.
Why British paints dealership?
Headquartered in New Delhi, British paints is India's one of the oldest paints brands. British paints have 12,000+ channel partners in the country.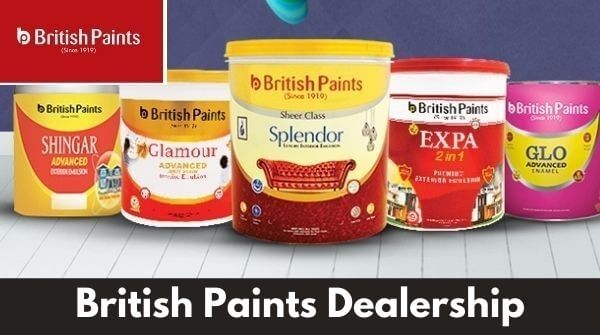 The company has manufacturing plants in Uttar Pradesh, Jammu Kashmir, Andhrapradesh, and Assam.
British paints offers all kinds of decorative paints, Industrial and Architectural coatings
Licenses and Registrations Required
These are the registrations and licenses required to start a British paints dealership in India.
Shop and Establishment Registration from the state government
Trade License from the municipality
Business Registration (Sole proprietorship is enough)
GST Certificate
Authorization certificate from British paints
Shop Agreements/Documents
Copy of Previous bank statements/IT returns
Business Insurance (not compulsory)
If you lack capital, you can take business loans from banks like SIDBI bank.
British paints Dealership Cost

British paints dealership will cost you approximately 6 lakh rupees. It depends on whether you have your own shop or rented one. Below we have given a breakdown of investment.
Brand Security Deposit – 1.5 lakhs
Initial Inventory Purchase – 2 lakh
Color mixing machine – 80,000 to 90,000 rupees.
Shop Interior works – 80,000 lakh ( racks, furniture, interior, signage, etc. )
Computer system & printer – 45,000 rupees
Miscellaneous – 20,000 rupees
Shop security deposit and 1st-month rent – Depends on your location
The major investments required to start a paint dealership business are, paint initial stock purchase, a color mixing machine, a shop in a good location(own or lease), a shop interior, and a computer system & printer.
Related:
British paints dealership profit
You can expect a profit margin of approximately 12% to 15% on a British paints dealership.
Your profit margins will depend on the schemes and bonuses provided by British paint. These schemes include Cash discounts and RTBT discounts. The discount ranges from 4 to 6 % depending upon the market.
These schemes will be available only 4-6 months after your shop opens.
How to get British paints dealership?
To get a British paints dealership, first, you need to contact your area marketing head. You can get his contact number by calling British paints customer care no. 1800 111 300.
The marketing head will get in touch with you. He may ask you about your shop location and your financial background.

The main factors in getting you a dealership are that there should not be any other British paint dealer within 2 to 3 kilometers of your shop location and there should be enough footfall in your shop location.
Contact Details for British paints
You can visit British paints official website and click the contact us button. You can also contact them directly by calling their toll-free number 1800111300.
You can also visit them at their Delhi Head office,
19 D.D.A. Commercial Complex, Kailash Colony Extn., Zamrudpur, New Delhi – 110048
Also Read:
FAQ about Dealership
How much investment is required to start a British paints dealership?
To start a British paints dealership you require an investment of approximately 7 lakh rupees.
How to contact British paints?
You can call toll-free number 1800 111 300.
What is the Profit Margin in a British paints dealership?
You can expect a profit margin of 12% to 15%
How much space is required to start a British paints Dealership?
To open a British paints dealership you need a minimum space of 500 to 600 square feet.
I hope this guide to 'British paints dealership' will help you get started. If you have any additional suggestions, feel free to mention them in the comments section below.