India has the highest number of two-wheeler users in the world. People prefer two-wheelers because of affordable price, easy maintenance, traffic conditions etc.
When there are so many two-wheelers in the country, their spare parts are also in demand.
If you are interested in the two-wheeler vehicle industry you can start a two-wheeler spare parts shop and earn a good income.
This article provides you with complete details related to the bike spare parts business, the investment required, profit margin, spare parts business plan, manpower etc.
How to start a bike or two-wheeler spare parts shop
To start a two-wheeler spare parts shop you need good knowledge about all the bike or scooter models as well as their parts and accessories.
Without the proper knowledge, if you start this business by relying only on workers, it is very difficult to succeed.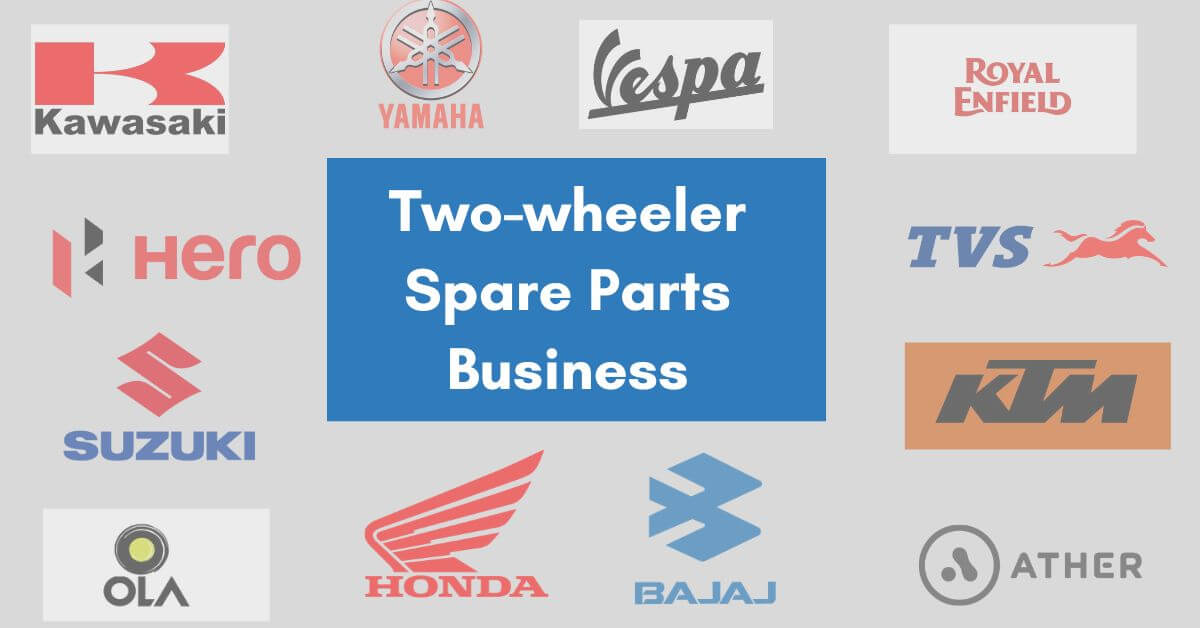 You may need at least one year to fully understand this business. You can get this experience by working in another shop.
After getting enough knowledge about the business, you can start a spare parts business with a proper business plan.
Having a Mechanic or Garage along with the shop
You can hire a mechanic at your shop or set up a garage and rent it out to a mechanic.
By doing this you can supply the spare parts needed by that mechanic/garage at a slightly discounted price.
This will give your shop regular orders and increase your monthly sales.
Two-wheeler spare parts business plan
Location plays a very important role in the success of any business. You can start a two-wheeler spare parts business at any place but make sure there are enough garages nearby.
Because the main customers in any spare parts shop are mostly mechanics or garage owners.
Supply spare parts to your nearest mechanic or garage on time and at discounted prices.
Shop area required
You can start a two-wheeler spare parts shop with 500 square feet of commercial space.
You may require more space to store large fibre parts.
Depending on the location and size of your shop, you may have to pay a rent of 15 to 20 thousand rupees.
Purchasing inventory for your shop
You can purchase inventory from dealers or wholesalers in your area. Like any other business, there are many fake products in the market so make purchases only from authorized dealers.
Initially, it is not possible to purchase inventory on a credit basis. You have to buy on a 'cash in hand' basis.
Once the dealer or wholesaler has developed confidence in your business, you will get a credit period of 15-20 days for the purchase.
Managing stock in the two-wheeler spare parts shop
To avoid the dead stock, inventory management is very important in this business. So choose parts type and quantity wisely.
Note which two-wheeler brand is more famous in your area and invest more in spare parts of that brand.
Decide the quantity according to the two-wheeler density in your location.
For heavy fibre parts, get advance from the customer and order after confirmation. It saves space for storage.
If you have more varieties for each product, it will obviously attract more customers. But it requires a lot of investment.
Manpower required
Depending on the size of your shop you may need 1 to 2 staff to start a two-wheeler shop.
If you run servicing/workshop together with your shop, then you need mechanics too.
Salary can vary from 12 to 18 thousand depending on the experience.
Managing credit in the business
Garage owners charge their customers after the service is done. So they purchase parts from you on credit.
You should set a credit limit for each customer, which will help you manage cash flow.
Two-wheeler spare parts business cost

To start a two-wheeler spare parts business you need an investment of 10 lakh rupees.
This is the amount required to start a spare parts shop for a single two-wheeler brand.
If you want to open a multi-brand ( like Hero, TVS, Bajaj ) spare parts shop, you may need an investment of up to 25 lakhs.
For expensive and large-size fibre items, you can take an advance from the customer and after confirmation, you can purchase the item. It saves your investment amount and storage problem.
You will need investment mainly for the purchase of inventory and interior work of the shop.
The ongoing monthly expenses in this business are inventory purchases, shop rent, employee salary, utility bills etc.
Related:
Tyre Shop Business | Complete Guide
Battery Shop Business | Complete Details
Profit margin in Two-wheeler spare parts business
You can expect a 15 to 20% profit margin in the two-wheeler spare parts business.
But when you partner with garages you have to give them discounts, so your actual profit margin may drop to 10 to 15%.
Like any other business, the actual profit depends on the volume of your purchase.
If you buy parts in bulk, dealers/wholesalers will give you more discounts.
You should know that branded items offer smaller margins on sales and domestic/local brands offer higher margins.
But in the long run, it is always better to sell branded accessories to gain customer trust.
Related:
Car Washing Business | Complete Details
Licences and registrations required
These are licenses and certificates required to start a bike spare parts business
Shop and Establishment certificate
GST Registration
Sole Proprietorship registration
If you lack capital you can approach banks for business loans with a proper business plan.
What is the best season for this business?
As all we know, two-wheeler spare parts are in all-time demand.
Another good thing about this business is that it is very difficult to sell two-wheeler parts online. So online marketplace companies have no impact on this business.
I hope this article has cleared many of your doubts about the two-wheeler spare parts business in India. If you need more information about any topic you can enter it in the comment box.