In a growing economy like India, starting a business is definitely a good idea. For people who do not have experience, starting with a dealership business is a better option.
In a dealership business, a businessperson is granted the right to sell a company's products or services in a particular area.
Since that company's business model has already been tested and its name is already established in the market, it would be easy to start this business for beginners.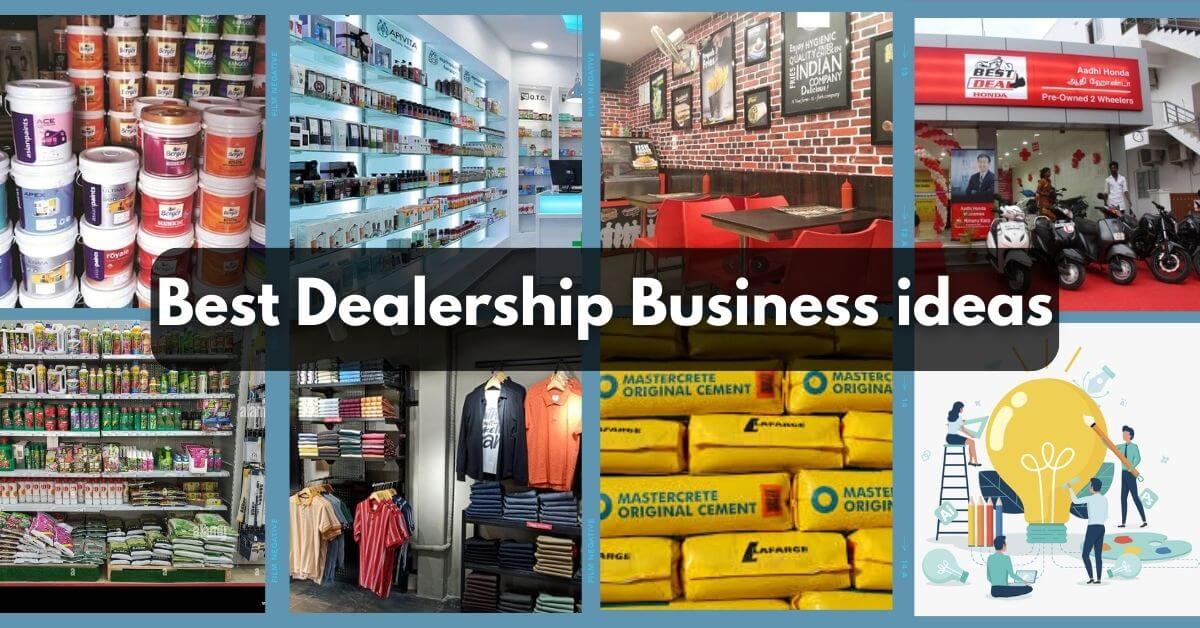 Here are some of the best dealership business ideas that you can start in India:
1. Construction & Building Materials dealership
In developing countries like India, there is always a high demand for construction and building materials.
The construction industry is booming mainly due to the expanding urban housing demand and government spending on infrastructure such as roads, bridges, etc.
Some of the dealership opportunities,
Bathroom Accessories Dealership
Building decoration products dealership
2. Eco-friendly dealership Ideas
The eco-friendly or green energy industry in India is growing very rapidly. Increasing awareness among people and government subsidy schemes are the main reasons for this growth.
Since this industry is in the early growth stage in India, now is the right time to enter this industry by taking a dealership like Tata Power Solar Panel, Tata charging station dealership, etc.
Some of the dealership business ideas are.
3. Pharma & Healthcare products dealership
Pharma and healthcare are some of the most profitable businesses in India and across the world.
This is an evergreen industry, and in India, the demand is increasing year by year due to the growing population. You can start a dealership business in any of the following fields:
Pharmacy franchise
Ayurvedic and herbal products dealership
Homeopathic products dealership
4. Security and Protection Equipments dealership
Security and protection equipment are very important to keep people and society safe. Since many people are not aware of this industry, there is relatively little competition in this industry.
So, after getting some knowledge and understanding the demand for this equipment in your area, you can start this dealership business.
Firefighting and protection equipment dealership
Surveillance equipment dealership
5. Fashion and Apparel Dealership
In India, due to the increase in disposable income, fashion and apparel products are always in demand. There is even demand for these products in tier 3 cities.
One can start your business by taking a franchise of any fashion or apparel brand, such as Raymond, Jockey, Reebok, or Zara.
Baby & Kids wear franchise
Men & Women Wear Franchise
Ethnic Wear Franchise
Fashion Accessories dealership
Also Read:
.
Best Business Ideas Under 5 Lakhs in India
6. Agriculture products dealership
This is an evergreen industry. You have a variety of business opportunities to start with.
Nowadays, there is a huge demand for organic foods in urban areas, and there is always a demand for products like fertilizers in rural areas.
Depending on the demand in your location, you can start a dealership in any of these fields.
Agro products and commodities
Fertiliser dealership
7. Food & Beverage Dealership
The expanding urbanization, the changing eating patterns of the population, and rising household spending rates make the food and beverage industry always in demand.
If one has a passion for the food industry, one can easily start a franchise of any of the following opportunities.
Bakery & Confectionery franchise
Dairy products franchise
Packed food products franchise
8. Automobile industry dealership
We all know that there is always demand for two-wheelers and four-wheelers in India. The increasing population and the expanding middle class are the main reasons for this growth.
You can start a dealership from any of the below opportunities.
9. Home Supplies dealership
Home supplies are always in demand. Some dealerships, such as home furniture, may require significant investments.
However, there are other opportunities that can be started with less investment. One can also start this business in suburban areas.
Kitchen Appliances & Coock ware dealership
Home furnishing products dealership
Electric fittings & accessories dealership
10. Industrial Supplies dealership
If one chooses the right location for this dealership, then it is one of the safest businesses to start. The following dealerships can be started in both suburban and urban areas
Fibreglass products dealership
Packaging material dealership
These are some of the best dealership business ideas that you can start in India.
We hope this article will help you launch a dealership business very soon. If you like this article kindly share it with our friends.